Armed with a rifle in plainclothes and without a face mask, Cordillera police chief Brigadier General Rwin Pagkalinawan leads cops in destroying the barrier of the Delos Santos family in Taguig City in April, during enhanced community quarantine
Before Metro Manila police chief Major General Debold Sinas stormed the home of the Delos Santos family and destroyed their barricades in the abandoned Southern Police District (SPD) police compound in Taguig City, another general who was not even assigned in the area did the same.
On April 22 at 9:35 am, Cordillera police chief Brigadier General Rwin Pagkalinawan was caught on CCTV camera strolling in front of the Delos Santos home in a loose polo, shorts, and slippers, and without a face mask when Metro Manila was under enhanced community quarantine (ECQ). He was armed with a rifle.
A man wearing a shirt, shorts, and slippers, and also carrying a rifle, walked behind Pagkalinawan. Seven more men in civilian attire followed them. According to documents obtained by Rappler, some, if not all of them have been identified as cops from the SPD under the National Capital Region Police Office.
Supervised by Pagkalinawan, the men destroyed the improvised barricade in front of the Delos Santos home, designed to prevent cops from harassing them, as they had been doing since the family patriarch retired in November 2019.
With the barriers destroyed by 10:05 am, Pagkalinawan walked away with the policemen.
Without presenting documents during his visit, Sinas claimed the 5,000-square-meter property belonged to the police. The Delos Santos family, however, secured a certificate of occupancy from a certain Deogenes Rodriguez, who claims to be a descendant of Don Miguel Rodriguez, Don Petra Rodriguez, and Gonzalo Rodriguez Yaneza, under whose names the land title is registered.
"Sobrang nakakatakot na lumabas ng bahay, and bigla na lang silang dumating at nagbaklas ng pangharang namin, at may dala pa silang baril. Sa sobrang takot namin, hindi na kami lumabas ng bahay dahil baka ano ang mangyari," 20-year-old Arles delos Santos told Rappler in a phone interview on Monday, July 20, about Pagkalinawan's visit.
(It was already frightening to leave our home, and they just arrived to remove our barrier, and they even carried guns. We were so afraid that we did not go outside because something might happen.)
Rappler sought Pagkalinawan's comment through text, Facebook, and Twitter direct messages, citing the details we gathered and how his actions were illegal, according to a community leader. He responded on Twitter, saying, "No comment."
Defying local authority, violating lockdown rules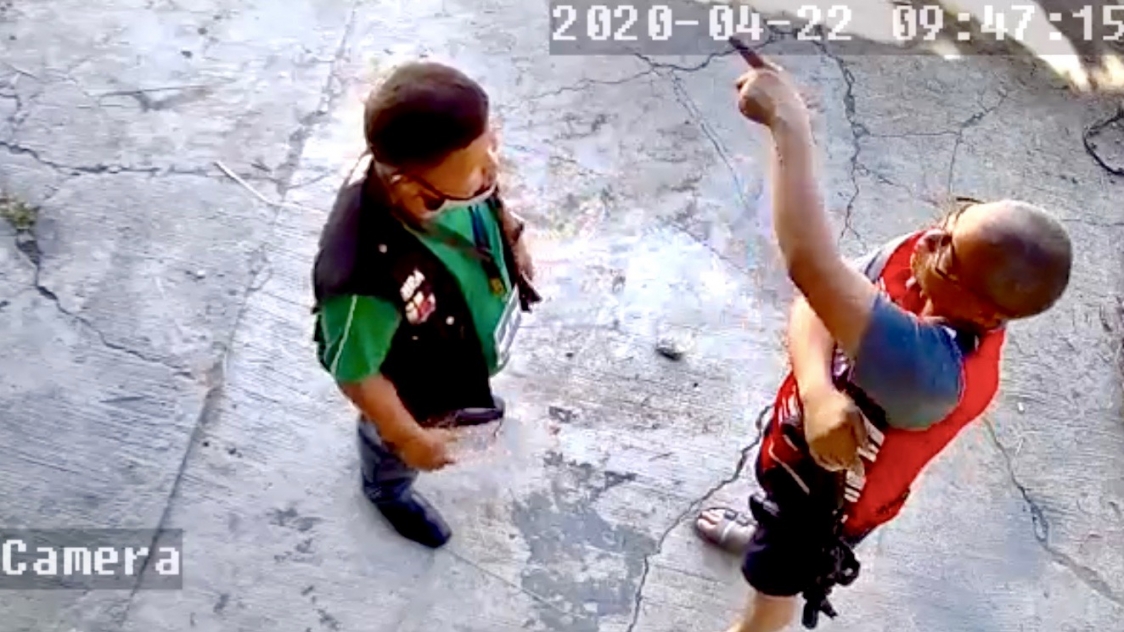 A zone leader in the area, Rod Mijares, tried to stop the men, as shown in the videos. He was called to the area by the Delos Santos family as residents were prohibited from leaving their homes under ECQ, unless for procuring needs and if they were working in essential sectors.
Mijares is seen in the videos speaking with Pagkalinawan as the cops destroyed the Delos Santos family's barricade. Pagkalinawan is heard shouting at Mijares and seen visibly irritated with the zone leader.
"Sabi niya, dapat pumunta ako sa kanya. Nagagalit siya sa akin. Sabi ko, andito ako kasi sinira ang gate, at nagko-conduct ang patrol kasi ECQ," Mijares said. (He wanted me to go to him. He was mad at me. I said I was there because the family's gate was destroyed and that I was patrolling because it was ECQ.)
The operation appeared to be illegitimate. Just a day before the incident involving Pagkalinawan and the policemen, PNP chief General Archie Gamboa announced a stricter implementation of lockdown rules, especially staying home and wearing masks when going outside for essential activities. He ordered cops to do away with issuing warnings against such violations and just arrest those who committed them.
"Mali talaga sila. May violation sa proclamation ni Presidente Duterte…. Pero hindi ko sila kayang sanggain, sa dami nila at armado sila," Mijares told Rappler in a phone interview on Monday. (They were really in the wrong. They violated the proclamation of President Duterte. But I could not stop them, given their numbers and they were armed.)
Why was the Cordillera police chief in Metro Manila?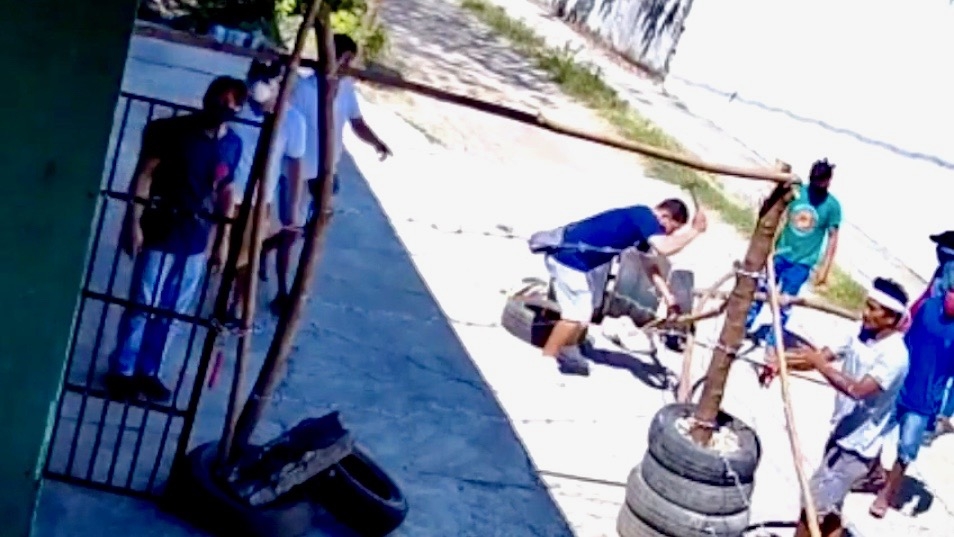 Pagkalinawan's presence also puzzled the Delos Santos family. While his family still resides in the area – just like the families of other top PNP generals – his base was supposed to be some 250 kilometers away, in La Trinidad, Benguet. Two months before the incident, he had been assigned to lead the Cordillera Regional Police Office.
Before being assigned in the north, Pagkalinawan led the Camp Crame-based PNP Maritime Group.
According to the PNP's operations manual, policemen who have no jurisdiction over a particular area must coordinate with the area's local police chief before operating. It is unclear if Pagkalinawan did so with the Taguig City Police.
It is also unusual that a police general leads an operation, all the more so a general from a different region leading an operation with him and his subordinates all in plainclothes.
Republic Act No. 10591 or the Comprehensive Firearms and Ammunition Regulation Act prohibits law enforcers from showing their firearms when in civilian attire "unless actually used for legitimate purpose."
The family fights back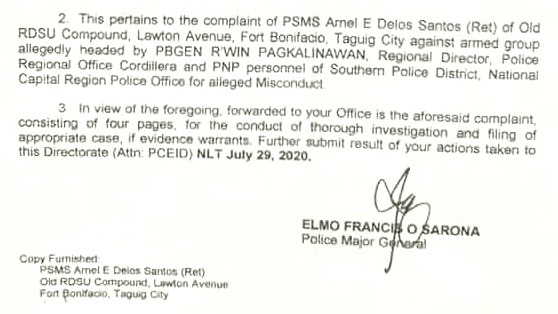 The Delos Santos family filed a complaint against Pagkalinawan and the cops with him with the Philippine National Police over a month later, on June 10.
In a June 29 letter to the Delos Santos family, Directorate for Investigation and Detective Management (DIDM) chief Major General Elmo Sarona said the complaint had been forwarded to the office of the police chief and the Criminal Investigation and Detection Group (CIDG).
Sarona is subordinate to Gamboa and has administrative supervision over the CIDG. In his letters to them, he identified the armed men with Pagkalinawan as cops from the SPD.
"In view of the foregoing, forwarded to your office is the aforesaid complaint, consisting of four pages, for the conduct of thorough investigation and filing of appropriate case, if evidence warrants," Sarona said in a June 29 letter to CIDG chief Major General Joel Coronel, a copy of which was obtained by Rappler.
"Malinaw na ginagamit nila bukod sa posisyon nila ang mga armas nila para manakot ng mga tao. Ano nga ba naman ang laban namin kapag lahat sila ay armado? Hindi na nga kami mamamatay sa virus, mas mawawalan kami ng buhay dahil sa mga ginagawa nila," Delos Santos said.
(It is clear that they are using not just their position but their arms to frighten people. How do we stand a chance against these armed men? We may not die from the virus, but we will most likely lose our lives because of what they are doing.) – Rappler.com