(1st UPDATE) Cyberattackers also target the Senate's official website
The official website of Senator Richard Gordon was knocked out for a few hours on Monday, October 4, due to a "coordinated online attack," as he continues to lead the Senate's investigation into the Pharmally scandal.
Two days later on Wednesday, October 6, cyberattackers also targeted the official website of the Senate of the Philippines. 
In a statement on Wednesday, Gordon's office said the distributed denial of service (DDoS) attack caused the senator's website, www.dickgordon.ph, to shut down from 7 am to 1 pm on Monday.
A DDoS attack happens when a website or network is flooded with traffic requests with the end goal of disrupting the normal online operations of the target.
The cyberattack occurred a day before Gordon was set to lead the Senate blue ribbon committee's 11th hearing on Tuesday, October 5, on the anomalous pandemic contracts awarded by President Rodrigo Duterte's government to Pharmally Pharmaceutical Corporation.
"We view such service outage or disruption as a serious concern as its timing comes when the Senate blue ribbon panel is investigating alleged irregularities in government procurement for COVID-19 supplies and equipment," said Gordon's information technology officer Myke Cruz.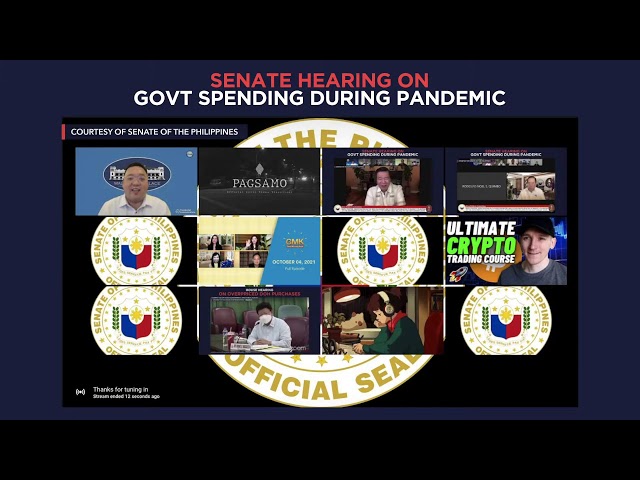 Cruz said the traffic requests during the DDoS attack came from China, the United States, Ukraine, and other Southeast Asian countries.
Administrators of the senator's website were able to contain the problem after they barred the entry of traffic from outside the Philippines at around 1 pm. But Cruz said the foreign-led attack continued until 3:04 pm on Monday. 
Hours after Gordon's office released their statement on the cyberattack, the Senate's Electronic Data Processing-Management Information System (EDP-MIS) Bureau said they had to temporarily block the public's access to the chamber's website due to an ongoing DDoS attack which started around lunchtime on Wednesday. 
A representative from the EDP-MIS Bureau said the traffic requests also came from multiple countries. Some of the IP addresses used were either fake or spoofed.
Gordon drew the ire of Duterte himself as the Senate blue ribbon committee kept on uncovering one red flag after another in the multibillion-peso pandemic deals forged by the government with Pharmally.
Pharmally is a small company with only P625,000 in capital but was somehow awarded the biggest pandemic contracts, worth P10 billion, courtesy of the Procurement Service-Department of Budget and Management.
The Senate hearings have shown that to manage its contracts, Pharmally would be financed by Michael Yang, former economic adviser to Duterte. Yang would also serve as guarantor to Chinese suppliers.
The President, however, continues to defend the businessmen and government officials embroiled in the Pharmally scandal. Gordon called him a "cheap politician" for doing so.
Duterte also made Executive Secretary Salvador Medialdea craft a memorandum barring Cabinet members and other officials of the executive branch from attending Senate committee hearings. Gordon, however, said the memo is "unconstitutional." – Rappler.com