CIBAC Representative Bro. Eddie Villanueva leaves the hearing in an act of protest after gender equality chair Geraldine Roman denies his request to defer the meeting
MANILA, Philippines – The House of Representatives on Wednesday, February 8, tackled – for the first time under the Marcos administration – a bill seeking to prohibit discrimination on the basis of sexual orientation, gender identity, and gender expression (SOGIE), prompting one lawmaker to walk out after his request to defer the hearing was denied.
CIBAC Representative Bro. Eddie Villanueva alleged that the SOGIE bill discussion led by the gender equality committee on Wednesday, was illegal, and was tantamount to forum shopping.
He argued that a more comprehensive anti-discrimination bill was already being tackled by the human rights committee, led by Manila 6th District Representative Benny Abante.
His motion to defer the meeting led to a minutes-long suspension of the hearing, during which Abante accused gender equality committee chairperson Geraldine Roman of railroading the bill's passage.
Roman said she called Majority Leader Mannix Dalipe, who told her that the SOGIE bill remains with Roman's committee.
"This is not the right forum. If you have arguments, present them to the rules committee if you do not agree with the decision of the rules committee," Roman told Villanueva.
In an act of protest, Villanueva excused himself from the hearing and left immediately.
"I cannot allow myself to be part of this obvious illegal hearing," Villanueva said. "This is not an illegal meeting," Roman asserted. "We were given clearance by the rules committee."
"This is not an illegal meeting," Roman asserted. "We were given clearance by the rules committee."
'Time is ripe'
Passing a measure prohibiting SOGIE-based discrimination has always been a long shot, and remains a dream since then-senator Miriam Defensor Santiago and then-Akbayan representative Etta Rosales introduced the bill in 2000, under the 11th Congress.
SOGIE bill advocates had the most success in the 17th Congress, when the House in 2017 under the Duterte administration fully approved the bill. The measure, however, faced tough opposition in the Senate, where the proposal languished.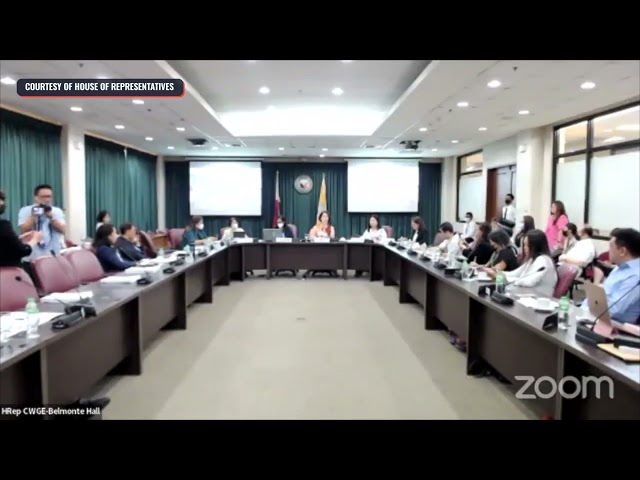 "Until when will we choose to look the other way when there are cases of discrimination occurring every day that go unpunished as if to tell society as a whole that it is ok to deprive a qualified person the chance to earn a living, or to study or to receive services from government just because he is LGBT?" Roman, a transgender woman who broke barriers when she was elected to the House in 2016, asked in an impassioned speech at the start of the hearing.
"The time is ripe. The time is now. Pass the SOGIE equality bill," she appealed. – Rappler.com