Physician-governor Manuel Mamba fears the Philippines will follow in the footsteps of India, a comparison that the Comelec says 'does not make sense'
Cagayan Governor Manuel Mamba raised a "not personal" suggestion to postpone the 2022 national elections, saying the polls could become a "super spreader event."
In an interview with One PH, Mamba floated the idea of a no-elections scenario on May 9, 2022 after he gave updates about the pandemic situation in his province, which is under strict lockdown measures due to a recent surge in COVID-19 cases.
"Look at what happened to India, that's what I fear about. I'd rather have a mass vaccination first before elections," he said in a mix of English and Filipino on Wednesday, May 26.
Mamba, a licensed physician, also feared that the campaign season could trigger a spike in coronavirus infections.
"Kaming mga pulitiko, talagang makikihalubilo kami, kung kailangan mag-ha-house-to-house kami, just to get our message to our people, at doon po ako natatakot," he said.
(We politicians need to socialize and conduct house-to-house campaigns if necessary just to get our message across, and that's what I fearful of.)
"It's not really personal, but we have to base it on the experience of other countries that have gone through elections, and have experienced an upsurge, which is sometimes uncontrollable, like India," Mamba added in a mix of English and Filipino.
After Mamba's comments garnered criticism online, Commission on Elections Commissioner Rowena Guanzon quickly shut down the possibility of delaying the 2022 polls.
"No, the May elections cannot be postponed. Read the Constitution," Guanzon tweeted on Friday, May 28.
The 1987 Constitution is clear – "unless otherwise provided by law, the regular election for President and Vice-President shall be held on the second Monday of May."
The Omnibus Election Code also states that elections can be postponed – but not canceled – only for "any serious cause such as violence, terrorism, loss or destruction of election paraphernalia or records, force majeure, and other analogous causes of such a nature that the holding of a free, orderly, and honest election should become impossible."
On multiple occasions, Comelec officials have thumbed down a no-elections scenario over pandemic fears, since a congressman brought it up in September 2020.
During a Rappler Talk episode in May, Comelec spokesperson James Jimenez asserted it was unlikely for the 2022 elections to be postponed, but warned the public against politicians and interest groups who would push for such an agenda.
At the time, Jimenez also allayed fears that the Philippines could follow in the footsteps of India, where even Prime Minister Narendra Modi promoted and attended full-scale campaign sorties with blatant disregard for COVID-19 health protocols.
"Even from the basis of the comparison, it doesn't make sense. We can secure the elections, we can keep it safe, so there is no need to postpone the elections," Jimenez said during the May 10 broadcast.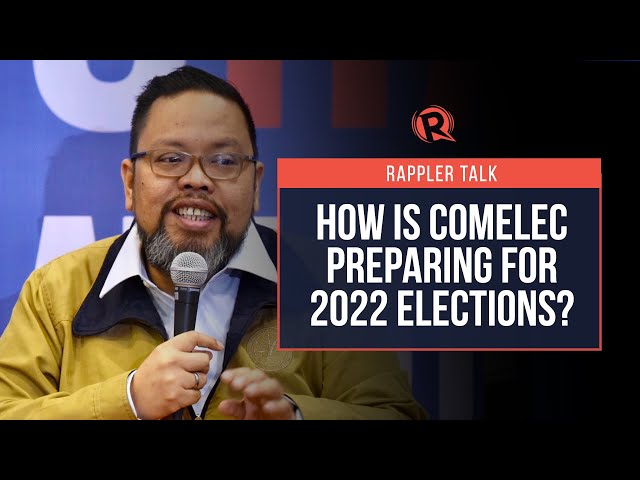 While the Comelec has said an outright ban on face-to-face campaigning is unlikely, the poll body is eyeing strict regulations, such as a cap on the number of attendees during campaign sorties, and a prohibition on people eating during such gatherings. 
As of April 2021, over 58 million Filipinos are registered to participate in the 2022 elections. – Rappler.com