(1st UPDATE) After accompanying longtime aide Senator Bong Go in filing his candidacy for vice president, Duterte announces 'my retirement from politics'
President Rodrigo Duterte is done with politics, he announced on Saturday, October 2, after accompanying his longtime aide, Senator Bong Go, who filed his candidacy for vice president.
It was Duterte who was expected to run for vice president given his previous announcements and a big push from his divided party, PDP-Laban. But the President said he took note of the "overwhelming sentiment" of Filipinos that running for vice president would "circumvent" the law.
"And today, I announce my retirement from politics," the 76-year-old President said.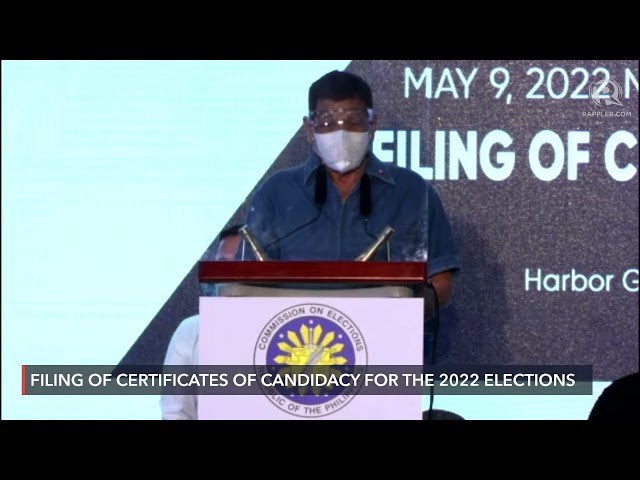 Duterte was apparently referring to a recent survey by the Social Weather Stations that showed six in 10 Filipinos believe that Duterte's contemplated vice presidential run is unconstitutional.
Taking the podium after Go's brief speech at the Sofitel Hotel where the filing of certificates of candidacy for the May 2022 elections is being held, Duterte mentioned the "different surveys, forums, caucuses, and meetings" about his planned vice presidential bid.
"The overwhelming sentiment of the Filipino is that I am not qualified and it would be a violation of the Constitution to circumvent the law, the spirit of the Constitution," said Duterte.
"In obedience to the will of the people, who after all placed me in the presidency many years ago, I now say, sa mga kababayan ko, sundin ko ang gusto ninyo. (To my countrymen, I will follow what you want). And today, I announce my retirement from politics," the President added.
But it's not his first time to talk about retirement.
In 2015, when asked if he would consider running for president, Duterte said that he "will retire from public life for good." He ran for president the following year, in May 2016.
Who is standard-bearer?
Duterte had been nominated by the divided PDP-Laban as its vice presidential bet, which he subsequently accepted. The party nominated Go as its standard-bearer, which Go rejected.
On Saturday, Go filed for vice president instead – leaving the ruling party without a standard-bearer. The leader of a PDP-Laban faction, Senator Manny Pacquiao, filed his candidacy for president under a different party, Promdi.
While he remains popular, Duterte's ratings dipped in May and June to 75% and his administration is under fire for the questionable contracts it awarded to a company that is associated with his Chinese friend and former adviser, Michael Yang.
In a Pulse Asia poll, Duterte also fell far behind vice presidential aspirant and Senate President Tito Sotto. Duterte ranked second with a score of 14, which is just a little over half of Sotto's numbers.
Prior to this, Duterte had hinted several times that he was tempted to run for vice president to be "immune from suit" – an assumption that experts have dismissed.
Experts and critics called it the "politics of the absurd," a bastardization of the Philippines' electoral system. – Rappler.com