(1st UPDATE) President Rodrigo Duterte says he pushed Senator Bong Go to run for president after Go decided to back out in light of Sara Duterte seeking the vice presidency
Even President Rodrigo Duterte was perplexed by his daughter Sara Duterte running for vice president in 2022. She was leading in the presidential surveys he saw, so why slide down to a lower position? He could think only of one reason.
"I'm sure yung pagtakbo ni Sara, ay desisyon nila Bongbong yun (I'm sure this run of Sara is a decision of Bongbong's camp)," Duterte said in an interview with pro-Duterte radio host Byron Cristobal early on Sunday morning, November 14.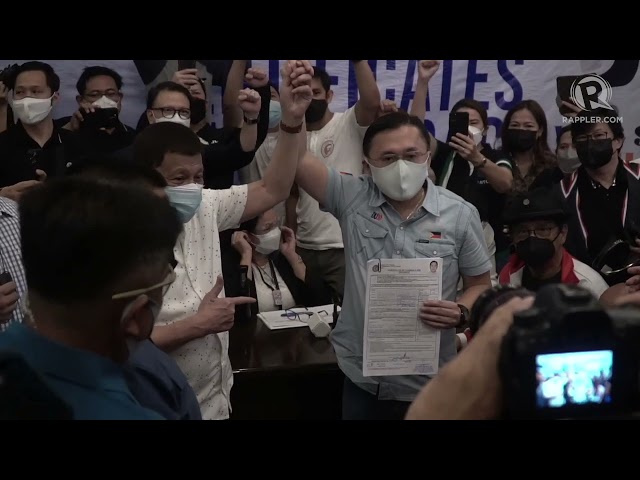 A visibly exhausted Duterte spoke with Cristobal just hours after he accompanied his longtime aide, Senator Bong Go, as Go sought the presidency via substitution. Duterte will also run for vice president through the same route before the substitutions deadline on November 15.
Go and Duterte's visit at the Comelec followed presidential daughter Sara Duterte's substitution for the vice-presidential candidate of Gloria Arroyo-backed Lakas-CMD. Sara Duterte was also declared the "adopted" vice presidential bet of Bongbong Marcos, who is running under Partido Federal ng Pilipinas. (WATCH: Rappler Talk: Should we ban election substitution?)
"Nagtataka ako, sabi ko, siya ang number 1 sa survey, kung bakit siyang pumayag natatakbo lang ng bise. Bakit ka tatakbo na bise presidente na alam mong mas lamang ka?" Duterte said, speaking in a low ramble during the entire interview.
(I was puzzled, I said, she was number 1 in the surveys, so why did she consent to running only for the vice presidency. Why would you run for vice president when you know you are leading?)
Why go for Go?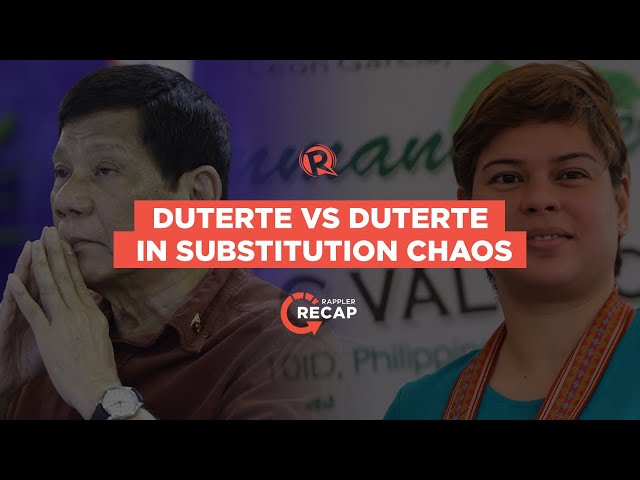 Sara Duterte's vice presidential bid surprised Bong Go so much on Saturday that he was brought to tears and he wanted to withdraw his vice-presidential run under PDP-Laban, Duterte said.
That was when Duterte persuaded Go to seek the presidency.
"Sabi niya tatakbo si Inday (Sara Duterte), magwi-withdraw na lang siya. Ayaw na niya. Sabi ko, 'Bakit ganoon? Nag-umpisa ka na.' Eh 'di tumakbo ka na lang ng president. Eh ganoon lang pala ang gagawin sayo eh. Edi kasa ka na'," Duterte recounted.
(He said Inday was running, so he was withdrawing. He didn't want to do it anymore. I said, "Why? You've already started. Just run for president. If that's what they're going to do to you, load up.)
Asked why he stuck to Go instead of Bongbong Marcos – a noted ally of Duterte – the President said his support for Go was "a matter of principle." He said in another part of the interview that he admired Go's "honesty."
Duterte will run for vice president as Go's running mate, according to Communications Secretary Martin Andanar. They will run under Pederalismo ng Dugong Dakilang Samahan or PDDS.
Duterte and candidates courting his endorsement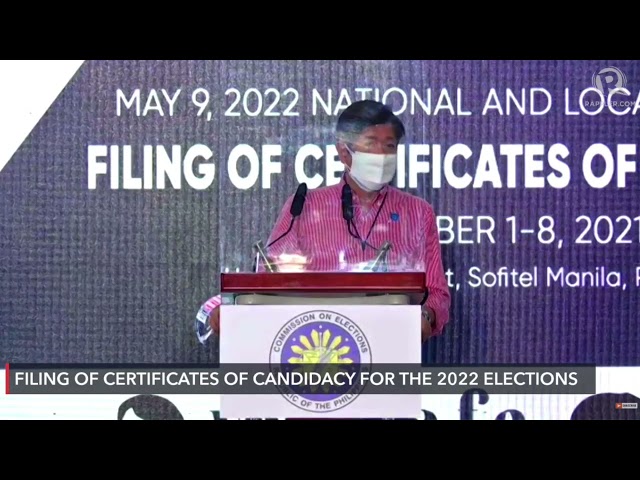 Duterte also disclosed that he was visited in Malacañang by presidential aspirants Manny Pacquiao and Bongbong Marcos on separate occasions.
Duterte said Pacquiao came to him with the pitch of wanting to "unite Mindanao" – Duterte has spent decades in Davao, while Pacquiao was born in Bukidnon and raised in General Santos City.
It was unclear when this visit was made as Duterte and Pacquiao made enemies out of each other in recent months, after Pacquiao accused Duterte's government of rampant corruption. Duterte retaliated by calling Pacquiao incompetent. (READ: A party in disarray: Who wins in PDP-Laban's 2022 game?)
Marcos, meanwhile, visited Malacañang with his wife, Duterte said.
Duterte mentioned one reason why he could not bring himself to support Marcos: he believes he is "pro-communist."
"About Marcos' run, I will say the reason why I can't support him, and why just like Leni, he's pro-communist," Duterte said, without elaborating how this was so. (READ: Red-tagging by Duterte gov't should alarm Comelec, says watchdog)
The President said he only entertained the talks but he reserved his endorsement for Go, his aide for decades.
"I ask for understanding. If you jump ship…that is okay with me. My support for Bong is a matter of principle," Duterte said.
"We urge you to toe the party line and remain steadfast. President Rodrigo Roa Duterte will personally lead our campaign and is committed to support all our candidates," PDP-Laban said in a statement on Sunday.– Rappler.com