Opposition figures say this amplifies their call for a united front that will have better chances of winning in the high-stakes 2022 elections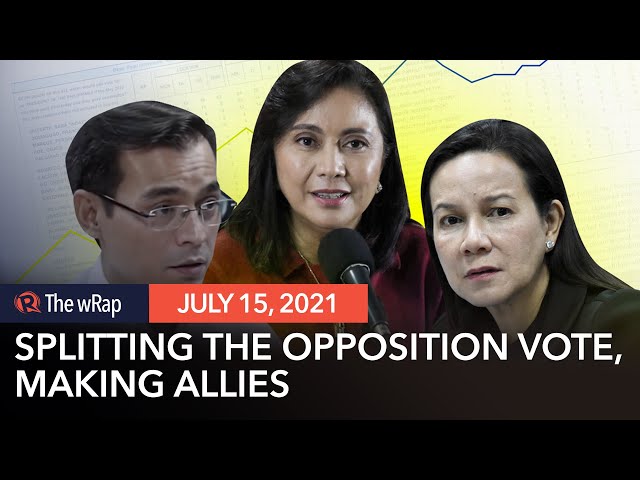 If the presidential elections were held today, none of the names being floated as possible standard-bearers for the opposition would win if they battled each other in the same race.
The most recent Pulse Asia Research survey indicates that the votes of dissenting forces against President Rodrigo Duterte are mainly split among three politicians: Manila Mayor Isko Moreno (14%), Senator Grace Poe (10%), and Vice President Leni Robredo with (6%).
Their numbers are a far cry from survey frontrunner and Davao City Mayor Sara Duterte, the feisty presidential daughter who is now consulting with political leaders and sectors to finalize her 2022 plans. Her father, meanwhile, leads the vice presidential race, but only by a very slim margin of four percentage points over Manila Mayor Isko Moreno. Analysts have called President Duterte's floated VP bid a "bastardization" of the electoral process.
Moreno, Poe, and Robredo were among the initial choices of the 1Sambayan opposition coalition for its presidential nominees list. The goal is to endorse a single slate for national candidates that would defeat Duterte's anointed bets in 2022.
But of the three, only Robredo – the de facto leader of the Philippine opposition – has embraced 1Sambayan's nomination process. Poe was also a nominee, but minutes after she was named by 1Sambayan on June 12, the senator said she isn't gunning for the presidency.
Moreno's upward trajectory in the polls indicates he could be the best bet for Filipinos looking for an alternative to Sara Duterte. He is neither an administration nor an opposition-allied politician, presenting himself as a unifying candidate. The Manila mayor was supposedly one of 1Sambayan's choices, but he begged off from being included in the coalition's list "for now."
Numbers also indicate that politicians affiliated with 1Sambayan are not at all palatable to Filipino voters.
Former senator Antonio Trillanes IV may have been the first politician to explicitly announce his presidential bid, but he is trailing far behind both administration and opposition allies with just a 2% preference.
The name of retired Supreme Court senior associate justice Antonio Carpio, lead convenor for 1Sambayan, was also thrown into the mix of Pulse Asia's possible presidential contenders. But not even 1% of Filipinos see the former magistrate as their next president.
Carpio, however, is not concerned about the poor survey performance of 1Sambayan's nominees. He said the elections are still a year away, and most of the candidates in Pulse Asia's list have not officially declared their candidacies.
"The surveys now will not reflect the actual result of the election. The real surveys that will be reflective of the election will be sometime in March because everything's fluid. All those who led the surveys at this time of the year lost," Carpio said in a press conference on Thursday, July 15.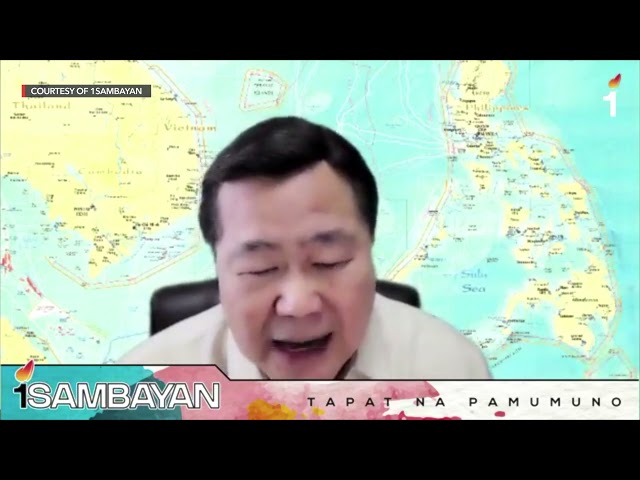 Unite or lose
This vote-splitting trend in pre-election surveys so far tell key opposition figures that they are right in calling for a united front to topple a possible Duterte-Duterte tandem in 2022.
Senator Kiko Pangilinan, president of the once-ruling Liberal Party (LP) where Robredo is chairperson – pointed out that if all the "alternatives" to the administration candidates give way to just one bet in 2022, then it would be so much easier to win the presidential race.
By alternatives, Pangilinan was also referring to Senator Panfilo Lacson (4%) and former vice president Jejomar Binay (2%).
1Sambayan had offered to nominate Lacson, but the senator turned them down since most of the coalition's convenors are against the anti-terror law that he championed. Lacson is now doing a "consultative tour" around the country with his potential running mate, Senate President Vicente Sotto III.
Binay's daughter Senator Nancy Binay was also an initial presidential and vice presidential nominee for 1Sambayan. She agreed there must be a single opposition candidate in 2022, but admitted it was hard to coalesce with some personalities in 1Sambayan whom she believes were responsible for the attacks against her family.
"The other way of looking at the most recent Pulse Asia survey is that the sum of the alternatives' numbers is much bigger than the numbers of the ruling party. Isama mo pa ang 8% na undecided (Add to that the 8% who are undecided), that's majority of the voting population," said Pangilinan.
1Sambayan convenor Howie Calleja agreed, saying, "It is clear that the survey would show that Mayor Sara is not unbeatable, but the way to win is to coalesce and unite as one."
This assumes each of the candidates' supporters in Pulse Asia's list would rally behind whoever is nominated as the sole opposition standard-bearer. Camps from different opposition groups, however, continue to bicker online, with purists refusing to entertain the possibility of supporting someone else besides their desired bet.
Trouble in Mindanao
Opposition candidates will also have to work harder to woo voters in Mindanao, the bailiwick of the Dutertes.
Trillanes and Carpio have registered zero voter preference in the region.
The Vice President would also be hard-pressed to convince Mindanao to vote for her as president. She has more or less the same chances of winning in the area as Moreno, as his 6% is a statistical tie with Robredo's 4%, given Pulse Asia's +/- 2 margin of error.
Poe fared better than most of the other possible opposition presidential bets with her 8% voter preference in Mindanao.
In contrast, Sara Duterte reigns supreme in Mindanao, as 62% of respondents from the region would vote for her. She enjoys a wide lead over another administration ally hailing from Mindanao, Senator Manny Pacquiao. Raised in General Santos City, he is only second to Sara Duterte in Mindanao with 10%.
What about Robredo?
Robredo is the anti-Duterte groups' most viable presidential candidate based on Pulse Asia's survey. But her numbers seem to be on a downward trend, from 8% voter preference in December 2020, to 7% in February to March 2021, and now down to 6%. If she decides not to run, her votes can easily go to another candidate.
Robredo's spokesperson Barry Gutierrez, however, is unperturbed. He attributed the Vice President's poor survey performance to her refusal to gear up for the 2022 campaign while she is still focused on her pandemic response programs.
"VP Leni's numbers are respectable, considering that she has been focused on working on COVID-19 response initiatives and has paid no attention to the frantic positioning for 2022 at all. 'Yung iba diyan, deny nang deny na tatakbo, pero nagkalat naman ang mukha at pangalan sa mga billboard at tarp (Some people out there keep on denying they would run, but you can see their faces and names spread on billboards and tarps)," Gutierrez said.
"Si VP Leni, trabaho lang ang tutok (VP Leni is focused on her work). We remain confident, when, and if, she decides to run for President, the numbers will be there. Hindi pa nagsisimula ang laban (The fight hasn't started yet)," he added.
Robredo is carefully trying to discern her fate in 2022. She is keeping all options open for now – whether that means the presidency, the gubernatorial post in home province Camarines Sur, or a break from politics.
The filing of certificates of candidacy for the 2022 polls is set in October. – Rappler.com