(2nd UPDATE) Senator Manny Pacquiao says the senatorial bets in his slate are allowed to be guest candidates of other presidential bets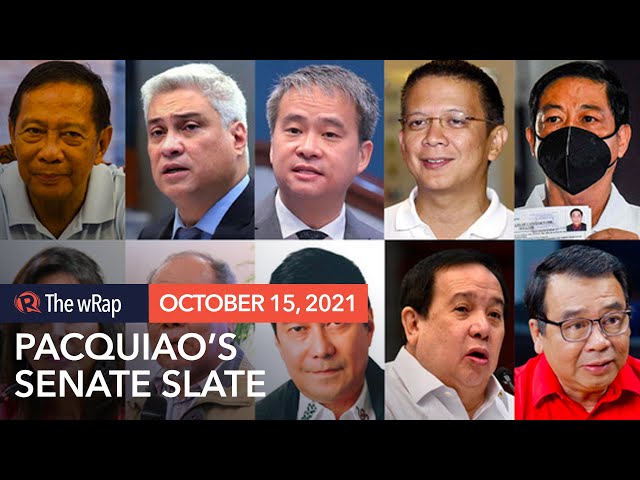 Former vice president Jejomar Binay and three reelectionists are among those running under Senator Manny Pacquiao's ticket for the 2022 elections.
Pacquiao bared his Senate slate in an interview with ANC's Headstart on Friday, October 15. Here are the other candidates aside from Binay:
The presidential aspirant said that those in his slate are allowed to be guest candidates for other tandems.
"Hindi lang namin binuo dahil maraming guest candidates sa ating mga senador. At hindi naman natin sila kino-korner dahil senatorial ang tinatakbuhan nila," said Pacquiao.
(We did not complete the list because some of our senatorial candidates are guest candidates in other tandems. And we're not cornering them because they are running for the Senate.)
Binay, Escudero, Legarda, Gordon, Villanueva, and Zubiri are also part of the Robredo-Pangilinan and Lacson-Sotto Senate slates.
In a briefing on Friday, Bayan Muna Representative Carlos Zarate, who is part of the Makabayan bloc, said talks with the tandems, including Pacquiao, are still ongoing.
"Tuloy-tuloy naman ang engagement sa lahat (Engagements with everyone are still ongoing)," Zarate said.
Six years earlier, in 2016, it was Pacquiao who ran for senator under Binay's slate. Binay ran for president in that election against then-Davao mayor Rodrigo Duterte, among others. After Duterte won, Pacquiao allied himself with the new president, saying he had always been for Duterte.
During its September 19 assembly, PDP-Laban gave Pacquiao the leeway to choose his vice-presidential bet and Senate slate.
Based on Pacquiao's list so far, only Barbo is from his divided party.
The Comelec will still have to decide which faction of PDP-Laban – and therefore its nominees – would be recognized as the legitimate political party for the 2022 polls.
Duterte on October 8 endorsed members of his Cabinet as part of the administration slate, with a number of them running under the PDP-Laban faction led by Energy Secretary Alfonso Cusi.
Amid the party squabbles, Pacquiao chose to file his candidacy for president under the Progressive Movement for the Devolution of Initiatives or PROMDI, the national party founded by the late former Cebu governor Lito Osmeña.
Because of this, PROMDI is seen by observers as a safety net in case the Pacquiao faction ends up losing in the PDP-Laban legitimacy battle.
The Cusi-led faction has said that Pacquiao's running under a different party is grounds for his "automatic expulsion" from PDP-Laban.
Senator Aquilino "Koko" Pimentel III, party chairman of the Pacquiao wing, dismissed this, saying that the alliance with PROMDI and People's Champ Movement was backed by a resolution made by the party's national executive committee. This would consolidate Pacquiao's support base, Pimentel said.
Pacquiao's running mate is not from PDP-Laban but from the Buhay party list, House Deputy Speaker Lito Atienza. – Rappler.com