House lawmakers suggest that the Philippine Red Cross, led by Duterte critic Senator Richard Gordon, deserves to be probed
Taking their cue from President Rodrigo Duterte, the House good government and public accountability committee took aim at the Philippine Red Cross (PRC) in its hearing on Monday, September 20.
The PRC is headed by Senator Richard Gordon, once a part of the Duterte-allied "supermajority" in the Senate, who later earned the President's ire.
As chairman of the Senate blue ribbon committee, Gordon is leading a probe into the Duterte government's pandemic purchases worth billions of pesos. The Senate investigation is particularly looking into Pharmally, which has been linked to Duterte's former economic adviser Michael Yang.
During the House hearing on Monday, two lawmakers part of the majority – Deputy Speaker Rodante Marcoleta and panel vice chairman and Quezon 2nd District Representative David Suarez – raised an issue with the Red Cross.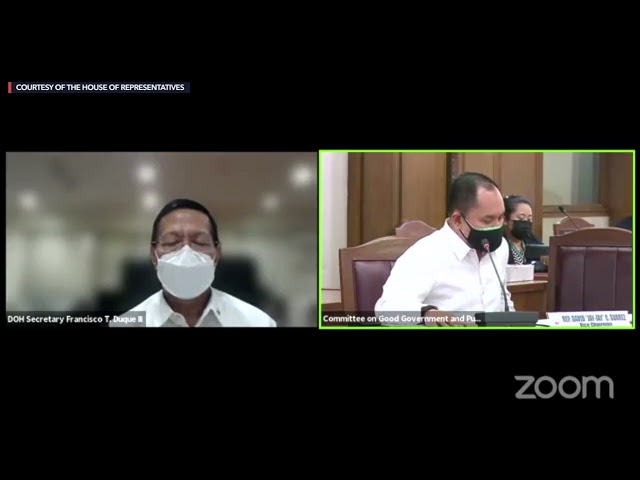 "It's about a certain number of personnel in a hospital in Subic who were tested positive by the PRC laboratory in Subic," Marcoleta started.
He was referring to 49 health workers who tested positive supposedly with a Red Cross testing center in Subic. They got retested in another hospital and found that 44 of them turned out to be negative.
The incident was confirmed by Health Secretary Duque in the hearing, saying the DOH has received a complaint related to the incident and that it has started a probe. Duque promised to relay the results of the investigation to the lawmakers.
The incident was concerning, said Suarez, because quarantining people who turned out to be negative, he said, could be disruptive to their lives. He also expressed concern about Filipinos who got tested in the center but could not get a re-swab.
"We really need to look into how the testing is being done, especially if these testing (sic) are being paid for," Suarez said.
Marcoleta also asked DOH if the Red Cross tests were overpriced. Duque said they were not.
Marcoleta and Suarez are part of the same group of congressmen in the panel that has amplified the defense of the government in allegations of corruption and irregularity, steering the proceedings from their Senate counterparts, who have been critical and suspicious of the deals.
The line of questioning followed Duterte saying in his recent late-night monologues, where he accused Gordon of using Red Cross funds for his campaign, and said that it should be probed by the Commission on Audit – a body that has no jurisdiction over Red Cross.
The House of Representatives is dominated by Duterte allies who have done his bidding in a number of key decisions, such as refusing to grant a franchise to broadcast giant ABS-CBN. – Rappler.com
Read the other stories from the September 20, 2021, House committee on good government and public accountability hearing: