This is AI generated summarization, which may have errors. For context, always refer to the full article.
Leftist groups appeal to Congress to realign confidential funds for social services projects, such as construction of hospitals and schools and salary increase for government employees
MANILA, Philippines – Leftist groups urged lawmakers in the House of Representatives to remove the confidential funds from the proposed budgets of the offices led by President Ferdinand Marcos Jr. and Vice President Sara Duterte, and realign them to social services.
The Office of the President (OP), Office of the Vice President (OVP), the Marcos-led Department of Agriculture (DA), and the Duterte-led Department of Education (DepEd) have proposed P2.95 billion in combined confidential funds for 2024.
In an open letter to the lawmakers on Monday, September 25, the groups pointed out that the confidential and intelligence funds (CIF) allotted to these agencies "dwarf the CIF budgets of all other intelligence and law enforcement agencies combined."
They flagged the inaction of the chamber to remove or reduce the confidential and intelligence funds of agencies that they believe are not entitled to huge allocations of such.
"Such lump-sum funds, being discretionary, confidential, and not subject to regular Commission on Audit auditing procedures, naturally [lead] to corruption and abuse," the groups wrote.
"We propose instead that the said CIFs, plus others that you may deem inappropriate, be realigned to the construction and repair of hospitals, health facilities, and public schools; to augment the salaries and benefits of teachers, health workers, and other government employees; to provide subsidies to small farmers and fisherfolk, or housing to poor families, among other more urgent needs," they added.
There are over a dozen signatories in the letter, including former lawmakers Rafael Mariano, Teddy Casiño, Raymond Palatino, Eufemia Cullamat, and Ferdinand Gaite, who are still leaders of their respective groups in the leftist movement.
The groups submitted the letter to House Speaker Martin Romualdez and House Minority Leader Marcelino Libanan during separate meetings with them on Monday.
The utilization of confidential funds has become a hot-button issue after documents showed Duterte's OVP received P125 million in such secret funds in 2022, even though the national budget that year did not include funding for such.
It was later established that Duterte, upon succeeding former vice president Leni Robredo, asked the OP to provide the OVP with confidential funds. The OP approved the request, and the Department of Budget and Management (DBM) released it to her office.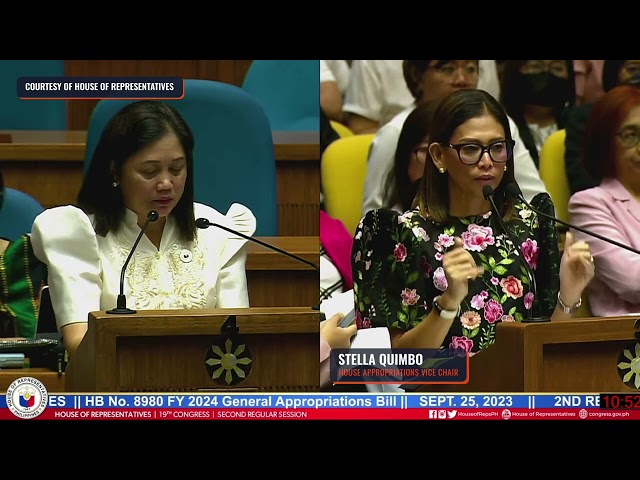 Critics are concerned about whether the transaction was constitutional, given that a government agency cannot simply transfer funds to another agency because the power to appropriate lies in Congress.
They also said there was no line item for confidential funds in the OVP's 2022 budget, although House appropriations panel vice chairperson Stella Quimbo disputed this.
To make matters worse, Duterte has not fully explained why the OVP needed confidential funds in 2022, resorting instead to blanket denial of allegations that the funds have been used inappropriately.
The DBM said the OVP's confidential funds in 2022 were for good governance projects, including the operation of satellite offices and implementation of various projects relevant to national security and peace and order, among others.
A 2015 joint circular released by five government agencies defines confidential expenses as those pertaining to surveillance activities in civilian government agencies, while intelligence expenses are those related to intel information-gathering activities of uniformed and military personnel that have direct impact on national security.
Confidential and intelligence funds are much more difficult to audit because they are exempted from the Commission on Audit's standard procedures.
For 2024, the Marcos administration wants P10.1 billion in confidential and intelligence funds scattered across government agencies. – Rappler.com