The Viva Hot Babe-turned-councilor crafts an ordinance that outlines the responsibilities of schools, hotels, money remittance centers, business establishments, and barangays in eliminating online sexual abuse and exploitation of children in the city
MANILA, Philippines – Behind one of the Philippines' first ordinances in the battle against online sexual abuse and exploitation of children (OSAEC) is a woman who claims to be possibly the only councilor in the country who goes around in a crop top.
Once a member of pop girl group Viva Hot Babes, 37-year-old Angeles City Councilor Joan Crystal "JC Parker" Aguas is the lawmaker trailblazing the fight against OSAEC in the city.
The Philippines' anti-OSAEC measure lapsed into law in July 2022. The law, long pushed by children's rights advocates, criminalizes the online trafficking of children through acts such as livestreaming sexual abuse, and sharing child sexual abuse material through social media platforms.
According to the International Justice Mission (IJM), as of December 2022, at least 10 local government units (LGUs) had begun drafting ordinances or taking steps to address OSAEC locally.
Apart from Aguas' Angeles City, others include San Fernando City, Himamaylan City, Butuan City, and the third district of Laguna.
Over in Angeles, the local campaign against OSAEC is now full speed ahead after Mayor Carmelo Lazatin approved Ordinance No. 645, series of 2022 on September 21.
Unexpected politician
Aguas, originally from Plaridel, Bulacan, had no plans of becoming a politician, much less in Angeles City.
"Hindi kami mayaman noong ipinanganak ako, and na-experience ko kasi 'yung walang trabaho, 'yung to the point na mangungutang ka sa mga kapitbahay mo, 'yung maghahanap ka ng taong mauutangan mo para lang meron kang pambayad ng kuryente," she said.
(I was not born rich, and I had experienced not having work, to the point that you would borrow money from your neighbor, or you would look for someone you can borrow money from just so you can pay for your electricity bill.)
Going into show business was a way to feed her family and put her siblings through school, Aguas said. But as she began campaigning for different politicians, she began to realize a major similarity between being in showbiz and being in politics: having a platform.
"You're still in the public's eye – everything you do, people notice. The difference is that you're helping people [in public service]," she said in a mix of English and Filipino.
Aguas' husband, three-term city councilor Jericho Aguas, also encouraged her to take up public service. He was term-limited in 2019.
Aguas ran and won her first term in the 2019 midterm elections, placing fourth among aspiring councilors. Supposedly only serving one term, she ended up enjoying what she was doing. "Ituloy mo na (Just continue), because you're doing a good job," she recalls her husband telling her.
In the 2022 elections, Aguas ranked second among 26 council candidates, with 80,606 votes.
Discovering an advocacy for children's rights
As a neophyte politician in 2019, her humble beginnings inspired her to focus on livelihood projects in her first term. But an opportunity provided by IJM opened her eyes to children's rights and the need to address OSAEC.
IJM invited Angeles Vice Mayor Vicky Vega to attend a three-day OSAEC seminar in Boracay in August 2022, but Vega asked Aguas to take her place.
Expecting that there would be enough time to relax on the beach while on her work trip, Aguas had packed swimsuits and beachwear.
"Pagdating ko doon, lahat ng mga nandoon, naka-suit sila, samantalang ako naka-shorts, naka-tank top, naka-braids pa 'yung hair ko. Pero noong umupo ako, first one hour or 30 minutes pa lang sabi ko, 'Ay, hindi ako aalis dito, papakinggan ko talaga sila,'" she said.
(When I arrived at the seminar, everyone there was wearing suits, while I was wearing shorts, a tank top, and my hair was in braids. But when I sat down, in the first hour or 30 minutes, I had already said, "I'm not leaving. I'm going to listen.")
The seminar focused on local legislation for OSAEC prosecution, with organizers giving the attending councilors templates for ordinances that they can modify to make them more adaptive to their local contexts.
Aguas said it was her first time to get hands-on with ordinance writing. It is usual practice for lawmakers, from local to national, to delegate writing to staff based on their stands on issues.
Once the councilor got back to Angeles, she filed her anti-OSAEC ordinance right away. Mayor Lazatin approved Ordinance No. 645 on September 21, less than two months after Aguas attended the Boracay seminar.
'City-wide crusade' against OSAEC
Aguas acknowledges that Angeles City in Pampanga is a "hotspot" for OSAEC. A red-light district and a commercial sex industry can be found in the city.
According to a 2016 IJM study, there was an overall child sex trafficking prevalence of 1.21% in Angeles and neighboring city Mabalacat. This means that one out of every 83 commercial sex workers identified by data collectors was a minor.
But Aguas noted that the "biggest challenge" the city faces with this crime is that it goes unreported.
"Siyempre, nakakahiya sa parte ng mga nanunungkulan, pero it's there; it's real. Kumbaga, totoong nangyayari ito, hindi naman kasalanan to ng gobyerno…. Kasalanan ito ng mga nagte-take advantage sa mga kahirapan ng mga tao dito sa Angeles. Kaya, I just pinpointed na, hindi natin kasalanan ito, pero we can do something about it," she said.
(Of course, it's embarrassing on the part of the government, but it's there; it's real. This is happening, but it's not the government's fault…. It is the fault of people who take advantage of the poor here in Angeles. So I just pinpointed that, it's not our fault, but we can do something about it.)
The ordinance prohibits the following:
Accessing, possessing, producing, or distributing online child sexual abuse material
Grooming children, or developing a relationship with a child to enable them for sexual abuse
Livestreaming sexual abuse of children
"Sextortion" or coercing and blackmailing children for sexual purposes
Other illegal acts provided under the country's anti-child pornography law, anti-trafficking law, and anti-OSAEC law
Aguas describes the local fight against OSAEC as a "city-wide crusade," with the ordinance outlining each of the responsibilities of schools, hotels, and motels, money remittance centers, business establishments, and internet cafés.
The LGU continues to work closely with IJM, as the international nongovernmental organization also conducted trainings for barangays to spot red flags in communities. Aguas has also heard from constituents that they are aware of OSAEC happening in their communities.
Aguas also puts emphasis on prevention and awareness, noting that the ideal situation is that no children need to be rescues from abuse.
In November 2022, the LGU held a three-day advocacy campaign against OSAEC held in four elementary schools in the city. One seminar taught "good touch" and "bad touch."
They are also given step-by-step instructions in situations of possible abuse: "Say no, run away, call for help, and trust yourself that you did the right thing."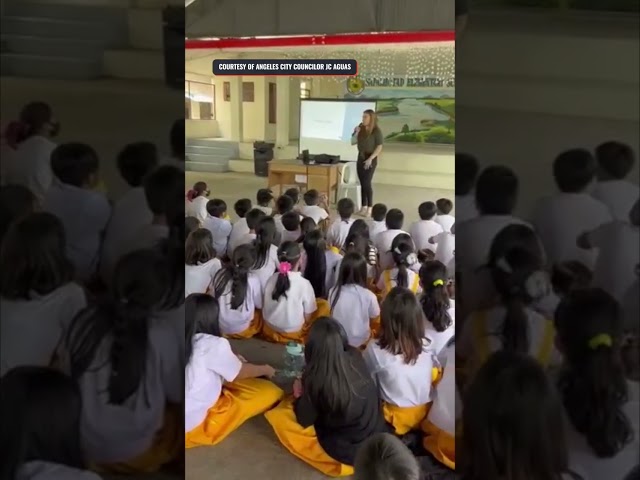 The ordinance entitles victim-survivors of OSAEC to emergency shelter, counseling, free legal services, medical and/or psychological services, livelihood and skills training, and educational assistance.
Even frontline social workers and other OSAEC responders are to be given trauma-informed care, and the local council on anti-trafficking and violence against women and children are obliged to undergo regular training for handling and addressing the crime. 
Aguas' advice to other local lawmakers who want to join the national fight against OSAEC is simple: Make the ordinance, even if OSAEC is not common in your area.
"If you're serving your city, if you're serving your LGU, you should be aware of what is happening around you, especially with the children," she said in a mix of English and Filipino.
"These children can't fight for themselves. They can't even tell between right and wrong sometimes, right? As a public servant, while we have the position, we should know how to protect them," she added. – with reports from Ryand Ugalde/Rappler.com