This is AI generated summarization, which may have errors. For context, always refer to the full article.
(2nd UPDATE) 'I feel that we have in our police and our judiciary a good system. We do not need assistance from any outside entity,' says Marcos, echoing the position of his predecessor and ally, Rodrigo Duterte
BAGUIO CITY, Philippines – President Ferdinand Marcos Jr. said on Saturday, February 18, that he "cannot see" what the jurisdiction of the International Criminal Court (ICC) is, even as the tribunal said it would move forward with its investigation into the drug war killings under former president Rodrigo Duterte.
"I stated it often, even before I took office as president, that there are many questions about their jurisdiction and what can be – what we, in the Philippines, regard as a intrusion into our internal matters and they are a threat to our sovereignty," said Marcos, echoing the position of his administration and his predecessor.
"I feel that we have in our police and our judiciary a good system. We do not need assistance from any outside entity. The Philippines is a sovereign nation and we are not colonies anymore of these former imperialists," he said, in a chance interview on the sidelines of the Philippine Military Academy alumni homecoming in Fort Gregorio del Pilar.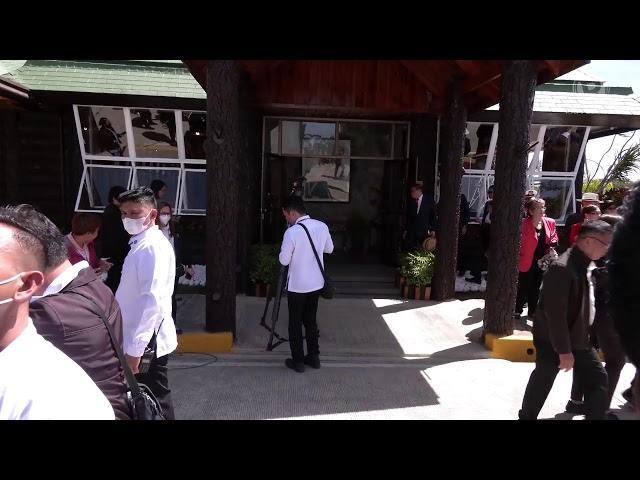 The ICC is an international tribunal that probes and, should evidence be sufficient, tries persons "charged with the gravest crimes of concerns to the international community." It is not dominated by one country but is managed by the Assembly of States Parties – countries that have acceded to the Rome Statute. 
The Philippines used to be one of those countries but in 2018, Duterte withdrew from the ICC after it announced its preliminary probe into his bloody drug war. Under Marcos, communication with the ICC exists, via fillings – such as the latest one, in which the Philippines argued that the probe should be dropped.
"That is not something we consider to be a legitimate judgment. Until those questions of jurisdiction and the effects on the sovereignty of the republic are sufficiently answered, I cannot cooperate with them," said Marcos.
Duterte is being probed for the killings in his drug war when he was president from 2016 to 2022. He is also being investigated for the "Davao Death Squad" killings in Davao City where he was mayor for decades.
Marcos ran under the promise of continuing the legacy not only of but also that of his late father and namesake, dictator Ferdinand Marcos. His 2022 run saw two major political groups coalesce under one banner as he ram alongside Duterte's daughter, now Vice President Sara Duterte, Marcos' education secretary.
While the ICC has yet to determine the defendants of the case, at least one prominent personality from the PMA has been named: Senator Ronald dela Rosa of Class 1986, Duterte's first police chief and architect of his bloody drug war.
Militant youth group Anakbayan scored Marcos' statement, saying he had a double standard when it comes to protecting Philippine sovereingty.
"Kung gumagana talaga ang hustisya sa Pilipinas, bakit hindi ka magpagawa ng imbestigasyon sa war on drugs? Takot ka ba na kapag dumating ang ICC, ikaw at ang mga kasabwat mo ang isunod? Wala kang karapatan magsalita tungkol sa soberanya ng Pilipinas kung hinahayaan mo ang US magtayo ng mga base at magpayaman gamit ang mga likas na yaman ng bansa," said Anakbayan National Chairperson Jeann Miranda.
(If the Philippine justice system is really working, why don't you order an investigation into the war on drugs? Do you fear that when the ICC comes here, you and your accomplices would be next? You have no right to speak about Philippine sovereignty if you're allowing the US to set up bases and exploit the natural resources of the country.)
Miranda was referring to the Philippine government's decision to give the US military more access to Philippine military bases under the Philippines-US Enhanced Defense Cooperation Agreement. The Philippine Constitution bars foreign military bases in the country.
'No mechanism' for ICC to enter PH
On Monday, February 20, Justice Secretary Jesus Crispin Remulla said that the ICC is "a political body in many ways."
"It is not just a body for justice, but it is meant to forward a political agenda for many people. Why do I say this? Because we are a country with a legal system that can function by itself, and they want to take over some of our functions just to criticize the way we ran our country before," said Remulla.
"That is not right. So we will not bow down to their political agenda," he added in a mix of English and Filipino.
The justice secretary said that there is "no mechanism" by which the ICC can enter the country "because this was not contemplated in the drafting of the law of the treaty before we became a signatory for a few years, which we withdrew from."
Remulla earlier said that the ICC probe would be "insulting," and the government is still unwilling to cooperate. – with a report from Michelle Abad/Rappler.com