This is AI generated summarization, which may have errors. For context, always refer to the full article.
The President pays tribute to his late DMW chief, emphasizing the need to continue her work in fighting for OFW rights
MANILA, Philippines – A shower of white petals and a piano cover of "Amazing Grace" were what welcomed the late Maria Susana "Toots" Ople for her last visit to Malacañang on Monday, August 28.
The remains of Ople, who died on August 22, were brought to the Kalayaan Hall for a necrological service. The long-time advocate for overseas Filipino workers (OFWs) was the Philippines' first full-time Department of Migrant Workers (DMW) secretary.
"Toots, I don't know how many years God will give me in this life. But for the rest of that life, I can confidently say Toots will always be one of the best people I have ever known," said President Ferdinand Marcos Jr., in necrological services at Kalayaan Hall. Marcos and his Cabinet joined Ople's family and friends in paying tribute to her.
Speaking after a Mass held for Ople, an emotional Marcos said her death was a loss not just to family, friends, and his administration but "to the millions of those who she took care of, who she loved, and who she worked for tirelessly and endlessly."
"We are told when you are an official that you cannot show emotion, that you must be stoic, and you must keep yourself to yourself. Ngunit sana maunawaan ninyo kung tumulo ang luha ko dahil napakalaking nawala sa atin. Napaka malaki ang nawala sa akin, sa inyong lahat, at sa bansang Pilipinas (But I hope you understand that if I shed a tear, it's because her death is a huge loss. It's a huge loss to me, to all of us here, to the entire country)," he said.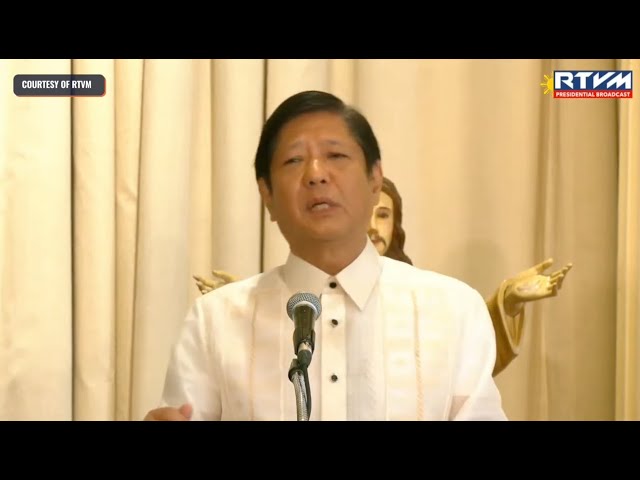 The president recalled wishing for a "miracle" for the late Ople, who had dealt with health issues for a while. She was diagnosed with breast cancer and underwent surgery in February 2020. In July 2022, Ople said that she was still undergoing treatment despite being cancer-free.
Ople's daughter, Estelle Ople-Osorio, in turn thanked Marcos for appointing her mother despite her cancer diagnosis. "It is with gratitude that I thank you… you saw beyond her illness and you saw through her heart," she said.
Marcos went on to praise Ople for her professionalism, hard work, and swiftness in responding to the needs of OFWs. He remembered instances when Ople had already flown out to visit OFWs in distress – without him ever having to issue orders.
"I know that this all came from her heart, from the compassion and the passion she brought to her work," he said.
Ople was an occasional member of Marcos' delegation during official trips abroad. The DMW chief would attend bilateral meetings in support of Marcos or would hold meetings of her own, speaking to labor officials in other countries about the rights, conditions, and opportunities for Filipino workers there.
She was easily recognizable to the Filipino diaspora almost everywhere she went, barely needing introduction from the President.
Friend, colleague
Marcos, who was senator from 2010-2016, recalled first knowing Ople through her work as an OFW-rights advocate. They eventually formed a friendship, as fellow candidates in former Senator Manny Villar's 2010 Senate slate. Marcos won that election but Ople failed to secure a seat.
"Kaya't hindi ko talaga maisip, parang hindi ako makaramdam — hindi ko ma-imagine na ang buhay na wala si Toots (I cannot think about, I cannot imagine a life without Toots) actually because she occupied such an important part of my life as a friend and as a colleague. And I have to say that I cannot choose which was the better relationship. They were equally wonderful. The professional relationship that we had and the friendship that we had is something that I cannot— I will not find in many people in my lifetime.," he said.
"We must honor her memory, we must honor the work that she did before," added Marcos, who noted that it would be impossible to find another Toots Ople. Marcos has yet to announce who will be replacing Ople in the DMW.
Marcos had also paid tribute to Ople earlier in the day, during ceremonies to mark National Heroes Day at the Libingan ng mga Bayani in Taguig City. After speaking of the heroism of OFWs, Marcos said of Ople: "She is a perfect example of what true heroism can be. She tirelessly dedicated the better part of her life to promote the welfare of our modern-day heroes."
Ople's remains will lie in state in Kalayaan Hall until 5 pm on August 28. Later in the day, her remains will be moved to the DMW office. – Rappler.com