Karapatan Negros Island posts on social media an anonymous text message which lists the names of the 'next target' of the 'kill kill kill' program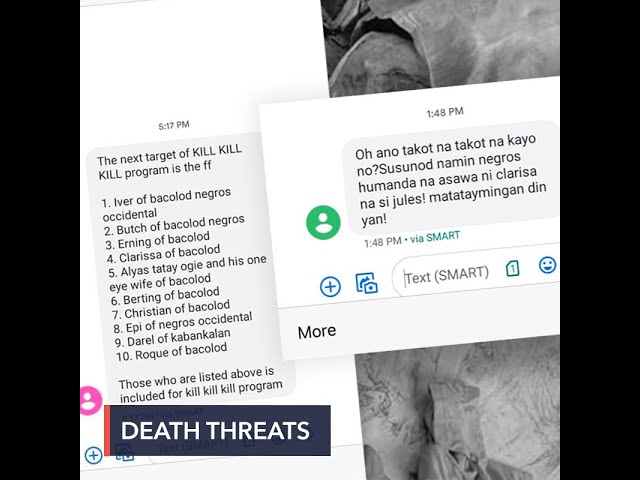 A day after the simultaneous killings of activists in Calabarzon, human rights watchdog Karapatan received death threats aimed at activists in Negros Island.
In a Facebook post, Karapatan Negros Island reported that its national office's public information desk received a text message that listed names of 10 activists who were supposed to be the "next target" of a "kill kill kill" program.
Karapatan National said it received the text message on Monday, March 8, a day after the gruesome killings of 9 activists in Calabarzon.
In that texted "next target" list, Karapatan identified the nicknames as that of Iver Lavit of Kadamay Negros; John "Butch" Lozande, secretary general of National Federation of Sugarcan Workers (NFSW); Ereneo Longinos, spokesperson of Bayan Negros; Clarissa Singson , secretary general of Karapatan Negros; Christian Tuayon of the NFSW; Felipe Gelle of the September 21 Movement; and Rolando Rillo of the NFSW.
The Karapatan post failed to identify a certain "Alyas Tatay Ogie" and "Berting" who were also included in the list.
"Those who are listed above is included for kill kill kill program," the text message read.
In a separate text message, the unidentified number also threatened Bayan Negros media liaison Juluis Dagatan, husband of Clarissa Signson who was among those included in the first text message.
In the messages, the sender alluded that Negros was "next. " Karapatan said the sender likely referred to the bloody Sunday, March 7, killings.
"Oh ano takot na kayo noh? Susunod namin Negros. Humanda na asawa ni Clarissa na si Jules! Matataymingan din yan," the message read.
(You're scared now, aren't you? Negros is next. Clarissa's husband Jules better be ready. He will have his time.)
Rappler tried contacting the Commission on Human Rights (CHR)- Central Visayas for a comment but has not received a reply as of posting.
Visayas activists under threat
This is not the first time this year that Visayas activists have received death threats.
In January, Cebu activist Greg Perez, Pinagkaisang Samahan ng mga Tsuper at Operators Nationwide- Cebu chairperson received a text message saying that he and 3 others were "targets for the week".
Among the names mentioned were Ronilo Gahator, PISTON- Cebu vice chairperson; Aldo Serat, ALSA Kontraktwal-Cebu organizer; and Jaime Paglinawan, AMA Sugbo-KMU chairperson.
Activist groups in Cebu filed with the CHR a request for a probe on the threats.
As of Monday, March 8, there is still no development on the investigation from the commission.
Why it matters
In August of 2020, Karapatan Negros paralegal officer Zara Alvarez was gunned down in Barangay Mandalagan, Bacolod City. Prior to this, Alvarez claimed in a D+C Development and Cooperation journal interview that she had been receiving threats against her life.
Her name was part of the 600 names in the Department of Justice "terror list" in 2018. The list has since been trimmed to to names.
Alvarez was supposed to testify in court against the DoJ for tagging her as a terrorist. She sought protective writs from the court but these were denied. – Rappler.com