This is AI generated summarization, which may have errors. For context, always refer to the full article.
Mike Enriquez told the staff of 'Imbestigador' not to let up until they found the drunk policeman whose stray bullet killed a little girl in 2000
MANILA, Philippines – When you're talking about a broadcaster whose impactful career spanned more than 50 years, it's hard to pick just a few choice quotes. Words and talking are what broadcasting careers are built on, after all.
In Mike Enriquez's case, there are two combinations of words that immediately come to mind: "Hindi namin kayo tatantanan" (We will not let up) and "Excuse me po". These phrases embody Enriquez's personalities: the imbestigador and sumbungan ng bayan (in a country where people often seek justice through media attention than the courts), and the kind, fair gentleman that colleagues have attested to. 
Enriquez died on Tuesday, August 29.
So where did his famous phrases originate? Read about these below, as well as other important quotes that made Enriquez the man that he was. 
'Excuse me po'
Enriquez explained in GMA's 20th anniversary special for Imbestigador in 2020 that it was all about "GMRC" or good manners and right conduct.
"Bata pa kami sinanay na kami na kapag inuubo ka o kapag nababahing ka dapat mag-e-'Excuse me po' ka. GMRC 'yun, good manners and right conduct. Akala ng mga tao arte 'yun o gimik, hindi po. Hindi, no way. Parang kapag nagmamano sa nakatatanda, hindi gimik 'yun. Totoong paggalang 'yun."
(We were trained as children that when you cough or you feel like you're about to sneeze, you must say, "Please excuse me." That's GMRC, good manners and right conduct. People thought it was just a gimmick, it's not. No, no way. Like when you're kissing the elderly's hand, it's not a gimmick. It's true respect.)
'Hindi natin ito tatantanan'
The phrase came from covering the story of Kaye Lazaro, a little girl who was hit by a stray bullet later found to have been shot by a drunk policeman.
Enriquez told the Philippine Star in 2012: "I personally handled that story, and I saw Kaye's condition. I told my staff, 'Hindi natin ito tatantanan (We will not let up) until we find that guy.' And we did. Ever since then I said this is what Imbestigador is all about," he recalls.
The journalist also told the newspaper that if they didn't produce results, then it was all for show, and that they always sought to live up to what had become their tagline. 
According to Pep, the Kaye Lazaro incident happened in 2000, the same year that Imbestigador started, which means that the tagline had been with the show almost since the very beginning. 
Issues about children are close to his heart
Enriquez was quoted in 2005 by Philstar, saying that issues about children were special to him. He said, "Issues about children are very close to me personally, because my wife and I do not have kids. We've been married for 28 years and we don't have and will never have kids." 
Enriquez is survived by his wife Lizabeth "Baby" Yumping. They were married for more than 45 years. The couple tried to have kids, but later accepted that it wasn't meant to be. They did have a dog named Booma, after Enriquez's own nickname.
On the killing of journalists 
Enriquez didn't mince words on the issue of journalists being killed. He said, "The rate at which journalists are being killed and the rate at which killers are being jailed are so far [apart]."
Enriquez told the Star that law enforcement and education were key. "There's not enough talk about raising the future generation of Filipinos with the right values, that's why education is such a big deal to me, that's where it all begins."
For a journalist as high profile as him, Enriquez said he also experienced death threats.
In an Adobo Magazine profile he said: "Death threats – we get a lot of that. Mysterious vehicles would pass by our house. I used to be bothered by that. My wife would cry and say, 'This is not the life I want for us.'"
Enriquez's life, like many journalists', took a bit of courage: "But if you follow everything Security tells you, you'll never leave the house and that's what they want, to immobilize you. So we take all the necessary precautions, but we concentrate on the work."
Media closures during martial law
Enriquez was already a radio DJ by the time Martial Law was declared in 1972. He recalled: "Nung nagkaroon ng martial law, September 21, 1972, nagdadamputan noon ng mga media. Kami at ng mga kasama ko, nagtago kami nang mga dalawang linggo. Takot kami na baka kasama kami sa mga listahan. Kasi nung mga panahong 'yun, may welga kami nun sa MBC (Manila Broadcasting Company). Ginigising kami dun sa picket, pinapasara na 'yung building at 'yung transmitter kasi nga martial law na. Sarado lahat ng stations, diyaryo, networks. Wala akong trabaho, na-disrupt. Talagang nabulabog ang maraming buhay ng pagkakaroon ng martial law, lalo na ang mga nagtatrabaho sa media." 
(When martial law was declared, September 21, 1972, those in the media were being apprehended. My colleagues and I, we hid for two weeks. We were scared we were part of the lists. During that time, we were protesting at MBC. We'd be woken up at the picket, with orders to have the building and transmitter shut off because of martial law.)
Standing out to deliver your message
Enriquez said: "Nasanay ako sa radyo na kung magiging kamukha ka lang ng iba, eh hindi ka mapapansin. At kung hindi ka napapansin, hindi mo maipapamahagi 'yung mensahe mo. Hindi ka nagpapapansin para sumikat ka or para mapansin ka lang. Kailangan mapansin ka, para sa ganoon, kung ano'ng gusto mo iparating sa nakikinig at nanonood, maiparating mo." 
(I was used to radio work, where if you're the same as the others, you won't be noticed. And if you're not noticed, you won't be able to deliver your message. You're not trying to get noticed to get famous or just for the sake of being noticed. You need to be noticed, so that you can deliver what you want to deliver to your viewers and listeners." 
Radio was more challenging 
Enriquez had always professed his love for radio. One reason was that it's more mentally challenging, Enriquez told Adobo Magazine in a profile: 
"If it ever comes to [a] point in my career when I'm made to choose between TV and radio, the decision will be swift and easy. Radio is where I grew up. I'm more challenged by radio, mentally and creatively, because when I'm on board, I push the buttons…. You cannot say 'roll the video.' You have to be the video. That's very challenging. If you want reporters to get really sharp, I tell people to assign them to radio." 
Not just a talking head
Enriquez, in a 2010 autobiographical essay that originally appeared in a book, gave us a glimpse of his 24 Oras routine, emphasizing how anchors were not just talking heads but were very much engaged with the news.
He said: "After all, we're not just talking heads here, who get made up and dressed up to face the cameras, and simply read whatever comes up. We get involved in the entire process of crafting the newscast on a daily basis. My routine goes something like this: First, for TV, we go on the air at 6:30 pm for 24 Oras. So I'm there at 5 to 5:30 pm for the makeup, etc. 
"And the producers expect this already; it's a routine, it's a daily event. I sit in front of the computer and go over all the stories. I do it as early as I can so that if there's any need to discuss with the producers, there's still enough time and room to edit and change. That's also where being in radio is an advantage, because from 6 to 10 in the morning, there are a lot of news, reports, updates."
What he wanted to achieve more as a journalist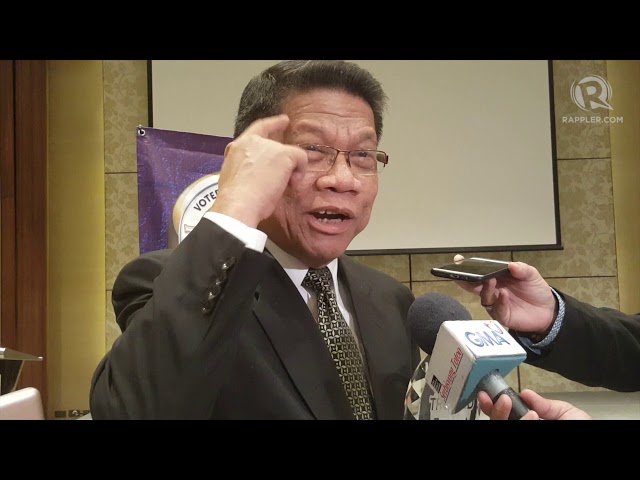 Enriquez, one of the most awarded journalists of our time, was asked in a 2018 interview on the sidelines of an awarding ceremony about what he would like to achieve further in journalism. 
He nspoke more about leaving behind a culture that would allow GMA's "Serbisyong Totoo" journalism to continue after his time on earth. "Gusto kong magpatuloy 'yung pagseserbisyong totoo ng GMA kahit na wala tayo dito, kahit na lumipas na ang maraming henerasyon. Gusto ko maging institutionalized 'yung pagbibigay ng serbisyong totoo ng GMA."
(I want GMA to continue giving real service even when I'm not here anywhere, even after many generations. I want GMA to institutionalize giving real service.)
Message to young journalists
In the same ceremony, Enriquez shared a message to young journalists:
"Mas lalo kayong kailangan ngayon ng bayan – hindi lang ng bayan, ng profession ng pamamahayag – sa mga nangyayari ngayon sa paligid natin. Hindi lang sa Pilipinas, kung hindi sa buong mundo. Kailangan ng merong passion for truth. Kailangan na kailangan 'yun ng sangkatauhan lalo na 'yung mga taong walang kapangyarihan masyado."
(The country – not just the country but the media profession – needs you more than ever, given what's happening around us. Not just in the Philippines but around the world. We need people who have passion for the truth. Humankind badly needs it, especially those who are powerless.)
– Rappler.com