Davao-city based Biosite Medical Instruments has even more expensive face shields – PITC buys 74,000 pieces at P198 per piece for a total of P14.6 million
Another procuring agency, the Philippine International Trading Corporation (PITC), has been flagged by state auditors for its use of pandemic funds, after awarding P129 million worth of contracts for personal protective equipment (PPEs) to a Davao City-based supplier when there were lower bids available.
"PITC awarded the emergency procurement of various brand-new Personal Protective Equipment (PPEs) with a total Approved Budget for the Contract (ABC) of P186.584 million to a bidder capable of delivering all the items without considering the lowest price proposal for each item that could have saved P2.166 million for the government," said the Commission on Audit (COA) in its 2020 audit report of PITC.
The P186.6 million is the approved budget. The contracts accessed on the PITC website show there were ten separate contracts for different items worth a total of P129.8 million.
The audit report does not mention the name of the winning supplier, but a countercheck of the reference number on the PITC's website would reveal it was Biosite Medical Instruments based in Davao City which won all ten contracts.
Biosite has a track record in government procurement, and is the company with the the fifth largest total amount of contracts won in the pandemic, at P779.4 million.
Lower bids
There were ten separate items that each had their bids. COA found that for the shoe covers and the aprons, there were lower bids than Biosite, which could have saved government P2.2 million.
For example, Biosite's shoe covers were worth P16.80 per piece. There was a bid for P5 per piece. Biosite's aprons were P110 per piece, whereas a lower bid was made for P105 a piece.
The PITC told COA that "lowest price proposal is never the sole factor in determining the winning bidder entitled to an award of the contract."
"In the case of the Emergency Procurement for Department of Health PPEs, premium was given to suppliers who can deliver MOST, if not ALL items, given the nature of the emergency, thus, this was declared upfront in the Request for Quotations (RFQs)," said the PITC as quoted in the audit report.
But for auditors, because there were separate bids for each items, "the Bids and Awards Committee should have considered the lowest price offered by one of the bidders, where the government could have saved P2.166 million."
PITC said they were following Government Procurement Policy Board pronouncements in which "procurement of projects by lot is a recognized mechanism under existing government procurement rules."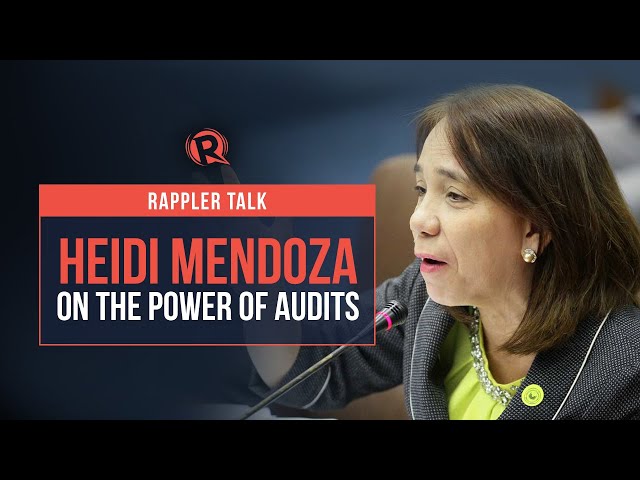 P198 face shields
Biosite's face shields were even more expensive, selling them to PITC for P198 per piece, according to the notice of award. PITC bought 74,000 pieces for a total of P14.65 million. This was in April 2020.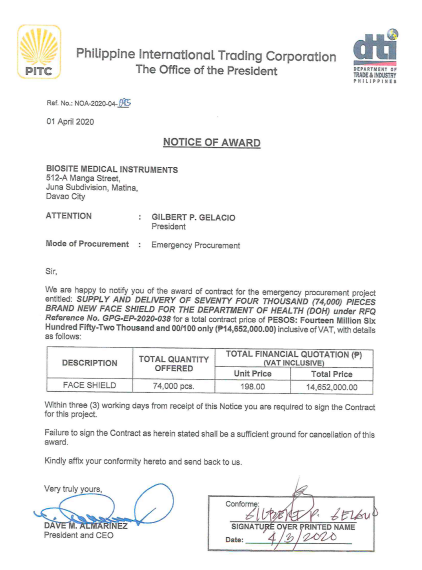 This is more expensive than what the Procurement Service of the Department of Budget and Management (PS-DBM) bought for P120 per piece from Philippine Blue Cross Biotech Corporation, also in April 2020.
PS-DBM's face shield procurements were flagged because it was having difficulty selling them to the requesting agencies for that high a price. By yearend 2020, there were 485,000 pieces of face shields worth P60.5 million sitting in their depots.
The Department of Trade and Industry had come to the defense of PS-DBM before, saying those were really the prices that time because of scarce supply. Observations were made, though, how face shields supply can be scarce when the Philippines is among the few countries which require it.
Biosite's face masks, sold to PITC, were also expensive, at P22.50 per piece.
Unutilized funds
PITC and PS-DBM are procuring agencies. The agencies who need the supplies transfer the funds to PITC and PS-DBM so they can procure on their behalf. Previous audits have found PITC and PS-DBM do not always deliver the supplies on time.
In the Senate hearings into pandemic funds, senators have noted how these two agencies can be used to park funds and "mask" the inefficiency of the requesting agencies to utilize their budget.
For PITC, auditors found it had P11 billion unutilized funds from transfers dating back to 2014.
Of the P11 billion, P3.229 billon worth of fund transfers from previous years are only scheduled to be bidded out in 2021. These include DOH supplies like beds, wheelchairs, ECG machines, and even the design and build of the proposed national reference laboratory building of the Research Institute for Tropical Medicine (RITM), the country's main COVID-19 lab.
PITC said part of the reason was the government's shift to cash-based budgeting in 2019, and added they continued to return these funds to the Bureau of Treasury.
Auditors said the risk in that is the procurement may no longer be necessary at present time, compared to its purpose for when the funds were established years ago.
The Senate continues to investigate pandemic deals, especially the biggest winner of pandemic deals, Pharmally Pharmaceutical Corporation, which was able to bag at least P8.7 billion in deals despite being incorporated only in September 2019 with P625,000 paid-up capital. Rappler has found that Pharmally has ties to former presidential economic adviser Michael Yang through a network of companies.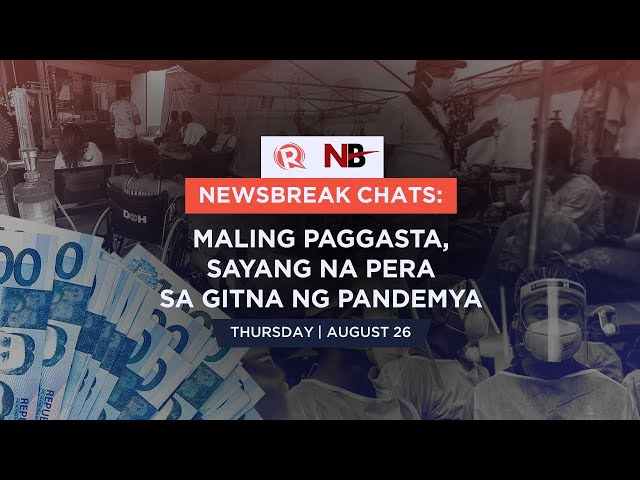 – Rappler.com