Senator Pia Cayetano 'takes offense' that world-class facilities built for athletes are 'castigated.' Senator Risa Hontiveros says addressing corruption is also a way to honor athletes.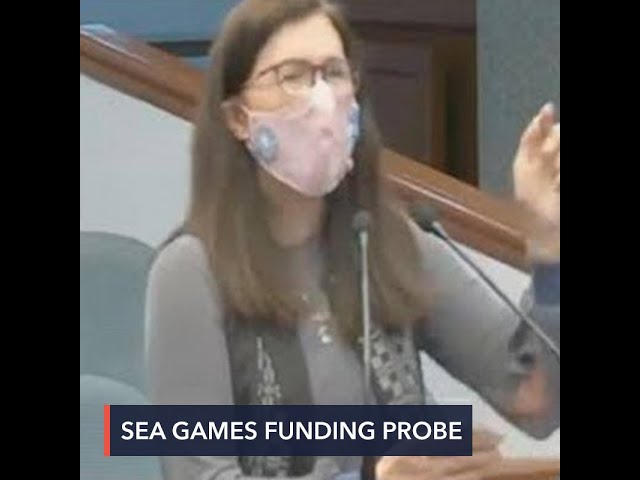 Senator Pia Cayetano took offense when Senator Risa Hontiveros delivered a privilege speech on Tuesday, November 10, calling for a legislative probe into alleged irregularities in the funding of sports facilities used in the 2019 SEA Games.
Cayetano accused Hontiveros of using the Senate as a platform to politicize the project at New Clark City in Tarlac, and of undermining its importance to Filipino athletes.
In particular, Cayetano was incensed when Hontiveros, in her speech, asked whether the project would end up becoming a "white elephant" – useless yet costly to maintain – on top of the issues surrounding how its construction was funded.
"I am embarrassed that we choose to make a political issue out of a world-class facility. Kaya tuloy, wala nang mag-aabalang magpatayo ng matitino at kahanga-hangang mga structure dito sa Pilipinas, dahil magpatayo ka lang ng maganda, eh sasabihin na sa 'yo na may kalokohan ka," Cayetano said in response to Hontiveros' speech.
(That is why no one bothers to build proper and praiseworthy structures here in the Philippines, because if you just build something nice, they'll already tell you you did something fishy.)
Cayetano, a sports enthusiast and former national athlete, said the facilities at New Clark City meant a lot to Filipino athletes who were so used to training in dilapidated ones
"Madam Sponsor, do you even know what are the conditions of our sports facilities para sabihin mo na 'yung mga facilites na 'yon ay magiging white elephant (for you to say that those facilities will end up as a white elephant)?" Cayetano told Hontiveros.
Cayetano added that she "sincerely regrets" that the Senate floor was used to defame good projects built to give importance to a sector that was often overlooked – national sports.
"I take offense as an athlete, as a mother of athletes, as a mentor, and as a friend of all these athletes whose sole pride was to be able to see such a structure built in their honor questioned and castigated in this manner," Cayetano added.
However, she admitted not having heard most of Hontiveros' entire speech, and did not have information on hand to address the allegations Hontiveros presented.
"If the good colleague had caught more or most of my speech, it probably would not have caused the good gentle lady as much distress," Hontiveros responded.
She used the term "white elephant" in a question, not in a declaration, Hontiveros pointed out.
"Maganda talaga 'yung facilities (The facilities are really good) but does this excuse the possibility of cutting corners, which, I repeat, my speech was not the first to raise questions about?" Hontiveros said.
The facilities at New Clark City might have even been more world-class if the project went through a public bidding as required by the law, Hontiveros added.
Read Rappler's 3-part investigation on this project:
Red flags
The Commission on Audit earlier flagged several items concerning the joint venture between the Bases Conversion and Development Authority (BCDA) and the Malaysian developer MTD Capital Berhad that constructed the facilities.
BCDA president and CEO Vince Dizon, MTD director Isaac David, and other officials are facing graft complaints over the issue.
The Office of the Government Corporate Counsel was originally opposed to the joint venture, until a new head, Elpidio Vega, took over and approved of it. Vega also faces a graft suit over this.
Hontiveros mentioned these in her privilege speech. She zeroed in on a P9.5-billion loan MTD took from the Development Bank of the Philippines (DBP) in order to finance the construction of the project. The BCDA then paid MTD using funds from the 2019 national budget.
Suspecting the BCDA may have "facilitated" the DBP loan for MTD, Hontiveros questioned the need for the joint venture, since it appears the Malaysian firm never shelled out money for the project.
"We take the [Senate] floor to hold people to account. No more, no less," Hontiveros said, responding to Cayetano's accusation.
Enough time to do things by the book?
Cayetano is the sister of Taguig-Pateros Representative Alan Peter Cayetano, who headed the private entity that spearheaded the country's hosting of the tournament, the Philippine SEA Games Organizing Committee (PHISGOC).
In a Senate budget hearing in October, Philippine Sports Commission executive director Guillermo Iroy Jr said PHISGOC still owed SEA Games suppliers a total of P387 million.
The former House Speaker also received harsh criticism during the SEA Games in late 2019 for the allegedly overpriced P50-million cauldron featured in the stadium built in New Clark City.
"I do not have the details, wala akong hawak na papel (I hold no papers), but I have to stand up for BCDA, for the architects, for the engineers, for every single construction worker that worked overtime," Senator Cayetano told Hontiveros.
Cayetano addressed Hontiveros' allegation that the BCDA might have taken short cuts and flouted laws to seal the deal with MTD. She also defended Dizon.
"Was there enough time to go through all the steps? I don't know, but I'm sure there's a logical reason, because the president of BCDA is one of those persons who are highly respected in this government," Cayetano said, citing Dizon's position as the country's testing czar for the COVID-19 pandemic.
"Hindi mag-aabala si Vince Dizon na mag-cut short lang ng corners para batikusin lang nang ganito (Vince Dizon would not bother to make short cuts and cut corners just to be criticized like this)," Cayetano added.
"Was there enough time to do things by the book? Sigurado (Certainly), there would have been time," Hontiveros answered, noting that the BCDA first received an unsolicited proposal from MTD in August 2017, two years before the tournament.
Honor athletes by addressing possible corruption
Cayetano hailed the achievement of Filipino athletes, and recalled their awed reactions when they first saw the facilities at New Clark City. She said they were moved to tears. Hontiveros' allegations against the project, Cayetano said, undermined athletes' significance and needs.
"When we do things like that, we slap them in the face," Cayetano said.
Hontiveros said questioning the government for possible anomalies in the project does not tarnish athletes' achievements or discount their contributions.
"Let us honor our athletes by answering once and for all these questions about possible corruption," Hontiveros added. – Rappler.com