Local manufacturer EMS says they had to import raw materials at their own cost. This is special accommodation to Chinese suppliers, say senators.
The Philippine government gave free use of military ships and planes to Chinese suppliers to deliver personal protective equipment (PPEs) here, COVID-19 plan chief implementer Secretary Carlito Galvez Jr confirmed on Tuesday, September 7.
"It's in our expense, considering the contract is not CIF (cost, insurance and freight), meaning if it was CIF it will be delivered to the Philippines [on the company's expense]," Galvez told the Senate Blue Ribbon Committee on Tuesday.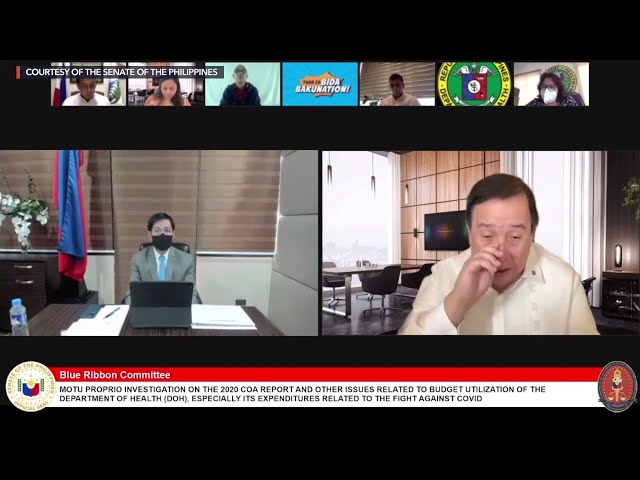 It was the Procurement Service of the Department of Budget and Management (PS-DBM) who entered into those contracts, said Galvez.
"PS-DBM entered into a contract with a private company and agreed that that private company can use Philippine armed forces airplanes, air cargo, and it's to our expense," said opposition Senator Francis Pangilinan.
According to Galvez, there were "goodwill flights" around April 2020 – three flights using military C-130 planes, six flights of chartered Philippine Airlines (PAL) planes and twelve flights of chartered Cebu Pacific flights, to deliver 228,000 PPEs.
"During the first contract, the arrangement is not CIF. Considering we have a lockdown then, they don't have any flights because the different ports of the Philippines had been shut down," said Galvez.
Local manufacturers imported on own cost
On the questioning of Senator Panfilo Lacson, Perry Ferrer, chairman and chief executive officer (CEO) of local manufacturer EMS, said they imported raw materials at their own cost.
"We imported our raw materials ourselves, and cleared it through the Bureau of Customs (BOC) and we also delivered our finished product ourselves through the designated delivery points," said Ferrer.
EMS was among the companies asked by the Department of Trade and Industry (DTI) at the start of the lockdown to repurpose their factories to manufacure PPEs. EMS won a contract with PS-DBM to supply 100 million pieces of face masks for P13.50 per piece, but Ferrer said PS-DBM kept delaying the deliveries and later renegotiated that 75 million pieces be sold at P2.35. "Nalugi kami (we incurred losses)," said Ferrer.
"That's exactly my point, bakit ang accommodation sa foreign firm parang higit pa sa accommodation sa sarili nating kababayan?" said Lacson.
(Why is the accommodation to foreign firms better than the accommodations to our own?)
Galvez said it was because "we didn't have supply that time," reiterating that in April the country desperately needed PPEs.
Ferrer said they started to import raw materials starting end of May. Lacson then presented airport records that there were still deliveries in June, highlighting what he said was special treatment to foreign firms at the expense of local manufacturers
Which companies benefitted?
Lacson said he has sources who confirm that the prime beneficiary of these free delivery flights is the controversial foreign-led firm Pharmally Pharmaceutical Corporation.
Pharmally is the biggest winner of government contracts with so far P10 billion in deals, despite having a capital of only P625,000 in 2019. Its chairman, Singaporean Huang Tzu Yen, is wanted in Taiwan for several financial offenses. His father, Huang Wen Lie, is connected to President Rodrigo Duterte's former economic adviser Michael Yang and had been to Davao City to meet the president.
Galvez denied that Pharmally used C-130 planes.
"Those PPEs [from China] I believe is of different procurement, not Pharmally. But when Pharmally got the contracts, all the PPEs had been delivered CIF to the shores of the Philippines," said Galvez.
Galvez also confirmed that the Philippines also used a Navy ship, the BRP Bacolod, to pick up supplies in China, particularly in Xiamen.
The delivery was for the Sasa port in Davao City, as revealed by Senator Imee Marcos.
"Only one time because we needed deliveries in Mindanao that time, we delivered 200,000 PPEs through BRP Bacolod," said Galvez.
– Rappler.com
Read the other stories from the September 7, 2021, Senate blue ribbon committee hearing: