Vice President Leni Robredo has backed calls for an investigation into whether there were protocol lapses in the release of water from Magat Dam, which partly caused the massive flooding in Cagayan and Isabela.
"(An investigation) is very necessary to prevent it from happening again," Robredo told ANC's Headstart on Monday, November 16.
There is scrutiny over whether Magat Dam's operators strictly followed the protocol of pre-releasing water 2-3 days before the expected landfall.
On November 12, a day after Typhoon Ulysses (Vamco) made landfall, Magat Dam opened 7 gates, and those 7 gates remained open until November 13, releasing water equivalent to a height of 18 meters.
Experts said opening 7 gates at the height of the typhoon was too much, and that this could have been prevented if there was sufficient pre-release.
Robredo said there should be a way for authorities to estimate the effects opening dam gates would have on areas.
"Kunwari isang gate yung bubuksan, alin yung may danger of flooding? Kung 3 gates ang bubuksan, alin (ang areas na may danger of flooding)?," Robredo said.
(Which areas would be in danger of flooding if a certain gate was opened? Which areas would be in danger of flooding if 3 specific gates were opened?)
"At least 'yung kausap ko di nya alam. Some of the city councilors I was with, they were not aware if there was such an estimate, pero para sa akin kailangan merong ganun eh," said Robredo, who visisted Cagayan Sunday.
(At least the people I talked to, some of the city councilors I was with, were not aware if there was such an estimate. For me there should be.)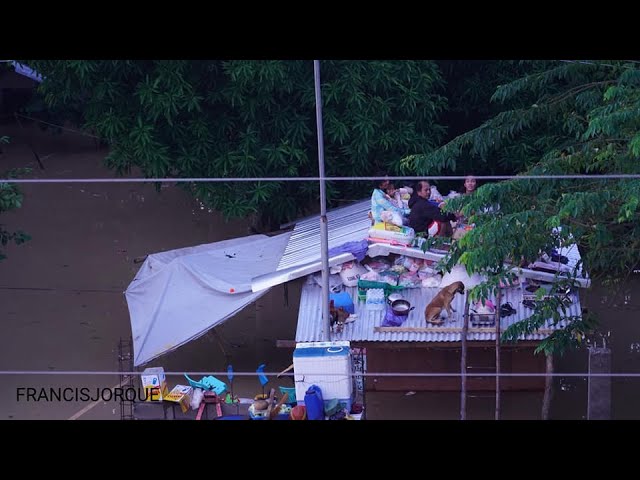 Did operators do enough?
The National Irrigation Administration-Magat River Integrated Irrigation System (NIA-MARIIS) said in a statement on Sunday that they warned residents of a pre-release November 9, or two days before Ulysses made landfall on November 11.
November 9 is too late, said former lawmaker Terry Ridon, presently the convenor of think tank Infrawatch PH.
"Drawdown should have commenced 3 days prior to landfall, which was November 8," Ridon told Rappler.
Citing the Twitter feed of state forecasters Pagasa, Ridon said Magat Dam's level from July to September was around 165-175 meters. NIA said its spilling level is 193 meters above mean sea level.
"This means that Magat can gradually draw down water to as low as 165-175 meters and remain viable. This provides a wide latitude to prepare for heavy rainfall due to consecutive typhoons," said Ridon.
"Why did they keep the level at 188-191 in the last two and a half weeks, knowing that there were 5 typhoons entering Luzon?" Ridon asked, still citing updates from Pagasa's Twitter account.
Ulysses was already the Philippines' 6th tropical cyclone in the past month, making mountain ranges so saturated that they could no longer absorb as much rainfall as they normally could, and resulting in more rain than usual.
Rainfall flowed directly to the reservoirs.
"We knew that [the mountain ranges were] saturated. That cannot be an excuse, that cannot be an explanation, because everybody knew [they were] saturated," Dr Mahar Lagmay of the UP Resilience Institute told Rappler in an earlier interview. – Rappler.com