Senators tell Lloyd Christopher Lao one does not simply apply to become undersecretary
Former budget undersecretary Lloyd Christopher Lao, being questioned over costly purchases of pandemic supplies, continued to find himself in hot water as senators asked how he got the prized post in the Department of Budget and Management (DBM) in the first place. 
Lao insisted during a Senate hearing on Friday, August 27, that he became DBM undersecretary because he applied for it. 
He evaded questions from several senators on who recommended him or who offered him the post – in the same manner he eluded questions on whether somebody influenced his decision to purchase costlier supplies from a company with connections to President Rodrigo Duterte's Chinese former adviser.
He earlier admitted to senators that it was "possibly" due to his negligence that the Procurement Service of the DBM (PS-DBM) ended up buying P95.45 million worth of overpriced face masks and face shields in 2020.
Senators did not buy Lao's claim, however, saying one does not simply apply to become an undersecretary, a post usually given to career officials or people trusted by heads of agencies or even by the president.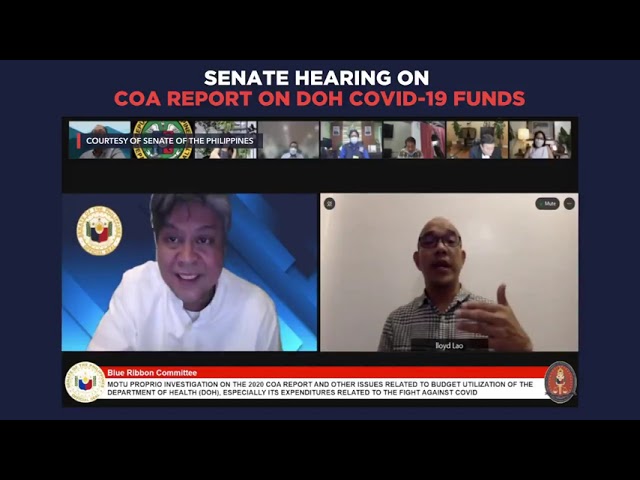 Senate blue ribbon committee chairperson Richard Gordon said, if indeed Lao applied as if it was any other job, it must mean Lao was confident enough that his connections to the powers would get him appointed.
"You think we're fools, that we would believe you had simply applied as a walk-in?… You are very confident that you're well-connected, I suppose," said Gordon in a mix of English and Filipino.
Senate Minority Leader Frank Drilon agreed, doubting Lao's explanation.

"Ginogoyo mo kami eh… Nag-apply ka (You're fooling us… You applied) and then you were appointed as undersecretary? If we did not know the bureaucracy, we would believe that. But I am telling you, your statement is not credible," Drilon said.
Lao, however, just repeatedly said he applied for the job then evaded questions about who was influential enough to make him PS-DBM chief.
In 2016, Lao first became undersecretary at the Presidential Management Staff (PMS)-Office of the Special Assistant to the President, an office especially created by President Rodrigo Duterte for his longtime aide Bong Go, who is now senator.
A Rappler investigation in 2018 found that Lao was one of Go's most important aides. He reportedly handled confidential investigations concerning presidential appointees. Go, however, denies having any links with Lao.
In 2017, Lao resigned from the PMS and moved to the now-defunct Housing and Land Use Regulatory Board (HLURB) as chief executive officer and commissioner.
Lao told senators on Friday that he then wanted to apply for a post in the Food and Drug Administration (FDA), but he was rejected.
He said the PMS then told him about an opening as DBM undersecretary. Lao supposedly applied and he was later appointed by Duterte himself.
Lao said he became officer-in-charge of the PS-DBM in January 2020 after another official holding the post was not confirmed by the Commission on Appointments. Lao resigned from the PS-DBM in June 2021, however.
This prompted Senator Imee Marcos to wonder if Lao was "entirely unqualified" to have been appointed in the PS-DBM.
"So hindi kailangan na logistics or supply expert ka? Kaya 'yun na rin ang dahilan kung bakit hindi ka tumitingin nung GIS (general information sheet), wala kang pakialam doon sa electronic bidding, ganun ba 'yun? Is that the reason, because you're entirely unqualified? Is that the excuse?" asked Marcos.
(So you are saying you don't need to be a logistics or supply expert? Maybe that's why you didn't look at the GIS and you didn't care about electronic bidding? Is that the reason, because you're entirely unqualified? Is that the excuse?)
Senators have raised red flags over the apparent unauthorized mode by which PS-DBM purchased the overpriced face masks and face shields.
Irregularities seem to follow where Lao goes. On top of the PS-DBM controversies, he also faced a complaint filed in 2019 accusing him of extorting from developers of socialized housing when he was still HLRUB CEO. – Rappler.com