Laywer VJ Topacio demands justice for all victims of extrajudicial killings, including his parents, former NDF consultants Agaton Topacio and Eugenia Magpantay, who were killed in a police raid last week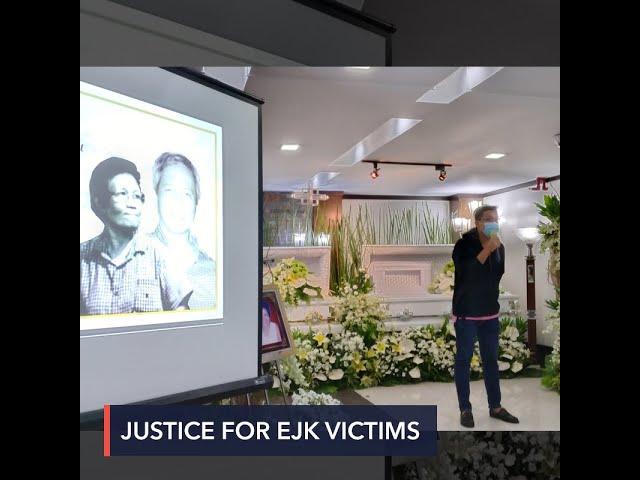 Lawyer VJ Topacio took to social media on Saturday, December 5, demanding justice for all victims of extrajudicial killings including his parents – former peace consultants of the communist-led National Democratic Front of the Philippines (NDF) who were killed in a police operation last week.
"Hustisya. Hustisya para sa lahat ng biktima ng extrajudicial killings. Ngayon, magtataka pa ba tayo kung bakit may nagrerebelde?" Topacio said in a Facebook post on Saturday.
(Justice. Justice for all victims of extrajudicial killings. Now, shall we even wonder why there are those who rebel?)
Topacio also belied the Philippine National Police's (PNP) claim that his parents, Agaton Topacio and Eugenia Magpantay, exchanged fire with the cops who tried to arrest them at their residence in Angono, Rizal before dawn on November 25, resulting in their deaths.
"Retired na po sa kilusan ang aking mga magulang. Parehas may mga malubhang sakit, at nagpapahinga na lang (My parents have retired from the movement. Both were gravely ill, and were already just resting)," Topacio
"Dalawang 68 years-old na may sakit, mahigit-kumulang 50 ang nag-operate. Mga trained kayo sa labanan, nakapag-aral sa magagandang mga schools, may mga nag-West Point pa nga, pero 'di 'nyo man lang maaresto nang buhay. Kung sa bagay, ganyan lang naman talaga ang mga kaya ninyo," he added.
(Two 68-year-olds who were infirm, and it took around 50 operatives. You are all trained in combat, went to reputable schools, some even at West Point, but you could not even arrest them alive. Well, that's really all you are capable of anyway.)
Noting how the PNP delayed disclosing the incident to the media by a full day, Topacio said, "Kung 'di pa may nagmalasakit na kapitbahay, 'di namin malalaman na pinatay ninyo (If a neighbor hadn't gone out of their way, we wouldn't even have learned that you killed them)."
Topacio addressed his statements to "Heneral Manyanita" – a reference to PNP chief General Debold Sinas, who broke COVID-19 lockdown rules in May to celebrate his birthday in a mañanita or small party with his subordinates.
Sinas told the ABS-CBN News Channel on Thursday, December 3, that it was not impossible for the elderly couple to have fought the cops who were trying to arrest them. They were veterans of the underground movement, the police general said, and they must have been trained to fight.
Sinas also tried to justify the stealthy, middle-of-the-night operation, saying it was to ensure no one could tip the couple off.
But the police's narrative of the incident conflicts with accounts from the couple's neighbors.
"Nung una, 'nanlaban' ang sinasabi. Pangalawa, 'sinubukan tumakbo.' Ano ba talaga? Lahat ng kapitbahay, sinasabi na napalibutan na ninyo 'yung bahay nila, at ni isang kapitbahay walang nagsabi na nagpaputok sila," Topacio said.
(First, they were saying 'They fought back.' Next, 'They tried to run.' So what was it, really? All the neighbors are saying you had the house surrounded, and not one neighbor is saying they fired back.)
Tossed around in search of his parents' bodies
Topacio recounted his family's ordeal in searching for his parents' bodies. The PNP gave them no information after the incident.
"Mula November 26, pinagpasa-pasahan 'nyo kami kung saan namin makukuha ang bangkay ng mga magulang ko. Kesyo sa Rizal PNP, Camp Vicente Lim, Angono, Antipolo PNP – itinago 'nyo pa sa amin. Mabuti na lamang at natunton ng utol ko sa Antipolo Memorial Homes, at doon din niya na-identify. Pero tahimik kayo, at itinago 'nyo sila sa amin," Topacio said.
(Since November 26, you tossed us around trying to retrieve my parents' corpses. There was Rizal PNP, Camp Vicente Lim, Angono, Antipolo PNP – you hid them from us. Good thing my sibling found them at Antipolo Memorial Homes, where they were identified. But you kept quiet, and you hid them from us.)
But even when a family member identified the bodies, the police still required documents to prove it was the couple.
"Eh pinatay 'nyo na, 'di pa pala kayo sigurado kung sila (You already killed them, but you weren't even sure it was them)," said Topacio.
And when the family were finally able to claim the bodies, no one could give them documents to attest to what happened to the couple – no Scene of the Crime Operatives (SOCO), medico legal, or police report on their deaths.
After the fatal police operation, the cops said they recovered firearms and explosives from the elderly couple's home. Activism, dissent with the government, and even membership in the communist movement are not crimes under Philippine law, but illegal possession of firearms is.
'I could have defended them in court'
Topacio said his parents knew what to do in case of a run-in with the police. They would have called on him, a lawyer, and cooperated with the authorities. They would not fight fire with fire.
"'Di kayo patas lumaban, mga traydor (You don't fight fairly, traitors)," the grieving son said.
"Hiling ko lang naman nu'n, sana inaresto na lang. Kaya ko naman sa korte ipaglaban 'yan eh. Nu'ng pinatay, sana naman pinayagan na lang kami kuhanin mga katawan nila. Hindi eh, itinago at hindi agad ibinigay," he added.
(I just wish they had been arrested. I could have defended them in court. When [my parents] were killed, I wish they just let us claim their bodies. But no, they hid [the bodies] and wouldn't give them to us right away.)
"May batas tayo na pinapairal. Ilang anak pa kaya ang magluluksa para sa mga magulang nila? Ilang anak, kapatid, pinsan, kaibigan pa kaya ang papahirapan?" Topacio said.
(We have a law to follow. How many more children will mourn their parents? How many more children, siblings, cousins, friends will suffer?) – Rappler.com