(3RD UPDATE) Solicitor General Jose Calida and Manila Times reporter Jomar Canlas are asked to show cause why they should not be cited in contempt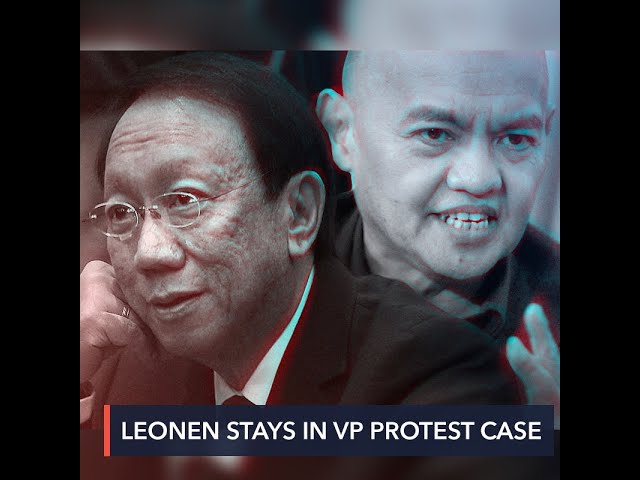 The Supreme Court sitting as the Presidential Electoral Tribunal (PET) on Tuesday, November 17, unanimously denied the motions for inhibition filed against Associate Justice Marvic Leonen in the vice presidential electoral protest case, sources confirmed to Rappler.
The motions were filed by former Senator Bongbong Marcos, who was contesting the 2016 elections win of Vice President Leni Robredo, and Solicitor General Jose Calida, who invoked his role as tribune of the people to defend his legal standing. Both motions were filed on the same day, using much of the same arguments.
Sources also confirmed that the PET asked Calida to show cause why he should not be cited in contempt. Manila Times reporter Jomar Canlas was asked to do the same.
Meanwhile, the Supreme Court Public Information Office (PIO) confirmed these actions in a statement Tuesday afternoon, saying the "official resolution will be uploaded to the website once it is available."
In arguing that Leonen, the case lead, was supposedly biased against Marcos, both motions cited Canlas' reports on leaks from within the Supreme Court. The leaks contained Leonen's supposed "reflections" during the early stages of the protest where he was not yet the member-in-charge, showing a leaning toward dismissing the case.
In his motion, Calida acknowledged that he was not a party to the case.
"As the people's tribune, it is therefore incumbent upon the OSG to present this Honorable Tribunal a legal position it perceives to be in the best interest of the State," said Calida's motion.
Even as he is the government's statutory counsel, Calida dropped the Commission on Elections (Comelec) in the threshold issue of this protest case to favor Marcos.
Calida, who campaigned for Marcos in the 2016 elections, submitted a Motion for Inhibition against Leonen on November 9, only hours after Marcos filed his own.
The PET is now deliberating on comments from both the OSG and Comelec about issues related to supposed fraud in 3 Mindanao provinces and legalities of an annulment of elections.
In its comment, the OSG said that the PET could annul the elections in those provinces and pick the winner from the remaining votes cast, which would result in a Marcos victory.
The Comelec said in its comment that it junked all petitions for failure of elections in those provinces. The Comelec also cautioned the PET to exercise its annulment powers with care.
The Robredo camp has repeatedly reiterated that by virtue of a widened lead in the recount of pilot provinces, the case should have already been dismissed, following Rule 65 of the PET rules.
The Marcos camp said the case was moving too slow and the recent comments from OSG and the Comelec were nothing but ways to delay.
If the case is overtaken by the 2022 elections, the protest would be declared moot. – Rappler.com