This is AI generated summarization, which may have errors. For context, always refer to the full article.
Bishop Gerardo Alminaza of San Carlos, Negros Occidental, says improving socioeconomic conditions – and not militarization – is the path to peace
MANILA, Philippines – The three-day marathon hearings on the assassination of governor Roel Degamo brought national attention to deeply-rooted problem of impunity and violence in Negros Oriental province.
Some senators proposed increasing military presence, or stripping the local governments of police oversight, as solutions to violence.
But Bishop Gerardo Alminaza of the Diocese of San Carlos, Negros Occidental, said the actual path to peace is to address the socioeconomic conditions that allow violence to persist in the province. 
"The solutions being offered is more militarization, hindi naman yan ang root cause ng (that is not the root problem)," Alminaza said during an episode of Rappler Talk. 
There are localities in Negros Oriental that fall under Alminaza's diocese, including Canlaon, Guihulngan City, Vallehermoso, and La Libertad.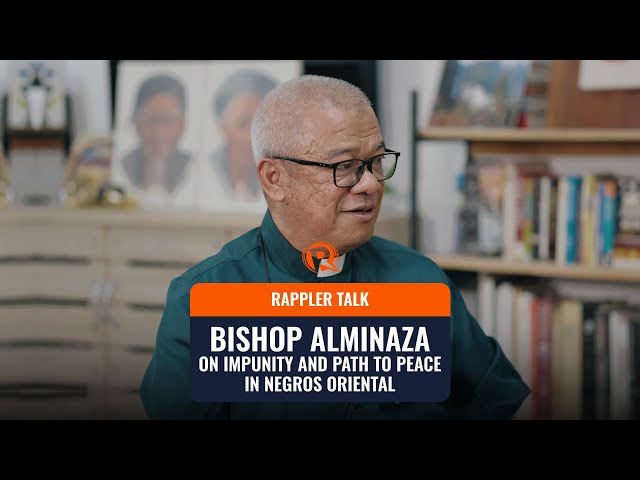 "Halimbawa nag surrender na sila, pero yung root causes na no land to till, no decent wages and dignity of work… walang regard for human rights. Paano magkaroon ng peace (For example, we have [rebel] surrenderees, but the root causes are no land to till, no decent wages, no regard for human rights. How can you have peace?" Alminaza added.
During the 24- to 27-hour hearings, senators listened to stories from victims of violence who accused the police who would allegedly refuse to do basic blotter reports for citizens – or police officers who were reportedly working as hitmen for local politicians.
This apparently infuriated the committee chairperson Ronald "Bato" dela Rosa, who asked citizens to continue speaking out against violence in their province. 
"Violence can only persist in silence. A refusal to stay silent is one sure step to address violence, whatever form it may take," dela Rosa, a former PNP chief who is known for being the "architect" of Rodrigo Duterte's drug war, said.
On dela Rosa's sudden support for human rights after years of supporting Duterte's bloody drug war long after he left his post as PNP chief, Alminaza said he had mixed feelings.
"Mixed feelings ako doon," Alminaza said.
"Finally, he's able to say it, and name it. But very sad that it's only now. Marami nang namatay, na-orphan, na-widow, at walang nangyari sa kanila (Many have died, have been orphaned, or became widows, and nothing good has happened for them),"  he added. 
Alminaza, who has been involved in local human rights advocacy is certain, however, that peace can only come if the people's material needs are being met. 
"There's inequality, there's injustice. Some people are disillusioned, so some may have decided to go underground," the Negros Occidental bishop said.
He also hopes that the future senate investigations would be more inclusive of killings to include more activists, clergy, and environmental defenders whose cases have gone cold.
"Sana yung maraming namatay in the past, hindi lang politicians, hindi lang suspected drug addicts na nanlaban daw. Pero pati mga na-red tag na leaders, ng ating mga abogado na tumutulong talaga sa amin against human rights violations, and even those, farmers, hacienda sugar workers who were just trying to survive during tiempo muerte, o nagreresolve ng land occupancy," the activist bishop said.
(I hope they include more deaths from the past, not just politicians or suspected drug addicts who were accused of fighting back. But even red taggedl leaders, of lawyers who were just trying to help those fight human rights violations, and even farmers, hacienda sugar workers who were just trying to survive during the non-harvest periods, or resolve loans occupancy issues)
Amid calls to end killings in Negros Island, Alminaza called on Negrenses to speak up – and if they are afraid to speak up – to unite.
"We will try to recover our voice little by little. It's our lesson in Negros, silence kills. If no one will speak out, this will just continue," he said in a mix of Filipino and English. 
"Evil continues because no good people dare to stand up and speak out. We are being challenged to speak out, so let us do it. If you are afraid, bond together, because there is strength in unity, in being together. That's why are battle cry is "hubon to" (no one gets left behind)," he added. – Rappler.com