(1ST UPDATE) Banners and signs everywhere show the devotion of so many people for the Santo Niño
CEBU, Philippines – Thousands of Sugbuanons roamed the streets of Cebu on Friday afternoon, January 6, to see the grand parade marking the official launch of Sinulog 2023 festivities.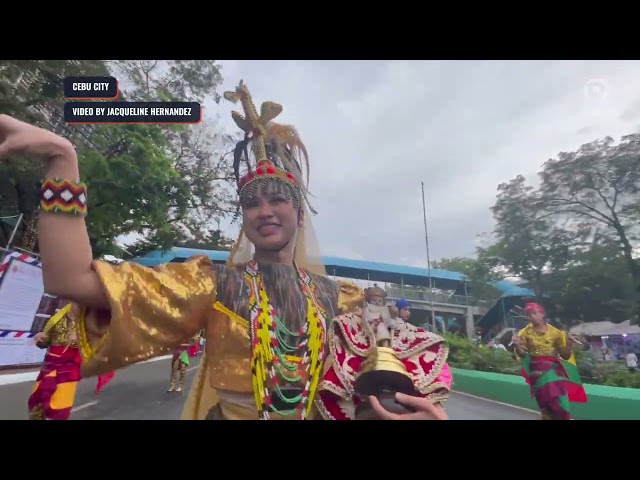 The event began with a mass celebration presided over by Monsignor Roberto Alesna at the Basilica Minore del Santo Niño de Cebu at around 3 pm. This was also the second day of Novena mass for the Fiesta Señor celebration.
Despite the steamy heat and intermittent rain showers, devotees still went to the Basilica to attend the celebration with their own Sinulog shirts and replicas of the Santo Niño or Child Jesus.
Officials in attendance included Cebu Governor Gwendolyn Garcia, Cebu City Mayor Mike Rama, Vice Mayor Raymond Alvin Garcia, Cebu City Second District Representative Edu Rama, Cebu City Councilors Joy Pesquera, Philip Zafra, and Dondon Hontiveros to name a few.
(Editor's note: Earlier versions of this story said Cebu City Second District Representative Edu Rama was a city councilor. We have corrected that.)
"We now declare One Cebu Island Sinulog open," the officials announced together.
The parade officially started at 4:30 pm. Both the mayor, his wife, and the officials danced to the rhythm of the Sinulog theme song, chanting "Pit Senyor" while carrying the image of the Child Jesus.
In the same way, festival queens and dancers from different schools in Cebu also performed their festival dances, moving passionately from the Basilica towards the Cebu City Sports Center.
Contestants of the Miss Cebu 2023 also joined the parade, waving to fans along Osmeña Boulevard on luxury vehicles.
This year, the official Sinulog festival celebration will be held at the South Road Properties on Sunday, January 15. Novena masses for the Fiesta Señor will continue to be held at the Basilica.
For schedules of the events, Rappler has prepared a list here.
You can also check out the detailed Fiesta Señor Mass and novena schedules at the Basilica Minore del Santo Niño de Cebu here, and Sinulog events here.
–Rappler.com