Bookmark this page for a list of events for Sinulog 2023 and the Fiesta Señor.
CEBU CITY, Philippines – The Fiesta Señor and the Sinulog are back in 2023 and have returned to in-person activities in Cebu City.
According to local police, at least 300,000 people attended the Walk With Jesus event on Thursday, January 5, which kicked off the nine-day Fiesta Señor, the religious festival that coincides with the secular cultural Sinulog Festival. (READ: Cebu's Fiesta Señor returns to face-to-face for 2023)

This 2023, the Sinulog takes place at the South Road Properties for the first time. It is usually held at the Cebu City Sports Complex.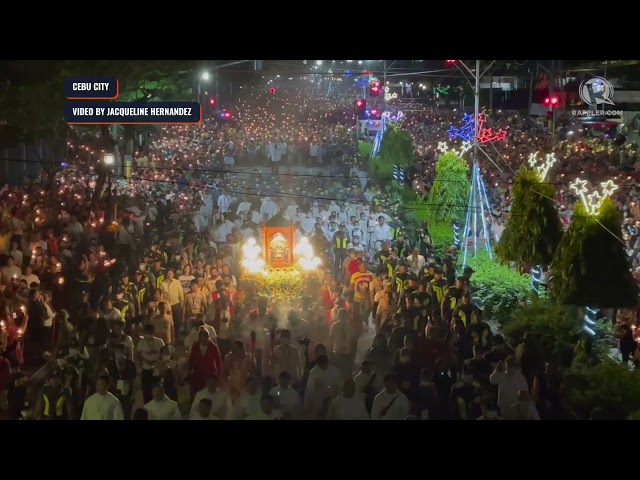 See full Sinulog schedule below.
January 6
2:30 pm: Opening salvo Mass for Sinulog 2023 at Basilica Minore del Santo Niño de Cebu
3:30 pm: Launching Parade from Basilica to CCSC
4 pm: Sinulog 2023 kick off at CCSC
7 pm: Sinulog Idol elimination night at Fuente Osmeña
January 7
1 pm: Sinulog Festival Queen press presentation at NuStar Resort & Casino (Axis Bar & Lounge)
6 pm: Cultural show at Fuente Osmeña (DepEd – Cebu Province)
7 pm: Sinulog Idol elimination night at Fuente Osmeña
January 8
2 am: Cebu Marathon 2023 at SM Seaside Complex
1 pm: One Cebu Island Sinulog sa Kabataan at CCSC
6 pm: Cultural show at Fuente Osmeña (MCSHS-MCS-UC)
7 pm: Sinulog Idol elimination night at Fuente Osmeña
January 9
6 pm: Cultural show at Fuente Osmeña (USPF-CTU)
7 pm: Sinulog Festival Queen Runway Competition at SM Seaside City (Mountain Wing Atrium)
7 pm: Sinulog Idol elimination night at Fuente Osmeña
January 10
6 pm: Cultural show at Fuente Osmeña (USC-LLCICI)
7 pm: Sinulog Idol elimination night at Fuente Osmeña
January 11
10 am: Balikbayan Welcome at MCIA
6 pm: Cultural show at Fuente Osmeña (DepEd-Cebu City-USJR-UV)
7 pm: Sinulog Idol elimination night at Fuente Osmeña
January 12
10 am: SRP World Tent City grand opening at SRP Tent City
1 pm: "Balik Cebu" welcome dinner at Ayala Center Cebu
6 pm: Cultural Show at Fuente Osmeña (Bucas Grande Contingent)
8 pm: Sinulog Idol finals night at Fuente Osmeña
IPI Night at Plaza Independencia
"Handumanan" at Robinsons Galleria Atrium
January 13
4 am: Walk with Mary starts at Our Lady of Guadalupe Church
5:30 am: Traslacion: Cebu City to Mandaue City
9 am: Grand orientation for all Sinulog 2023 contestants at Cebu City Hall
6 pm: Cultural show at Fuente Osmeña (Hwacheon Boomangal Nangak Preservation Association & Sto. Niño Mactan College)
7 pm: Sinulog Festival Queen coronation night at Cebu City Sports Complex
8 pm: SMB Night at Fuente Osmeña
Mr. DIY Night at Place Independencia
January 14
6 am: Fluvial parade at CCLEX Bridge
9 am: Reenactment of the planting of the cross, First Mass, Baptism, & Wedding at the Basilica Del Santo Niño
2 pm: Solemn foot procession starts at the Basilica Del Santo Niño
8 pm: Foodpanda Night at Fuente Osmeña
Coke Studio Night at Place Independencia
January 15
4 am: Mañanita Mass at the Basilica Del Santo Niño
5 am: Pontifical Mass by His Eminence Archbishop Jose S. Palma at the Basilica Del Santo Niño
8 am: Sinulog Fiesta Day Holy Mass Celebration at City Di Mare-SRP
9 am: Sinulog 2023 Grand Parade at City Di Mare-SRP
7 pm: Sinulog 2023 Grand Finale & Grand Fireworks at City Di Mare-SRP
January 16
1 pm: Sinulog Awarding Ceremony at CCSC
January 20
4 am: "Hubo" at the Basilica Del Santo Niño

See detailed Fiesta Señor Mass and novena schedules at the Basilica Minore del Santo Niño de Cebu here, and the Sinulog events via the Sinulog Foundation Inc's Facebook page here. – Dexter Barro II/Rappler.com

Dexter Barro II is a Rappler intern