Before the opposition imploded, 'there was an incessant demand' for Marcos to apologize over his father's Martial Law and corruption. The bickering of his opponents brings 'advantages' to his campaign.
Ferdinand "Bongbong" Marcos Jr, son of the former dictator, has been quiet lately.
Save for a few press releases and the distribution of relief goods to typhoon-hit Northern Luzon, his turf, Marcos has been generally out of the intense political chatter in recent days.
In fact, Marcos is the only major presidential aspirant still without a vice president. We don't even have an idea what his senatorial slate would look like.
Is this a sign of weakness for the Marcos campaign? Or has he learned from his almost victory in 2016 and is purposely keeping everything vague and fluid for a strong comeback?
Duterte as first choice
Marcos said he would have wanted President Rodrigo Duterte to be his running mate, but that plan collapsed when the President and his aide-turned-senator Bong Go pulled off a surprise.
So now, the factionalized ruling party PDP-Laban is fielding Senator Ronald "Bato" dela Rosa for president and Go as vice president.
But it wouldn't be new for Marcos to mount a national campaign without a traditional party lineup. The late Miriam Defensor-Santiago, his standard-bearer in 2016, was under the People's Reform Party while he ran under Nacionalista, his longtime party. Yet he almost won the vice presidency in 2016, losing to Leni Robredo by just over 260,000 votes.
While his opponents for the presidency have unveiled Senate slates with much of the same people, trying to dip into the firepower of tried-and-tested veteran politicians wanting a seat in the upper chamber, Marcos is taking his time.
"Marcos can mount another national campaign without being part of a team of political aspirants. Can he do it alone? His circumstances suggest that he can do it. He has his own political machinery (Federal Party, Kilusang Bagong Lipunan, and Marcos loyalists), possibly one of the largest campaign war chests, and a strong social media presence," said Dennis Coronacion, chairman of the Department of Political Science at the University of Santo Tomas (UST).
"So, he's probably thinking, who needs to be in a team of political aspirants when he has almost all of the components needed to run a decent national campaign?" Coronacion said.
The Marcos brand
The strongman character of the dictator Marcos still rubs off on the son, in many beneficial ways especially to the family's loyal base – a systematic rebrand slammed as historical revisionism by human rights victims who are campaigning against a Marcos in Malacañang.
But isn't it a sign of weakness that Duterte and PDP-Laban seem to be having their own show altogether with total disregard of the Marcos camp and its prior overtures?
It could signal the failure of Marcos to convince Duterte or PDP-Laban, or that simply, they just didn't want to team up with him "for fear that it could seriously damage one's public image as well as ruin one's chances of winning in the national elections," said Coronacion.
It turns out Marcos didn't have a face-to-face audience with the President this time – unlike in 2016 when he managed to present himself to Duterte, even if unsuccessfully, as the latter's possible running mate in that election.
"I'm not the only one who didn't get informed, parang (it looked like) it was a very quick, it was a very late decision made. Hindi na nila na-inform ang iba nilang kasamahan, basta't ginawa na lang nila (they no longer told others they were with, they just did it). But it is what it is," Marcos told CNN Philippines' The Source in an interview on October 7, his last television appearance.
Senator Manny Pacquiao, Mayor Isko Moreno, and Robredo made last-minute decisions to pick unexpected running mates to be able to present them before the deadline of the filing of certificates of candidacy (COC) on October 8.
But not Marcos.
"The option is to wait for the President to change his mind, switch back to VP, or adopt Senator Bong Go or just continue as we are," Marcos said in the same October 7 CNN interview, a day after he filed his COC.
Close to two weeks since that interview, the political world has turned upside down – but Marcos and his Partido Federal ng Pilipinas (PFP) seem to be, as he said, "continuing as we are."
"Running without a VP can mean Marcos intends to run a campaign solely based on him. Marcos' campaign seems to be, at least for now, about his brand and nothing else," said Michael Yusingco, governance expert at the Ateneo School of Government.
"This approach of course, only worsens the candidate-driven and personality-based politics that plagues our political culture. Will voters punish him for this? This again is something we need to monitor this election cycle," said Yusingco.
Is it working?
In the end, elections are still about who wins the most votes.
Vic Rodriguez, Marcos' lawyer and PFP executive vice president, has not replied to queries on the party's plans.
"The silence of Partido Federal can mean that they really have nothing to say. I mean that they have no policy or platform to offer, which is the case for most of the national parties competing in this election," said Yusingco.
But even without PFP (Marcos took his oath only on October 5, the day he announced his presidential run), and even without a government position for the last five years, Marcos is still number two in the Pulse Asia survey conducted in September, behind Davao City Mayor Sara Duterte. Robredo was at a far sixth.
So even when Robredo ramps up her rhetoric against Marcos, the dictator's son brushes it aside, not indulging the "2016 rematch" narrative between him and the Vice President.
At the COC filing, Marcos said: "I do not have any fight with VP Leni. I am running for president, I am not fighting against anyone. It's not going to be [another face-off], marami kami (we are many)."
Apart from the fact that Marcos had already lost the electoral protest in the Supreme Court against Robredo, Coronacion said: "I think that Bongbong Marcos' camp has realized that it does not need to indulge in the Marcos-Leni narrative for one simple reason – the survey results, so far, have shown that the face-off is far from reality."
Will history repeat itself?
According to Jose Ramon Albert, a statistician working as a senior research fellow at the Philippine Institute for Development Studies (PIDS), a government think tank, the mystery may be working well for Marcos "as he has kept his cards to himself."
"That's what the most recent nationally representative survey data seems to suggest. What we do know from history, however, is that front-runners don't win; whether history will repeat itself will ultimately depend on the campaign strategies of everyone," said Albert.
Marcos has been bannering what is called a "real-time, real-man survey," where he was the most preferred of 2,137 man-on-the-street respondents picked randomly in sidewalks and markets in various areas in Metro Manila and the neighboring Calabarzon.
But this is not the scientific survey that the likes of Pulse Asia and Social Weather Stations (SWS) deploy.
"Going out on the street and randomly picking people will not work as not every voter in a city may pass through the street. Media is well advised not to give credence to any polls that are not designed well to yield representativeness," said Albert.
Bickering opposition
But perhaps what has worked best for Marcos post-COC filing is his opponents going after each other's throats. The most recent and intense is the bickering between the liberals and the leftists in the opposition, who, before this junction, had been playing nice and cozy with each other.
As past wounds reopen in an ugly, and potentially deeper, way, "it could bring some advantages to Marcos' campaign," said Coronacion.
For one, Coronacion said it has given Marcos respite from the prior dominating narrative of making the son of the dictator apologize or admit to the corrupton and human rights abuses committed during his father's Martial Law.
"This squabble provides a respite for Marcos," said Coronacion, giving an ominous warning: "If the opposition would fail to get their act together, it could spell disaster for them."
Yusingco said everyone is still at this point "enamored with the behind-the-scenes drama involving the protagonists of this election." This refers not only to Marcos, but also to Robredo, Moreno, Panfilo Lacson, Pacquiao, and even labor leader Leody De Guzman.
And that fascination with protagonists may work for Marcos, said Coronacion, as it gives him "freedom from unnecessary political entanglements."
"He can negotiate with any local or national politician to expand his network of supporters without the fear of offending someone in his slate," said Coronacion, which is exactly what has caused the implosion within the opposition.
But while it seems like it is a sound strategy for Marcos to be on his own, at least so far, Yusingo said the public needs to closely watch who surrounds him – as they could be the future Cabinet members.
The cronyism during the Martial Law regime oiled a massive corruption network that four decades later, the government is still trying to recover billions in stolen funds.
Marcos either denies this, or says he is not accountable even though he was already 24 years old, and was in fact, vice governor of Ilocos Norte during Martial Law.
"Our voters need to know that we are not just electing a president or a VP, we are electing a government. We should now be asking these candidates who they intend to appoint to their Cabinet in case they win," said Yusingco.
"And we must press this question against a candidate running by himself like Marcos," Yusingco added.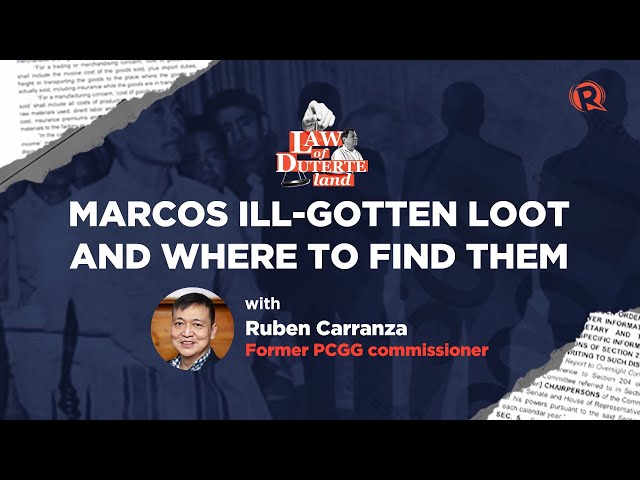 – Rappler.com