De Lima's legal team boldly calls the order of a Muntinlupa judge 'unfair' and 'egregious.' They still have to face this judge. 'This is not a game,' they say.
Talking to the New York Times from her detention cell in March 2017, a month after her arrest, jailed opposition leader Senator Leila De Lima said: I hope to be free by April.
The doors to those hopes were shut by the Supreme Court, voting 9-6 in October 2017 to uphold the drug charges and keep her in jail. Justice Antonio Carpio, in his dissent, called it "one of the grossest injustices ever perpetrated in recent memory in full view of the Filipino nation and the entire world."
Four years after her arrest on February 24, 2017, De Lima had gone to the Supreme Court, Court of Appeals, and even the Office of the Ombudsman, but she is still in jail and stands trial for two remaining conspiracy to commit drug trading charges.
What was once a timeline of April 2017 for De Lima's freedom has now shifted to "a conservative target of 2022," said her defense lawyer Rolly Peoro.
And it's in large part due to the two National Bureau of Investigation (NBI) agents who stand in the way – Rafael Ragos, a former corrections acting chief, and his once foe, once sidekick, Jun Ablen.
Both men claim they delivered money on two occasions to De Lima in her home in 2012, and saw the former justice secretary take them. Judge Liezel Aquiatan of Muntinlupa Regional Trial Court (RTC) Branch 205 call their testimonies "clear."
Judge Aquiatan ordered the trial to proceed in a ruling on Febuary 17 and said that if De Lima cannot rebut these testimonies, then it is likely to result in a verdict of guilt.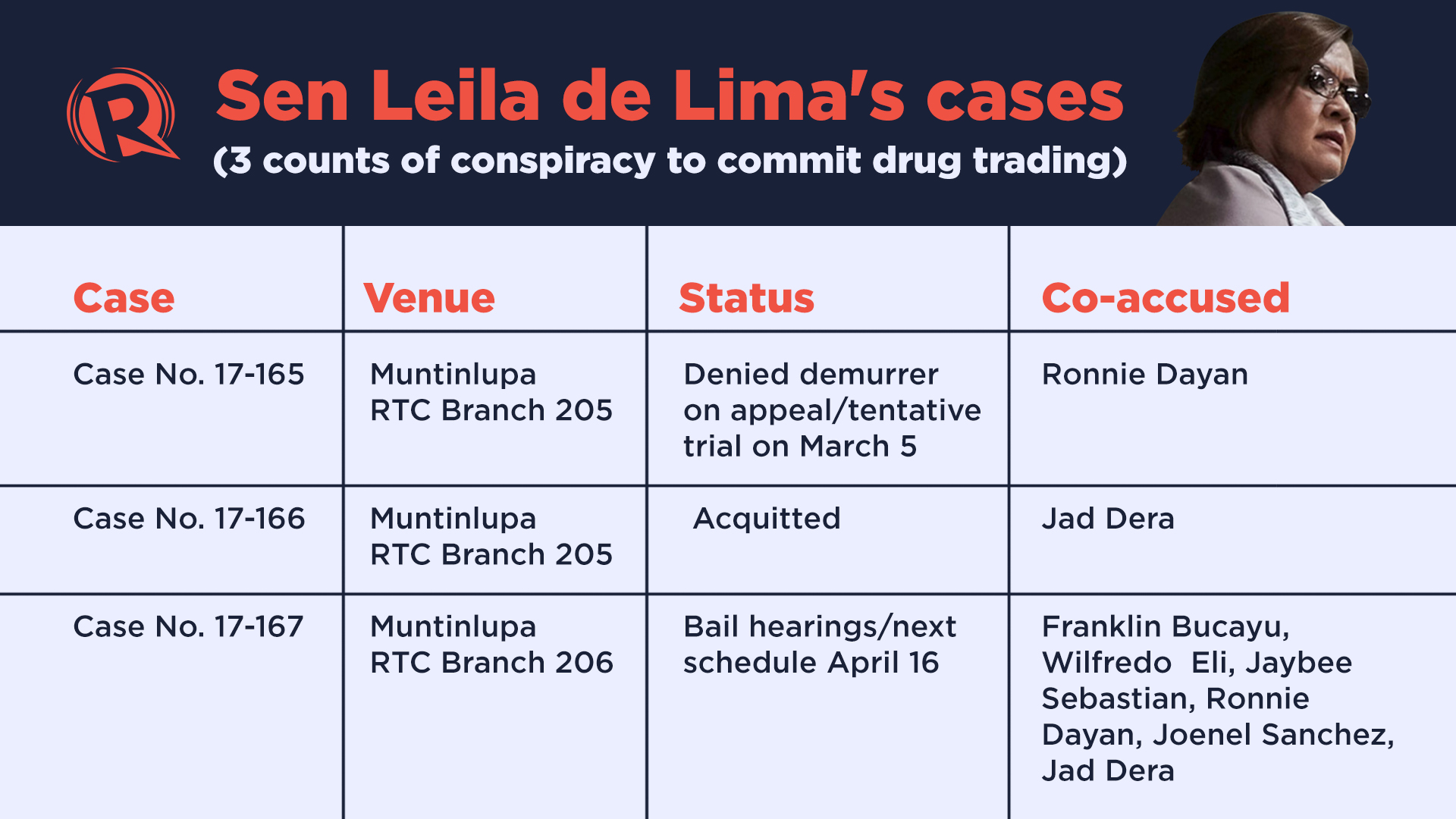 'Egregious' order
In 5 days, De Lima's defense team wrote a 70-page motion for reconsideration, in which they called Judge Aquiatan's ruling on Ragos and Ablen "unfair" and "egregious."
This was the same judge who acquitted her, and a judge they will still have to deal with in the 2nd phase of trial for Case Number 17-165.
Are they not worried about turning off Judge Aquiatan?
"The Order is what it is. If the Motion for Reconsideration is strongly worded, it is because those errors amount to deprivation of the accused's right to due process, which is the most important safeguard that the Constitution has placed to ensure that innocent people aren't wrongfully convicted and deprived of their liberty," Peoro told Rappler.
"This is not a game. The life of an innocent woman is at stake," Peoro added.
The motion was also written in a way that it spoke almost to the public. Judge Aquiatan's order was not flattering to De Lima.
It said: "It is imperative for De Lima and [Ronnie] Dayan to explain the P10 million received by them."
It also said: "As the prosecution pointed out, both the accused did not even bother to return to Ragos the money delivered to them."
De Lima's lawyers, who claim the deliveries never happened, bemoaned the wording of the order in the motion, saying it completely left out testimonies of key witnesses, as well as the inconsistencies of both Ragos and Ablen that they were able to extract during cross-examination.
"The order created an unfair impression that the witnesses all testified to a seamless and wholly credible narration of Accused De Lima's guilt," said the motion.
The motion called Judge Aquiatan's recollection of facts in the order "lopsided" and "cherry picked," and said it was as if it was written before "the witnesses were even presented and made to testify, and without their competence and credibility being tested in open court."
The motion raised these points:
General Benjamin Magalong pointed to Ragos as being the one who turned up in police intel as being linked to drugs. De Lima did not turn up in any intel, said Magalong. (This was not discussed in the judge's order.)
Ablen said on the stand he did not know where the money came from, that he was just following Ragos' orders.
Ragos never mentioned in his original affidavits the supposed delivery to De Lima. It only "cropped up" when he was detained as co-accused, and then freed and cleared by the prosecution to become witness.
Ragos and Ablen
In the motion, De Lima's lawyers hammered on this: why won't the Department of Justice (DOJ) prosecute Ragos, the former acting chief of the Bureau of Corrections (BuCor), who already admitted to delivering money to De Lima upon orders of an inmate? (READ: In trial's pivotal turn, De Lima says DOJ obscured truth about drug trade)
The De Lima team said Ragos and Ablen are still employed at the NBI. This, even as the defense team brought out in trial an old Ragos memorandum from 2013 where he named Jun Ablen as being linked to the drug trade.
"It is alarming that these two, John Herra and Ablen, still identify themselves as NBIs," Ragos had written De Lima in a February 2013 memorandum.
"The fact that neither of them have been charged, and both he and Ragos were even able to retain their position in the NBI without even any administrative disciplinary action taken against them, speak volumes about the benefits he had received from agreeing to falsely testify against Accused De Lima," said the motion.
"We're confident, for me, we're doing our best to present pertinent evidence but we leave it to the court," said lead prosecutor Ramoncito Ocampo after a hearing on Tuesday, February 22.
The 3rd case
Case No. 17-167, where De Lima has 6 co-accused, is pending before another court – Branch 256 under Judge Romeo Buenaventura.
Like Case No. 17-165, there is someone claiming to have seen De Lima in a drug payoff – murder convict Joel Capones who testified on Tuesday he saw Jaybee Sebastian show the senator money inside Bilibid on March 4, 2014.
Capones said he sold drugs in and out of Bilibid on the order of Sebastian, and that on March 4, 2014, Sebastian made sure he saw that the money they would raise was for De Lima. In his affidavit, Capones said he saw Sebastian hand over ("iniabot") the money to De Lima, but on the stand he said he only saw Sebastian show the money to De Lima.
Sebastian was reported to have died from the coronavirus in July 2020 without ever taking the stand.
Peoro said they were not surprised by Capones. "When your client has been detained for 4 years for clearly fabricated charges, based on half-baked fabricated evidence, nothing would surprise you anymore," said Peoro.
But their countermoves against Capones were aggressive. De Lima wrote Justice Secretary Menardo Guevarra to pursue charges against Capones. She also wrote the Board of Pardons and Parole not to grant his application on account of a confession on drug trading.
De Lima's lawyers also immediately filed a motion for the court to include Capones in the charges.
They went further and filed a manifestation on Wednesday, February 24, and said "if the Prosecution does believe that Joel Capones committed illegal drug trading, then they are currently in the act of committing the criminal offense of dereliction of duty" by refusing to prosecute the convict.
Peoro said they don't believe that just because there is a purported eyewitness, then it will turn out the way it did in Case No. 17-165.
"Hopefully, Judge Buenaventura would prove to be much more discerning and will give greater respect to the rights of the accused," said Peoro.
4 years of trial
So many things also happened in De Lima's personal life since then. Her mother Norma, who had been diagnosed with dementia, was under critical confinement in 2019.
In January this year, De Lima lost her only sister-in-law Marianne who was a staple in Sunday gatherings in Camp Crame even when she was already sick.
De Lima's brother Vicente II recently told Rappler that only immediate family members and a priest are allowed to visit the senator on Sundays. Only two family members at a time have been allowed to visit since the pandemic.
"Even cousins and relatives have not been able to visit since early March 2020," Vicente told Rappler.
De Lima had new lawyers, too, like Dino de Leon of the famed mandamus petition to disclose Duterte's state of health. De Leon told Rappler he joined the defense team in 2018 because "I could just really not tolerate anymore the injustices being perpetrated by the Duterte regime."
"Every Filipino should remain very interested in Senator de Lima's case as it is a test case for our justice system as a whole," said De Leon.
"If we were dealing with an administration that respected the Constitution and the Rules of Court, we would have expected her to have been released not later than yesterday," said Peoro.
"But given the situation we are in, our most conservative target is sometime in 2022," Peoro added. – with reports from Camille Elemia/Rappler.com