Critics say the Vice President should choose her battles – finish six years in office as DepEd chief red-tagging critics, or making a dent in addressing education woes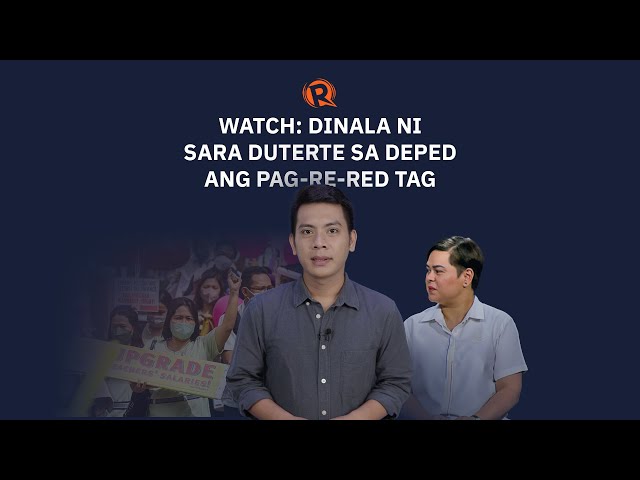 MANILA, Philippines – Vice President and Education Secretary Sara Duterte traded barbs with the country's largest teachers' group, the Alliance of Concerned Teachers (ACT), as she accused them of being a "lover of the useless ideologies" espoused by insurgent groups.
Filipinos have witnessed this kind of tough-talking leader before, when her father, then-president Rodrigo Duterte, relentlessly tagged critics and activists as communists and terrorists. (READ: Duterte: The communists will die for me)
The younger Duterte has made it clear that during her term, she would go after organizations she deems harmful to students.
"Ang ikakampanya ko sa inyo rito, kampanya hindi para sa aking eleksyon sa 2028, kundi kampanya laban sa NPA (What I will campaign to you here is not the campaign for my election in 2028, but a campaign against the New People's Army). As Department of Education secretary, it is my interest to go after activities, organizations, or circumstances that affect the education of our children," Duterte said during an event in Kabankalan City, Negros Occidental in March.
Is Duterte serious about her pronouncements or is she just using her position to project their family's leadership style?
'Communist-inspired'
On March 5, Duterte said that the week-long nationwide transport strike was "communist-inspired," "pointless," and a "painful interference" in the Department of Education's (DepEd) efforts to fix the problems in the system. (READ: Sara Duterte to fix education in 6 years if given P100 billion. Is this enough?)
"Learning recovery is foremost on the agenda of the Department of Education today. It does not include the pointless weeklong transport strike supported by ACT," Duterte said.
The Vice President said that ACT's support for the transport strike showed its "true colors," saying the group "does not really serve the interest of students and teachers" because the transport strike would cause "learning disruption."
This didn't sit well with ACT, which told the Vice President that she should instead focus on addressing the learning crisis in the country.
"Madam secretary, napapahamak lang po kayong lalo sa panggigigil ninyo sa amin gayung wala naman kaming ginagawang masama," ACT chairperson Vladimer Queta said. (Madam secretary, you're only putting yourself in more trouble whenever you hit us when we're not doing anything wrong.)
"VP Duterte is a lawyer but we wonder why it seems that she has no appreciation of the working people's right to strike in the face of unbearable exploitation and oppression, while these are guaranteed even by our Constitution and numerous international instruments," he added.
The exchange didn't stop there. On March 29, Duterte once again hit ACT Teachers when the group urged the department to build 50,000 classrooms per year to address the lack of school facilities.
She said that the group's suggestion was "both unrealistic and impossible," adding that it was just presented to "shame the government and deceive the public into believing that the hiring of teachers and increasing the education budget were their ideas."
In response, Queta said, "It is a baseless claim that constructing 50,000 classrooms per year is impossible as the agency was able to build 100,936 classrooms for three years from 2014 to 2016. From 2014 to 2018, the budget allocations for classroom construction ranges from P39 billion to P109 billion yearly. It has been done and it can be done if only the current administration were sincere in addressing the classroom crisis."
The Vice President even went on to say that ACT Teachers Representative France Castro was a fake representative of the education sector in Congress.
"For 12 years, ACT Teachers has been claiming to represent teachers in Congress. Yet our public school personnel continue to face financial woes and we have a generation of learners that are facing several challenges. What has this self-proclaimed education sector representative done to remedy the problems we are facing now?" she asked.
Red-tagging
Even before becoming the second highest official of the country, Duterte had already been red-tagging groups critical of government. When she was Davao City mayor, she tagged Lumad schools as a breeding ground for communists and the Makabayan bloc as an enabler.
As mayor, she ordered the closure of Lumad schools in Davao City.
But what exactly is red-tagging?
Red-tagging is when people – dangerously elected officials and state forces – accuse individuals or groups of having ties to the communist movement, with little to no proof.
A very real danger is being red-tagged by elements of the military who consider communists as enemies of the state. Yet communism is legal in the Philippines after Republic Act 1700 – a law signed in 1957 to counter the anti-Japanese-turned-CPP-armed-wing Hukbalahap – was repealed by RA 7636 in 1992. This ironically happened under the administration of former president and former Armed Forces chief of staff Fidel V. Ramos when they began peace talks with the Communist Party. (READ: 'Mas dapat magalit': Filipino youth face dangerous future with anti-terror bill)
Being red-tagged, regardless of the medium, does not end with arrests. It carries greater threats in the context of the anti-terror law. For many activists, it has even cost them their lives: National Democratic Front consultant Randy Malayao, agrarian reform advocate Randy Echanis, human rights activist Zara Alvarez, the daughter of Bayan Muna Representative Eufemia Cullamat, Jevilyn Cullamat, and nine activists during what was called "Bloody Sunday." (READ: Leaders lost: The 9 activists killed by Duterte gov't on 'Bloody Sunday')
According to human rights group Karapatan, there are at least 442 documented victims of extrajudicial killings in line with then-president Duterte's counter-insurgency campaigns from July 2016 to June 2022.
"222 of the victims were human rights defenders, with the rest coming from the ranks of peasants, indigenous and Moro peoples, workers, environmental defenders, lawyers, church people and the urban poor," the group said.
The irony
Despite Duterte relentlessly red-tagging groups, the DepEd was eyeing to teach students about red-tagging as a human rights violation. This was contained in the draft curriculum of basic education under the Araling Panlipunan subject for 10th graders.
Aside from red-tagging, trolling and extrajudicial killings were also included as examples of human rights violations.
The K to 12 curriculum is undergoing review, as the education secretary said "important lessons" are missing in the current curriculum.
Political analyst and University of the Philippines professor Ela Atienza said that Duterte's red-tagging spree runs counter to the goals of DepEd.
"By spewing propaganda and red-tagging teachers' organizations with legitimate concerns, the Vice President and DepEd Secretary is going against the goals of the department, which is supposed to empower young people through a curriculum that values not just excellent technical skills, but also good and active citizenship, social awareness, critical thinking, and human rights," Atienza said.
Atienza said that Duterte should change her ways if she is really serious about fixing the country's education woes.
"The VP's current red-tagging stance stifles active participation, constructive criticism, active participation and progressive consultations, and critical thinking. She also promotes simplistic views and solutions that are not based on evidence," she added.
"However, she is eyeing the presidency, protecting the Duterte brand, and patronizing supporters. If she continues with her current style, there will be more damage to the DepEd," Atienza said.
Duterte can use her position to red-tag critics all she wants to preserve her "Duterte branding," but she should spare the DepEd from using it to her advantage. Critics said the Vice President should choose her battles – finish six years in office as DepEd chief red-tagging critics, or making a dent in addressing education woes. – Rappler.com