[EXCLUSIVE] PART 3: Police files obtained by Rappler show that vigilantes were able to kill over 500 in Bulacan from 2016 to 2017. Police could not explain why these could not be stopped.
Reporting by
Lian Buan, Rambo Talabong, Jodesz Gavilan, Michelle Abad, and Pauline Macaraeg
Editor's Note: In this 3-part series, a Rappler investigative team scrutinized the first batch of files submitted in June 2018 by the Office of the Solicitor General (OSG) to the Supreme Court. Consisting of over 160,000 individual files of police reports, the documents were supposed to provide insight into the regularity of police operations in President Rodrigo Duterte's violent campaign against illegal drugs. Part 1 showed how the "rubbish" files submitted by the OSG served to stall the case at the SC, also indicating how this could build a case against the Duterte government before the International Criminal Court. Part 2 focused on known hot spots that had well-publicized killings and pointed out what's blatantly missing in at least the first batch of OSG submissions. The concluding part examines the Bulacan files that reveal a high number of drug-related killings, close to half of victims' names appearing on the drug watch list, but supposedly none killed in police operations. Where can victims' families who want to seek justice go?
At a glance:
There were 352 drug-related, and 205 non-drug-related, killings in Bulacan from July 2016 to November 2017.
An average of 32 people a month were killed in that period. Killings were concentrated in the city of San Jose del Monte and the town of Plaridel.
Some killings occurred in the same barangays within days of each other.
The number and pattern of incidents raise the question of why the police were unable to stop these killings and how serious the government is about its investigations into drug-related killings.
In the first 17 months of Rodrigo Duterte's presidency, unidentified gunmen, or vigilantes, killed 557 people in the province of Bulacan mostly due to drugs, police records submitted to the Supreme Court (SC) showed.
The Bulacan files contained documents on these killings from July 2016 to November 2017. Of the 557 killings, 352 were drug-related and 27 had no established motives. None of the drug-related killings were deaths in police operations.
These raise the question of why the police weren't able to stop these killings during this period, especially since they occurred successively in the same places. If the war on drugs was a campaign to make streets safe, the Bulacan situation paints the opposite.
Rappler obtained and analyzed the government's first submission of what were supposed to be drug war files to the SC, which is looking into the constitutionality of Duterte's centerpiece campaign against illegal drugs.
Bulacan was one of only 3 hot spots whose police files were included in the first submission of the Office of the Solicitor General (OSG) to the Court on June 25, 2018. The files on the other two hotspots, Negros Occidental and Davao City, hardly had any drug-related killings, 4 for the former and 8 for the latter.
However, in all the Bulacan files, the killers were referred to as "unidentified assailants." The cases were thus categorized by the police as deaths under investigation (DUI) and not deaths in police operations. This does not mean there were no deaths in police operations during this period, just that the files were not among those submitted.
What's missing?
For example, files on Mark (not his real name) obtained by Rappler showed he was killed in a police operation during that period. None of these were in the OSG's submission to the SC.
Mark was killed in August 2017 in a town in Bulacan. A police report identified him as a "drug personality." He and another man supposedly robbed a person in broad daylight and fired at the cops who responded to the 911 call.
The police report said Mark and his companion were found with guns and sachets of shabu, a common story for "nanlaban" cases. In such cases, police often claim that armed suspects resisted arrest, leaving authorities with no choice but to engage them in a gunfight that ends in death.
Commission on Human Rights (CHR) Central Luzon Director Leorae Valmonte described the Bulacan situation as "bloody." He told Rappler in a mix of English and Filipino: "Definitely. We have a lot of cases where deaths were really the result of police operations."
"HIndi naman maikakaila dahil nababalitaan natin araw-araw iyong results and not just from the media. At times, pati PNP (Philippine National Police) social media outfits nila at saka website ay nagpo-post din sila ng ganitong operations na resulting [in] deaths, as if to claim na accomplishments nila ang mga killings na ito," Valmonte added.
(These cannot be denied because every day we hear about the results [of operations] not just from the media. At times, PNP officers themselves and their social media outfits and their website post information about their operations that result in deaths, as if to claim these killings as accomplishments.)
The files also don't include the 32 killed in a one-time-big-time operation by the Bulacan police from midnight of August 15 to midnight of August 16, 2017. The names of the dead in that big sweep were widely reported by the media.
Blood all over town
If we go by the OSG's first submission that doesn't even include "nanlaban" cases, the files show a bloody 17 months for the province that's a heartbeat away from Manila.
There was no month when the killings went below 10. The killings reached a one-month peak of 55 in November 2016 – 5 months after President Duterte assumed office and close to the 6th-month deadline he had set for his administration to end drugs and criminality. It was also in November 2016 when the PNP launched Project Double Barrel Alpha, with a self-imposed two-month deadline to capture over 300,000 drug suspects.
To explain the high number of killings in the province, Rappler sought the comment of Central Luzon police chief Brigadier General Valeriano de Leon, who referred us to Colonel Lawrence Cajipe, the police chief of Bulacan. We tried to contact Cajipe 6 times – on January 18, February 1, 3, 4, 5, and 8 – but he has not returned our text messages and calls.
During the period covered by the submission, the Bulacan police was led by Colonel Romeo Caramat. He started out as an acting director in July 2016, eventually became the official chief, before leaving the post in May 2018 to lead the PNP's newly established counterintelligence unit. As of February 2021, Caramat has become a one-star general, and is leading the Caraga regional police office.
The Central Luzon police command, meanwhile, was led by then-brigadier general Aaron Aquino from July 2016 to September 2017, before he was appointed chief of the Philippine Drug Enforcement Agency by President Duterte. He was replaced by Brigadier General Amador Corpus, who manned the position until May 2018. After serving in the PDEA, Aquino was appointed president of the Clark International Airport Corporation by Duterte in May 2020.
The Bulacan files showed that the murders were concentrated in San Jose del Monte with 108 killings, and Plaridel with 73 killings.
San Jose del Monte is the most populated city in Bulacan, with 574,089 residents, according to the government's Cities and Municipalities Competitiveness Index.
Plaridel, meanwhile, is only the 13th most populous town out of 24, yet it recorded the second highest number of killings. It got more cases than Meycauayan, Marilao, and Malolos, which had about double its population.
Successive killings
Killings in San Jose del Monte occurred within days of each other and in the same barangays at that. From August 23 to 26, 2016, for example, 8 people were killed one after another in barangays Gaya-Gaya, Minuyan II, Graceville, and Muzon.
Of the 74 killings in Plaridel, 47 were recorded in barangays Banga I and II. About 11 killings happened successively in these areas between mid-November to late December 2016. Two who were killed had previously been arrested by cops for drug possession.

Many drug-related killings in Plaridel and surrounding towns had a pattern. At least 11 cases in Plaridel, San Ildefonso, and Santa Maria involved one to 3 sets of riding-in-tandem attackers either shooting while on board Mio motorcycles or intruding into homes, shooting, and then fleeing. Yet, no suspects were named.
The police chiefs of San Jose del Monte, San Miguel, and San Rafael downplayed the killings.
"'Yan ay sa aming encounter. Lumalaban ang mga drug suspects, pero hindi naman marami ang patayan dito. Ito ay drug operations," said San Rafael police chief Lieutenant Colonel Ferdinand Germino in a phone interview with Rappler on February 8. (Those counts are from our encounters. The drug suspects fight back, but there aren't really a lot of killings here. Those are drug operations.)
In separate phone interviews, San Miguel police chief Lieutenant Colonel Voltaire Rivera and San Jose del Monte police chief Major Julius Alvaro declined to comment, saying they were not knowledgeable about the killings from 2016 to 2018. Alvaro assumed his post only in November 2020.
Kill list?
Of the 352 drug-related vigilante-style killings in Bulacan, 157 involved people on the Duterte government's drug watch list, according to Rappler's tally culled from barangay certifications and police investigative reports submitted to the SC. The barangay certifications stated they were indeed on the list, many of them having voluntarily surrendered.
The Free Legal Assistance Group (FLAG) has challenged before the SC the legality of these watch lists.
Because people on the government's watch list ended up dead – even if they were killed by vigilantes – watch lists, in reality, were kill lists, said the Center for International Law (CenterLaw) in SC records.
In a pleading with the High Court, CenterLaw pointed to the 33 killings in San Andres Bukid, Manila – 23 of them were on the government's watch list. The law firm represents the families of the victims.
"The fact that there are victims who already surrendered under Oplan TokHang or were included in the barangay drug watch lists is a cause for grave concern. There are criticisms that these surrender lists or watch lists are actually kill lists," CenterLaw told the SC.
In the Bulacan killings, the rest of the dead who were not found on the watch list were deemed, in the police reports, to have had links to drugs either because family members admitted to it or they were identified as a "known user."
Families back out
Despite the high number of killings on record, it's difficult to get families of victims to cooperate in investigations. Of the 352 drug-related killings in Bulacan, families of 98 victims didn't want to cooperate.
Many refused autopsy on their dead relatives, basically putting an end to the investigation. Some wrote in their affidavits that they were unwilling to pursue a case, for reasons ranging from "financial constraints" to "acceptance" and a desire for a "quiet and peaceful life."
Families tended to back out more often in drug-related cases than in non-drug-related cases.
In an earlier interview, Human Rights Commissioner Karen Gomez Dumpit said that part of the difficulty in tracking down all the deaths is that families are afraid to report.
"When you go back to the neighborhoods where families used to live, hindi mo na sila mababalikan doon (you can't find them there anymore) because they all left already," Dumpit said in a Rappler Talk interview last January 13.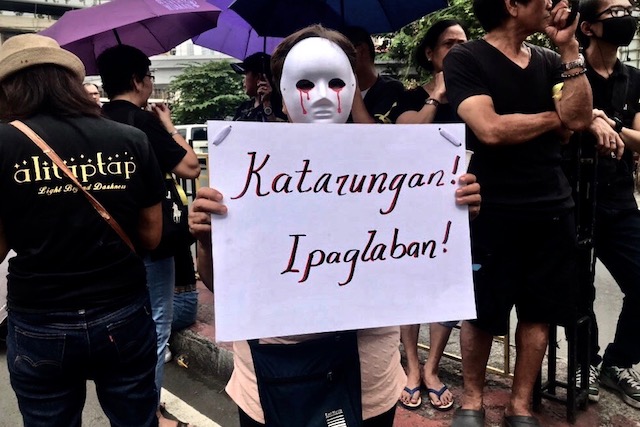 Hindrance to filing cases
The system does not make it easy for victims' families to file cases. Eyewitnesses are scared and nobody would dare speak on record. According to victims' relatives we spoke with, authorities don't readily release copies of police reports or medico-legal reports.
In the case of Mark, mentioned early on in this story, policemen filed a case of direct assault against him when he was already dead. His mother was never notified about any filings, but was told this is a common strategy among cops to protect themselves.
Even if she wanted to file a case, the likelihood of it being dismissed is high, she told Rappler. Besides, filing such a case at this time would make her vulnerable to threats and intimidation.
The Department of Justice (DOJ) is reinvestigating more than 5,000 deaths in police operations, to determine whether charges need to be filed against cops. A core feature of this reinvestigation is assistance to the families of victims and the witnesses.
Justice Secretary Menardo Guevarra said Bulacan is a primary hot spot in their review, and that there are "not so flattering" findings in a still unpublished partial report. But in a short message to the United Nations Human Rights Council on February 24, Guevarra said they found that police did not follow protocol in nanlaban cases.
The United Nations rights office, in a scathing report in June 2020, said that the domestic mechanisms in the Philippines had so far failed to exact accountability for the "widespread and systematic nature of the alleged killings."
Even the CHR, mandated by the 1987 Philippine Constitution to primarily investigate alleged violations by state agents, continues to face huge roadblocks in its probes due to a lack of transparency and cooperation mainly from the police, and even the DOJ.
While the CHR was excluded in the partial review of the DOJ, Guevarra promised to engage the commission "more closely, particularly in case buildup and evidence gathering." Whether this is for real remains to be seen.
Hindrances, rights groups argue, highlight efforts by the Duterte administration to derail justice for thousands who have been victims of its anti-illegal drugs campaign. The only glimmer of hope for them lies in the international arena, with the International Criminal Court (ICC).
"No justice due to government inaction builds an ICC case," said Ray Paolo Santiago, executive director of the Ateneo Human Rights Center.
ICC Prosecutor Fatou Bensouda said a decision whether to take the Philippines to the crucial phase of investigation is due in the first half of 2021. – Rappler.com
PART 1: Duterte government's 'rubbish' files stall SC drug war case
PART 2: Incomplete submissions to Supreme Court show poorly documented drug war
This investigative series was put together by Rappler's crime and justice cluster, composed of Lian Buan, Rambo Talabong, Jodesz Gavilan, Michelle Abad, and Pauline Macaraeg. Michael Bueza contributed to the visualization of data.