Tune in for the live recording of the podcast with international lawyer Ruben Carranza, who was a PCGG commissioner from 2001-2004
The anti-graft court Sandiganbayan recently ordered the Royal Traders Holding Co. Inc to pay the Philippine government around P1 billion in Marcos ill-gotten wealth.
But who are the people behind Royal Traders, and how would the Presidential Commission on Good Government (PCGG) start collecting that money?
Royal Traders, previously Traders Royal Bank, was a bank controlled by the late dictator Ferdinand Marcos and and the late crony Roberto Benedicto, but the bank sold shares to a foreign bank which the PCGG said was still a dubious way to just hide money. The Sandiganbayan denied the cause of action against this foreign bank.
So, where to find that money, and all the other loot? How has the PCGG been doing it, and what remained as the challenges althroughout these years?
Law of Duterte Land Podcast talks to international lawyer Ruben Carranza who was PCGG commissioner from 2001 to 2004. Carranza was involved in the landmark 2003 ruling where the Supreme Court declared as ill-gotten $658 million worth of Marcos Swiss deposits.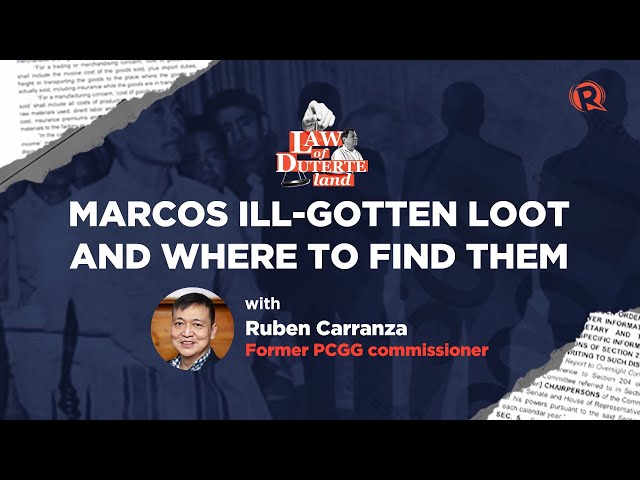 For past podcast episodes:
If you have tips and suggestions for episodes, email the host at lian.buan@rappler.com. – Rappler.com