Nobel laureate and Rappler CEO Maria Ressa calls for urgent action against the harms brought by Big Tech, as she presents the 10-Point Plan during the 2023 Nobel Prize Summit
MANILA, Philippines – Nobel Peace Prize laureate and Rappler CEO Maria Ressa lamented the "glacial speed" of the response to the exponential growth of technology that has undermined human rights and threatened democracy.
"The tech has gone exponential, exponential. And we're still moving at glacial speed…The window to act is closing," Ressa said during the closing remarks of the first day of the 2023 Nobel Prize Summit in Washington, DC, on Wednesday, May 24 (Thursday, May 25, in Manila).
This year's summit gathered laureates and experts in a three-day event to discuss ways to "combat misinformation, restore trust in science and create a hopeful future."
During the event, Ressa presented the 10-Point Plan, which she created with fellow Nobel Peace Prize laureate Dmitry Muratov, to urge governments to put a stop to the harms created by Big Tech. The plan was first launched at the Nobel Peace Center in Oslo, Norway, in 2022.
Watch her presentation in the video below, starting at the 7:31:35 mark.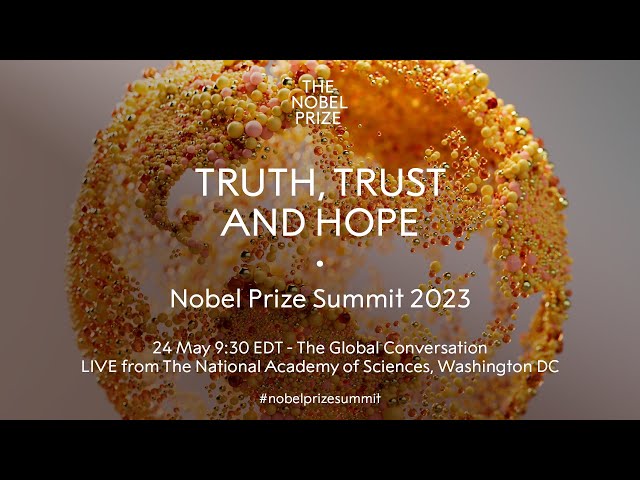 What's at stake
Much has been shared about the grave impact of Big Tech around the world. 
Social media platforms have become a breeding ground for disinformation, playing a massive role in elections, the whitewashing of history, and the constant shaping and reshaping of public opinion as seen in the administrations of former Philippine president Rodrigo Duterte and current leader, President Ferdinand Marcos Jr. 
"We, with our information ecosystem, are electing illiberal leaders democratically. I know it in my country. And they are crunching, they are crippling the institutions from within," Ressa said.
Violence has also run unabated in and due to these platforms.
Ressa cited a 2021 study from UNESCO that traced online violence against women journalists: 73% reported experiencing it on the job, and 20% of those experienced the violence in real life.
Ressa also noted the siege on the US Capitol by supporters of former president Donald Trump on January 6, 2021, as well as the riots in Brazil led by supporters of former president Jair Bolsonaro on January 8, 2023.
Both Trump and Bolsonaro lost to their opponents, US President Joe Biden and Brazilian President Luiz Inacio Lula da Silva, in their respective presidential elections a few months prior. Both Trump and Bolsonaro also sowed doubt into election results.
Ressa attributed these to the business model of tech platforms, which she dubbed "surveillance for profit," where users are tracked and targeted to maximize engagement online and influence behavior offline.
"It's almost like you went to a psychiatrist and then you told your psychiatrist your deepest, darkest secret, and the psychiatrist went out and said, 'Who wants Maria's deepest, darkest secret?' [and sells it] to the highest bidder," Ressa illustrated.
Meanwhile, multiple sectors are on alert as artificial intelligence (AI) tools grow on unprecedented levels, triggering concern on how these tools can spread disinformation further at scale, make people lose their jobs, and promote bias in healthcare, among others.
Ressa cited the 2020 documentary Coded Bias, which showed how human biases can be integrated into tools powered by artificial intelligence. The film features a study by Black researcher Joy Boulamwini, who investigated why her face is unrecognizable by facial recognition systems. She found out the systems worked when she wore a white mask.
"If you're a woman, LGBTQ+, if you're from the Global South… If you are marginalized, you are further marginalized," she said.
Ressa also pointed out the spate of attacks against media workers and organizations. These attacks have paved the way to the erosion of democratic institutions globally. (READ: IN NUMBERS: Filipino journalists killed since 1986)
"The question really is, where are the governments that have abdicated responsibility for protecting the public sphere?" she added.
Solutions
In presenting the 10-Point Plan, Ressa proposed solutions to stop surveillance for profit, prevent coded bias, and protect journalists and democracy.
These solutions – endorsed by over 200 Nobel laureates, journalists, activists, and experts – include mandatory independent human rights impact assessments of tech platforms, laws to protect citizens' data and ban surveillance advertising, funding and assistance to vulnerable independent media, and others.
European Union lawmakers in 2022 expanded the Digital Services Act package in an attempt to protect citizens in digital spaces. (READ: New tech rules: A primer on EU's Digital Services Act package)
The International Fund for Public Interest Media, co-chaired by Ressa and former New York Times CEO Mark Thompson, was also organized to support public interest media organizations worldwide.
Ressa emphasized the power of public participation to address Big Tech harms.
"It's about your courage. It's about your ability to look at the world, listen to all the problems and all the nuances of it, and then just say, 'This is what I stand for,'" she addressed the audience.
"We organize in a different way. Stop being a user and become a citizen. Identify what civic engagement means in the age of exponential lies."
Visit this page to find out how you can support the 10-Point Plan. – Rappler.com