YouTube should be compelled to reexamine its governance structures and their impact on how the platform, content creators, and users operate
The meaning of YouTube as a social network has expanded from being a site for showcasing lifestyles and personalities, to being one that constructs epistemic communities where people conveniently "find out about things" or learn "how to do things." From finding out how to fix an internet bug, to catching up on the latest news, to researching historical events, people turn to YouTube, where learning is embedded into its social and entertainment culture.
Now the most popular platform used by 97.25% of internet users in the Philippines, according to a 2021 report, we can expect YouTube to play a critical role in shaping political knowledge.
Technologies of political memory
Our research focused on YouTube's role in constructing political discourse through historical distortion, and we looked at the history of the Marcos era as a case.
The distortion of turbulent histories through social media is not new. Just last year, the project "Countering Holocaust distortion on social media" was launched, with social media platform Facebook also pledging to act on the growing Holocaust denial content on its platform.
For many Filipinos, historical accounts about the abuses of power during the Marcos regime are of crucial importance not only for articulating "what was," but also for continuing to be a moral barometer for our governance principles and political choices: "Never again."
While social learning about politics and history on YouTube can be productive, what concerns us is the rise of YouTube channels and videos — achieving millions of views and subscribers — that attempt to deny and distort this period in our national history. Despite significant documentation and evidence connecting the Marcos regime to massive corruption, torture, and other human rights violations, there have been ongoing attempts to reconstruct Marcos' legacy: the atrocities of Martial Law, the economic crises during his regime, and his family's ill-gotten wealth and cronyism.
Research has shown that these historical distortions have been there prior to social media. However, we argue that YouTube is not only a medium for accelerating the spread of these false narratives, but is also a growing site for the assembling of public history and political knowledge. As such, YouTube mediates, shapes, and constructs political memory forward into the future, without a thorough grasp of their political and cultural implications. This means that the distortions that are taking place around Marcos' legacy can very well be applicable and extended to legacy rehabilitation for any other political regime.
Platforms, influencers, and networked disinformation
YouTube is often understood as either a technological platform that has its own algorithms, governance structures, and community standards that dictate what people can or cannot do; or a platform constituting of many content creators who develop content and engage with their audiences.
In trying to locate accountability, how we understand the configuration of political discourse on YouTube also defines the perceivable action — either we think the platform can easily plug solutions into moderation loopholes, or we try to take down the problematic content creators, often seen as "trolls," to expose their agenda. Our research looked at the intersections and mutually reinforcing forces of platform, content creators, and users to show how exactly these discourses are rendered legitimate through their networked nature on the platform, drawing some important implications.
We began by searching with the keyword "Marcos history" on YouTube, a phrase derived from the top searches on Google Trends. We were interested in seeing not only what videos would emerge from a user's search, but what would be recommended after one clicks on the emerging results. Using cookie-free browsers, two of us researchers documented the videos that appeared in the search results, as well as the succeeding recommended videos (in the "Up Next" column). We repeated this process three times on separate days, collecting 600 videos in total. From here, we listed the top ranked videos, mapped the video recommendation network, and analyzed the content of key videos.
Remaking Marcos' legacy on YouTube
Eight out of the ten top videos that appeared from our search were by "amateur" content creators, or those who were unaffiliated with institutional or professional groups. Topping the list was the channel Sangkay Janjan TV, with almost 700,000 subscribers, and its video that garnered 1.9M views about the imaginary state of the Philippines as a global superpower, supposing the Marcoses had stayed in power. Promoting a glorious regime and Marcos as the "best leader in the world" with "book-length accomplishments," the top videos claimed that economic and social decline only started after the Marcos regime, which substantial documentary evidence disputes. The videos also included the denial of torture and human rights violations during Martial Law.
The recommended video network further fortified these narratives. The suggested videos in the first iteration were from the same pro-Marcos channels (Figure 1; see full network graphs in Soriano & Gaw, 2021), and around 80% of them and similar "conspiracy" channels prevailed in the network in the next iterations (Figure 2).
What this means is that as the same kind of content and channels are continually recommended, the platform has the capacity to construct persistence, continuity, and corroboration of the narratives.
To our surprise, news and historical institutional sources rarely appeared in the recommendations across iterations despite having rich content on Marcos history. As such, they were either absent or only appeared on the fringes of the network (Figure 3).
Official and unofficial YouTube channels of Marcos' party and of his son Bongbong Marcos were also recommended in the first iteration, and they have embedded themselves more profoundly into the network as they become more "personalized" (Figure 4).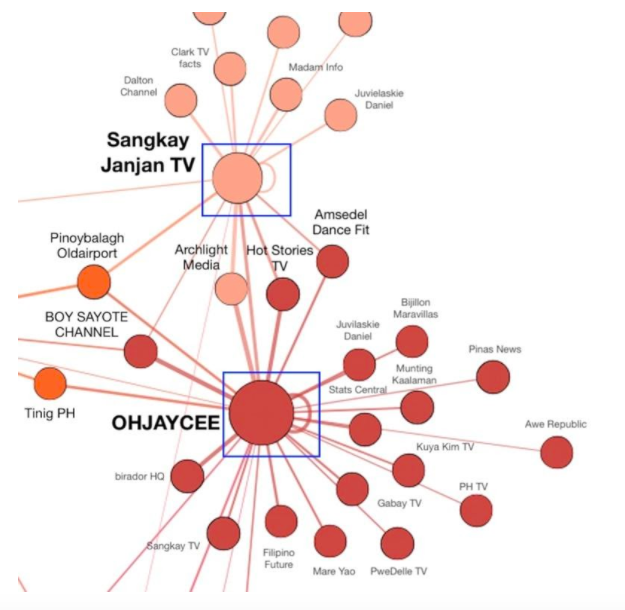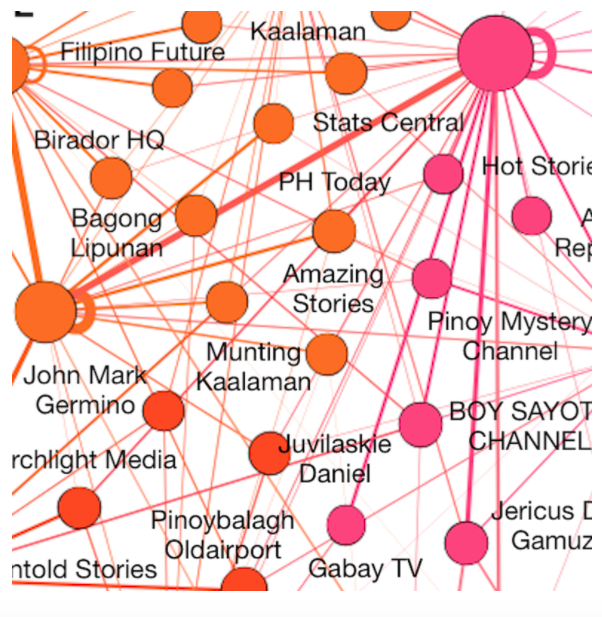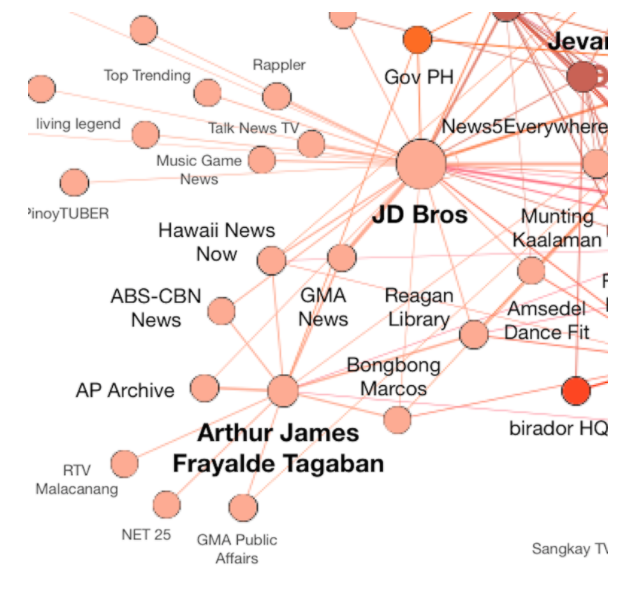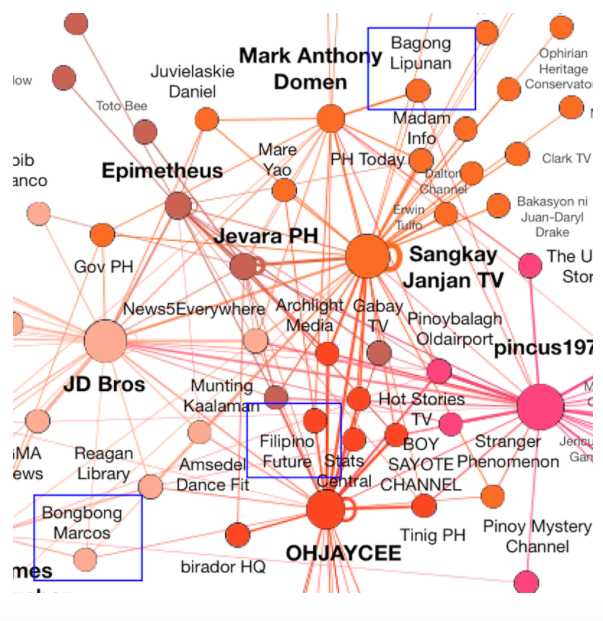 The channels' visibility in the YouTube recommendation network was not incidental. These content creators have employed various strategies and tactics that heightened their chances of being prioritized by the YouTube algorithm. They made use of keywords and categories that position their videos as news, education, and entertainment despite not necessarily being cut out as such. They exploited controversies and conspiracies in their tags and linked their videos to popular YouTubers to gain traction.
Apart from these platform tactics, they strengthened their affinities with viewers by recognizing them through "shoutouts," calling for recommendations on topics to discuss, and referring to them as a community (mga ka-sangkay, mga ka-birador). They made audiences feel morally superior by invoking in them a sense of patriotism for supporting the Marcoses, while degrading whoever was against the dictator and his family.
Networks manufacture legitimacy
This algorithmically-built network of pro-Marcos content creators not only created connections between lone, disparate YouTubers but also constructed narratives that would otherwise sound preposterous when taken individually. Fringe claims became affirmative "evidence" when put next to each other and corroborated by multiple YouTubers under the banner of "recommendations." Together, they legitimized this distorted historical account, manufactured emotional resonance around it, and embedded it into public consciousness through millions of views, hours, and users.
Like a thief in the night, the Marcos' legacy rehabilitation project online has been cultivating ambivalence around institutional historical knowledge for years through this network of content creators. They leveraged the algorithms to sanction their alternative account with every user search. Our personalized digital experiences served as blinders to identifying patterns of disinformation, especially when these were embedded into narratives of progress that could start to feel true as they resonated with people's aspirations. The content creators' manipulation tactics were indistinguishable from YouTube's influencer culture, and the platform itself had porous regulatory structures. This inconspicuousness made this kind of massive propaganda exempt and even resistant to criticism and scrutiny, and when discovered obfuscated where accountability lay.
Rethinking moderation, fact-checking, and interventions
These YouTubers' prominence on the platform and the algorithmic "recommendation" of their personal (or politically motivated) interpretations of history were a result not only of the socio-technical interaction between platform and content creators but also of users who sought political information online. Users have the agency to choose which videos to watch, but these choices may also be influenced by what is made visible and privileged by the platform. The alternative network on YouTube facilitated the bridging of citizens with political actors who could benefit, directly or indirectly, from the influencers priming users to their political message and connecting them to their official political channels. This meant that the political work of propaganda, disinformation, and historical revisionism had also been relocated from singular actors to complex networks, which required us to rethink approaches to resisting and countering them.
Our first suggestion is on the intricacies of platform governance. As a platform that was built through participatory culture, YouTube has encouraged and popularized content and creators that depart from traditional expert cultures, while gaining economically from the process. As such, it has been liberal about its content moderation policies and permits content that does not violate its community standards to the letter. Once problematic or malicious content creators enter YouTube's ecosystem, they can exploit and maneuver the platform without YouTube recognizing or taking accountability over their political implications. Only with public pressures does YouTube begin to act, such as identifying Holocaust denial videos and channels as "hate speech" and taking them down from the platform. Yet as we have shown, these videos are in the "grey" area and do not squarely fit into these categorical rules.
It is critical for YouTube to expand its definitions of objectionable content and create an array of parameters to account for the multiplicity of manipulative tactics employed by content creators. Further, there needs to be a shift in evaluating content from a per-video basis to a network perspective and map its social consequences as it is circulated, recommended, and engaged in the network. After all, videos are experienced in context, not in silo, and this approach more realistically resembles users' everyday interactions with YouTube. Accountability also becomes dispersed throughout the network, and YouTube should be compelled to reexamine its governance structures and their impact on how the platform, content creators, and users operate.
Second, we call for a recalibration of interventions to disinformation. The intent of the channels to distort history unfolds and gains greater potency through a composite of facts, fiction, and affection in videos and channels organized as a recommendation network. One conspiracy video could make sense in the context of the broader narrative, cemented by a network of content creators who collectively accuse academics and the media of deliberately negating Marcos' "glorious" years.
While singular distortions of facts can be "checked" and corrected, a networked narrative tells us the process by which lies and distortions can be made palatable. This carries implications on the need for a collaborative effort among multiple actors — journalists, teachers, activists — to build a counter-network that can powerfully undermine the distortions advanced by these alternate influencers.
The teaching of history not as isolated facts but as connected events become critical. How can we compellingly tell Filipinos that "Never again" represents our collective aspiration for social progress? How can we engage YouTube to build communities resistant to media manipulation? Not only do we need to update our toolbox but also subvert the very same tools that threaten our democracy. – Rappler.com
Dr Cheryll Ruth Soriano is a professor in Communication at De La Salle University, Manila and a member of the Consortium on Democracy and Disinformation. She authored the book "YouTube and the Brokerage of Social Transactions in the Philippines" with E. Cabalquinto (Amsterdam University Press, forthcoming).
Fatima Gaw is an assistant professor at the Department of Communication Research, University of the Philippines. Her work centers on the mediation of platforms, algorithms, and digital technologies in culture and politics in the Philippines and in Southeast Asia.