These recent devastating and large magnitude earthquakes, occurring closely in space and time, are an urgent reminder to revisit earthquake preparedness strategies
(The first part of this series on earthquakes tackled the Devastating Turkey earthquakes and the theory of stress triggering.)
Like Turkey and Syria which were recently hit by devastating twin earthquakes on February 6, 2023, the Philippines has also experienced moderate- to strong-magnitude earthquakes occurring in succession closely in space and time, seemingly obeying the Coulomb Stress Transfer (CST) theory of stress triggering.
The magnitude 6.1 earthquake that struck Masbate in the central Philippines on Friday, February 16, is a fresh example of an earthquake that has likely been triggered by a magnitude 6.6 earthquake that hit the island about two-and-a-half years earlier, on August 18, 2020. The epicenter of Friday's earthquake lies just west offshore Matabao Island along the Masbate Pass between Ticao Island and mainland Masbate Island (See video). This is located only about 30 kilometers from the 2020 temblor, making these two earthquakes closely linked in space and time. A preliminary CST model by my research associate Sandra Catugas, indicates that the magnitude-6.1 February 16, 2023, earthquake occurred within an area where stresses have been transferred to by the magnitude-6.6 earthquake of August 18, 2020.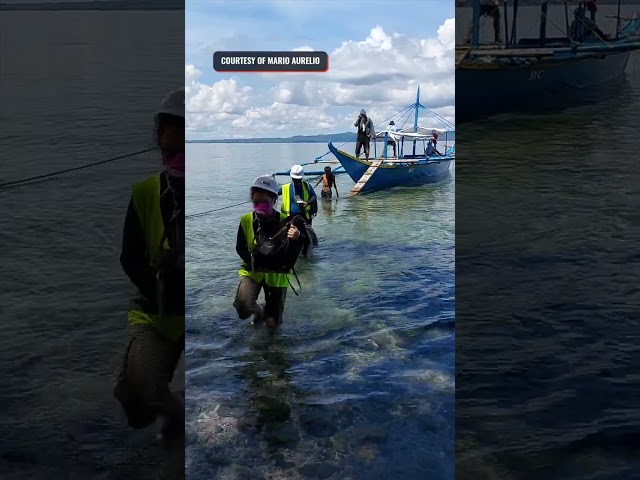 The 3 Masbate earthquakes
Prior to the magnitude 6.6 earthquake of August 18, 2020, Masbate was also hit by a magnitude 6.3 tremor on February 15, 2003. The epicenter of the 2003 quake is located much closer to the 2023 event, both earthquakes separated by not more than 10 kilometers. Temporally, they are separated by exactly 20 years!
In the southern Masbate town of Cataingan, in a mountain village called Matugnao, a vernacular reference to the cool weather that prevails all year round, thanks to the lush vegetation and relatively high elevation, there stands precariously a coconut tree that has been split twice by the movement of the same fault that produced both the earthquakes of 2003 and 2020. The movement of exactly the same segment of a fault within a dimension not greater than the diameter of the trunk of a coconut tree (i.e., less than half a meter) is an extremely rare phenomenon in fault dynamics. Two years prior to the magnitude 6.6 earthquake of 2020, Adamson University students Crystel, Pamela, Elisha and John Paul fortuitously demonstrated triggering between these two earthquakes in their award- winning undergraduate thesis of 2018, by showing that the magnitude-6.3 event of 2003 transferred seismic stresses to the area where the magnitude-6.6 of 2020 would eventually occur.
Cotabato earthquake sequence of late 2019
Within two weeks, between October 16 and October 31, 2019, an area within a 100-kilometer radius in South Cotabato was hit by four earthquakes with magnitudes greater than 6.0. That year, that region was successively hit by a magnitude 6.3 on October 16, magnitudes-6.1 and 6.6 on October 29, and a magnitude 6.5 on October 31. The succession of four greater-than-magnitude-6.0 earthquakes within a small area and in close temporal proximity to each other is a scientific puzzle.
Several researchers have already proposed varied interpretations to explain the four closely-spaced earthquake events, including earthquake doublets and the sequential movement of what structural geologists call "conjugate" faults – fault pairs that operate together, where one fault needs the other to exist, much like in a conjugal relationship. But more worrisome is the effect of such closely-spaced earthquakes to infrastructure.
The effect of successive earthquakes is cumulative – meaning the effects of one earthquake will add up to the effects of the next, and so on. Think of the damage that successive punches of a boxer can do to one section of the body of an opponent: the first punches may not hurt, but the succeeding ones, especially when thrown in quick succession, will cause that part of the body to quickly weaken and eventually fail. When thrown to the face, or to crucial sections of the body, these successive punches can likely knock down an opponent.
By analogy, foundations of buildings, when shaken by successive tremors, are weakened cumulatively to cause the eventual collapse of the structures. This explains the extensive damage suffered by thousands of buildings in Turkey and Syria after being hit by the two greater-than-magnitude 7.0 earthquakes on February 6, 2023 within a span of only nine hours.
Abra earthquakes in 2022
To a lesser extent and at a smaller scale, the same has been experienced by infrastructure in Abra and Ilocos Norte after these adjacent provinces were struck by two earthquakes separated only by less than 20 kilometers spatially and temporally by less than three months.
Abra was struck by a magnitude 7.0 tremor in July 27, 2022 while neighboring Ilocos Norte was hit by a magnitude 6.4 seismic event on October 25, 2022. The cumulative effect of these successive earthquakes was exacerbated by the proneness to liquefaction of the Solsona Basin that host the Ilocos towns of Marcos, Banna, Solsona and Dingras in the upper reaches of the mighty Laoag River where significant infrastructure damage has been registered.
Implications to building codes?
These recent devastating and large magnitude earthquakes, occurring closely in space and time, are an urgent reminder to revisit earthquake preparedness strategies, especially for countries like the Philippines that lack support for scientific studies.
Key to earthquake preparedness is strict adherence to building codes. Many consider the Structural Code of the Philippines to be a robust set of rules and regulations with stringent instructions on seismic design to ensure that a building can resist the forces generated by an earthquake (that is, a single seismic event), but does it provide for scenarios that involve multiple seismic events occurring closely in space and time, and their cumulative effects?
The energy released by a magnitude-7.8 earthquake is more than five times greater than that released by a magnitude-7.5 earthquake. The total seismic energy that was released by those two Turkey earthquakes is thus equivalent to an amount released almost simultaneously (within nine hours) by at least six magnitude-7.5 earthquakes! – Rappler.com
Mario A. Aurelio, PhD is a Structural Geology professor at the National Institute of Geological Sciences – University of the Philippines, interested in the study of earthquakes. In late July-early August 2022, he brought 55 students to Masbate Island to conduct field geological investigations. The video clip shows three of these students (in yellow field vests) landing in Matabao Island from Masbate Pass. The epicenter of the magnitude-6.1 earthquake of February 16, 2023, is located only a few hundred meters offshore from the landing site.