This is AI generated summarization, which may have errors. For context, always refer to the full article.
'Hong Kong used to be a place that's a beacon of all these freedoms in Asia, and within essentially 5 years, it's gone to a place where everybody is scared of speaking out,' says Sebastien Lai, son of jailed media mogul Jimmy Lai
LONDON, United Kingdom – Hong Kong's feared national security law has targeted a broad range of people, from media mogul Jimmy Lai, a prominent figure in the pro-democracy movement, to a young woman who posted support for the movement online while studying in Japan.
The law, according to Lai's son Sebastien has transformed the former British colony from "once a beacon of all these freedoms in Asia and within essentially five years to a place where everybody is scared of speaking out."
Sebastien was in London and talked to Rappler on Friday, April 28, as he continued his campaign for the British government to help secure his father's release. Lai, owner of the independent Chinese-language newspaper Apple Daily which has since been shut down, is a British citizen.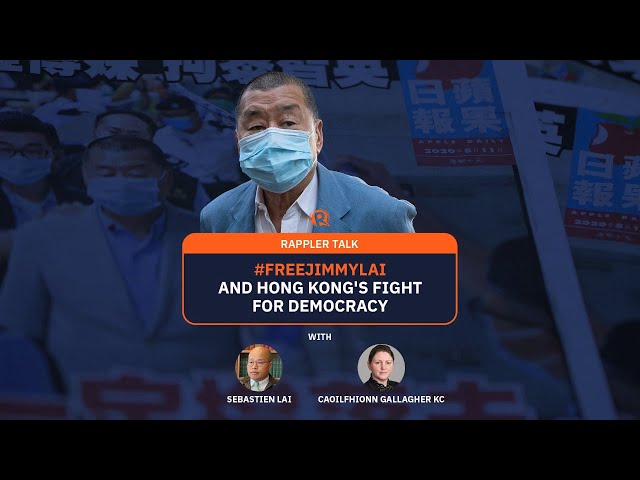 Since Lai's arrest and imprisonment two and a half years ago – over charges outside the national security law including his participation in a Tiananmen Massacre vigil – the British government has not explicitly called for release of Lai, who is 75.
In a message to the United Nations Human Rights Council in February, Foreign Secretary James Cleverly mentioned Lai and called on the Hong Kong government to uphold the International Convention on Civil and Political Rights. An all-party parliamentary group (APPG) issued a strongly-worded report condemning Lai's prosecution. An APPG is an informal group of ministers of parliament (MPs) across the two political groups on certain topics and countries.
"[The APPG] is a hugely important report…but it's nowhere near enough," said Caoilfhionn Gallagher KC, one of Lai's British lawyers. "For two years, the British government was radio silent on this case. From December 2020 to December 2022, the UK was silent, we don't know if that's a deliberate decision because of the UK wanting closer trading relationship with China and Hong Kong, or just a sign of the UK government being in disarray," Gallagher added, referring to the messy changes in prime ministers since Boris Johnson to Liz Truss to now, Rishi Sunak.
Sebastien, also a British citizen, said: "The fact that the UK has not called for his release, which we assume is the bare minimum that a government would do for a wrongly-imprisoned citizen, it really is shocking."
'Emblematic'
Gallagher said that what makes Hong Kong different from the other human rights cases she has handled is the fact that it is happening in a supposedly free country, "a beacon of freedoms" as Sebastien said, as compared to countries widely seen as autocratic nations.
"What we're seeing in Hong Kong is the worst kind of example that's much more in the Saudi Arabia, Iran, and Egypt bracket," said Gallagher. She added that "in all the cases I have done I have never been targeted in this extreme and consistent way. "
Gallagher and her firm, Doughty Street Chambers, are also the international lawyers of Rappler CEO and Nobel Peace Prize Winner Maria Ressa.
Since the passage of the national security law at the height of the pandemic lockdown in mid-2020 – the same time that the Duterte government passed the Philippines' similar anti-terrorism law – over 250 people in Hong Kong have been arrested, and around 30 have been convicted. Hong Kong has prided itself on a 100% conviction rate under the law.
Lai was first arrested over unlawful protest in Tiananmen Square, then convicted for fraud related to a leasing contract of the offices he owned, and now on trial under the national security law for allegedly colluding with foreign agents because he sought the world's support for Hong Kong's pro-democracy movement.
For doing the same thing – calling for the world's support to free his father – the Hong Kong government has called out Sebastien and the lawyers for trying to "interfere in the judicial proceedings." As a result, Sebastien has not been able to go home to Hong Kong because of "a blanket of fear."
"The law is so broadly worded that it is definitely a huge issue for everybody in Hong Kong, and abroad as well. It's absolutely ridiculous that the UK government does not speak about citizens in their own country getting threats by a foreign government," said Sebastien.
Lai's case, according to Gallagher, "is emblematic of a shrinking civil society space in Hong Kong and [how] media freedom has vanished in a short amount of time."
Sebastien highlighted the need for journalism to help preserve democracy, referring to the way that Hong Kong has eliminated all the independent Chinese-language news outlets in the country. "The lesser you call these autocrats out, the more they are emboldened by it and the more they are emboldened the lesser that there is free media. It's a vicious cycle," said Sebastien.
With the rise of autocratic leaders all over the world, even Europe which is generally perceived as a safe place for media freedom has been found to be needing improvements in "combating entrenched pressure on and threats to journalists," according to a report by the Committee to Protect Journalists (CPJ).
Gallagher said that a trend spotted across Asia is also the use of laws that are not specifically targeting free speech, but used in a way that discredits journalists and activists by casting doubt on their integrity.
Plea to the world
The lawyers have utilized United Nations mechanisms for Lai, including filing an urgent appeal with the working group on arbitrary detention and with special rapporteurs. International mechanisms, however, always face the existential crisis of not being legally enforcable in local jurisdictions which makes tactics like this tricky.
The options to take either Hong Kong or China to court are also extremely limited due to its selective memberships to treaties.
"This happens a lot with these kinds of cases where you have regimes that have insulated themselves from being held into account internationally, and that causes problems for us because when you have a regime that is not rule of law-compliant, it's very important to hold them to account but if they have constructed themselves in such a way that it's hard to take them to an international tribunal, how do you do that?" said Gallagher.
Hong Kong's national security law and other similar laws across the Asian region have been described as "colonial-era hangovers" from when empires prohibited dissent. "I very much support the call for these old-fashioned laws to be repealed," said Gallagher.
This is where the political play with other countries, particularly those that enjoy the reputation of supporting fundamental freedoms like the United Kingdom, come into the picture.
"This is a man who chose to stay put in Hong Kong when he could have easily taken his trade elsewhere, moved to the UK, to the US, but he chose to stand up and be counted. Now it's time the world stand up for him," said Gallagher.
This is also Sebastien's plea.
"He decided to stand up for this truth, that freedom of speech, rule of law is important to everyone and for that, at an age where most people would retire and enjoy the fruits of labor, he is sitting in a jail in Hong Kong," said Sebastien.
"I ask that anybody listening to this bring attention to the case and call for his release," Sebastien added. – Rappler.com