(3rd UPDATE) For her 'unerring fight for freedom of expression,' Rappler CEO Maria Ressa is the 2021 laureate of the UNESCO/Guillermo Cano World Press Freedom Prize
Rappler CEO Maria Ressa received a prestigious press freedom award from UNESCO for her fight for free speech in the Philippines, serving as a model for journalists under siege around the world.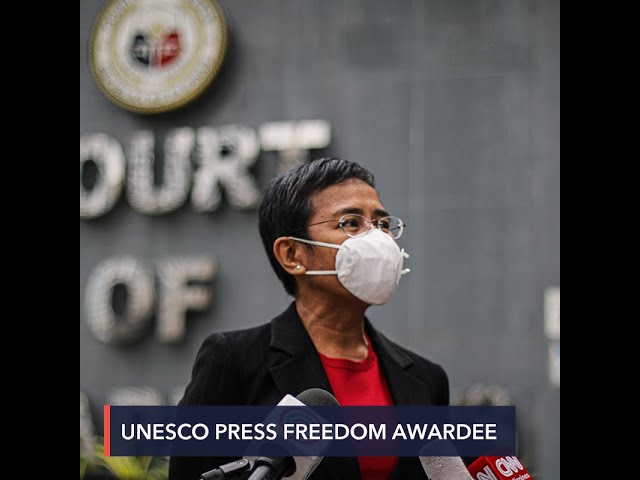 Ressa was awarded the UNESCO/Guillermo Cano World Press Freedom Prize on Sunday, May 2, the eve of World Press Freedom Day.
The prize, which is worth $25,000 (P1.21 million), "recognizes outstanding contributions to the defense or promotion of press freedom especially in the face of danger."
The award is named after Colombian journalist Guillermo Cano Isaza, who was slain in front of the headquarters of his El Espectador newspaper in Bogotá, Colombia, on December 17, 1986. It is funded by Colombia's Guillermo Cano Isaza Foundation, Finland's Helsingin Sanomat Foundation, and the Namibia Media Trust.
"Maria Ressa's unerring fight for freedom of expression is an example for many journalists around the world. Her case is emblematic of global trends that represent a real threat to press freedom, and therefore to democracy," said Italian investigative journalist Marilu Mastrogiovanni, chair of the Prize's international jury.
UNESCO cited Ressa's more than 3-decade career as a journalist, including her work as CNN's lead investigative reporter for Asia and as news chief of Philippine broadcast giant ABS-CBN. Recently, her citation added, Ressa "has been the target of online attacks and judicial processes" for her investigative work and her position as CEO of Rappler.
In her speech during the ceremony, Ressa highlighted the attacks against Filipino journalists, human rights activists, and ordinary citizens under President Rodrigo Duterte.
"What I and other truth-tellers in the Philippines have lived through has given us firsthand experience of how the law and law enforcement have been turned against our people," Ressa said.
"Now more than ever, power and money rule."
Ressa noted the "equally dangerous and insidious virus of lies unleashed in our information ecosystem," infecting "real people, who become impervious to facts."
"It changes the way they look at the world. They become angrier, more isolated. They distrust everything. In this environment, the dictator wins, crumbling our democracies from within," she said.
Ressa urged everyone to "fight and win your individual battle for integrity" since at stake is "our collective global future."
"The more you have, the more you must risk," she said. "Because silence is complicity."
Ressa, 57, is a Filipino-American journalist who was named Time Person of the Year in 2018, and received numerous other awards such as the 2018 WAN-INFRA Golden Pen of Freedom, the 2020 John Aubuchon Press Freedom Award of the Washington-based National Press Club, and the Roosevelt Four Freedoms Award in 2021.
She was also nominated for the 2021 Nobel Peace Prize, along with Reporters Without Borders and the Committee to Protect Journalists.
On Saturday, May 8, detained opposition Senator Leila de Lima extended her congratulations to Ressa in a handwritten letter.
"Your journey and righteous struggle to fight for truth, free speech, and press freedom is indeed remarkable and inspiring," the senator said.
De Lima said she admired Ressa's constant courage to stand up and speak truth to power "amid relentless persecution."
"I hope that more and more people follow your lead and find their voice to protect the truth….whatever the cost may be," she added.
De Lima, one of Duterte's fiercest critics, has been imprisoned for four years over what she has described as trumped-up drug charges against her. – Rappler.com