(1st UPDATE) 'We've assembled a great team,' President Marcos says in response to the rumor that Finance Secretary Benjamin Diokno would be replaced by Albay congressman Joey Salceda
MANILA, Philippines – President Ferdinand Marcos Jr. has put to rest rumors that he would replace Finance Secretary Benjamin Diokno, saying these are nothing but "fake news."
The President made the statement in a media interview on Tuesday, November 22, following the 49th Founding Anniversary of Career Executive Service Board and 2022 Career Executive Service Lifelong Learning for Leadership Congress. 
"I don't know where it comes from. Why would I do that? We've assembled a great team. At saka (And also), we're trying to go down a certain direction," he said, when asked about rumors that he was eyeing Albay 2nd District Representative Joey Salceda to replace Diokno at the Department of Finance (DOF).
"It's a very, very poor time to, as I say, change horses in midstream," he added.
Earlier on Tuesday, Diokno shrugged off the rumors, saying he would rather focus on his job. Diokno was part of the economic team handpicked by the President, which Marcos described as "the best and brightest."
"I don't know where this is coming from. I'm old enough in this game to even bother about this," Diokno said in response to questions in a brief interview with reporters after he addressed the Stratbase Pilipinas Conference.
"I just work nonstop, unceasingly to do my job. And I always think what's the greatest good for the greatest number – para sa bayan (for the country)," he added.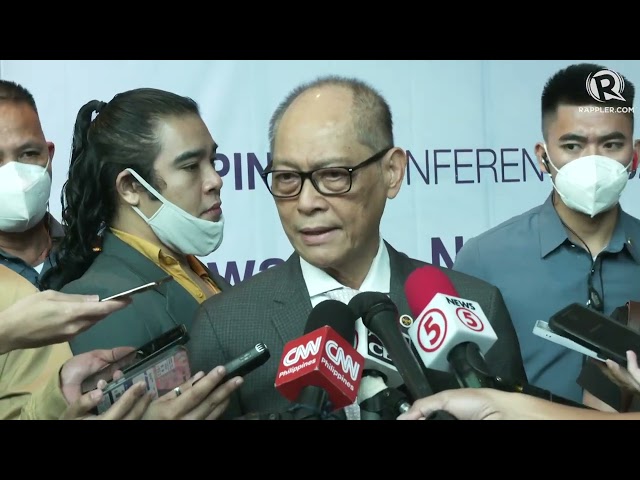 Diokno described his relationship with the President as "very good." He added that he remained good friends with Salceda.
Salceda had distanced himself from his rumored DOF appointment, earlier saying: "I have nothing to do or start this DOF news flow. It is not my style. Secretary Ben is a good friend and as long as he's Secretary of Finance, I will work closely with him."
Salceda, an economist, briefly served as then-president Gloria Macapagal Arroyo's chief of staff in 2007. A veteran politician, Salceda played key roles in the economic reforms taken during the 2008 global financial crisis and the comprehensive tax reform program passed during Duterte's term.
In 2018, when Arroyo was House speaker, she designated Salceda as her Special Focal Person for Counter-Inflation Measures.
Diokno, who has served as finance secretary for almost six months to date, was the budget chief during the Estrada and Duterte administrations. He served as Bangko Sentral ng Pilipinas (BSP) governor in the second half of the Duterte presidency.
Early departures
The replacement rumors also follow a string of early Cabinet departures. Following word that he was set to be replaced, Victor Rodriguez resigned as executive secretary in September, citing the need to spend time with his young family.
A few weeks later, Trixie Cruz-Angeles handed in her resignation as press secretary due to "certain medical conditions." On the same day, Jose Calida also resigned as Commission on Audit chairperson.
The replacement rumors also follow a change in leadership at the Bureau of Internal Revenue (BIR). On November 16, Marcos appointed Romeo Lumagui Jr. as the BIR chief, replacing Lilia Guillermo.
Guillermo, who was BSP assistant governor and chief information officer prior to her BIR appointment, had previously stated that she would comply with the court decision on the Marcos family's estate tax case. (READ: Incoming BIR chief to tell Marcos on estate tax case: 'Can you be a role model?') – Rappler.com