Fans hear Maine Mendoza's voice, Yaya and Alden see each other again, plus a special number by Tito, Vic and Joey
MANILA, Philippines – After the much anticipated first date of Yaya Dub and Alden Richards and the visit to Lola Nidora's mansion, it was Yaya Dub and Lola's turn to visit Alden and the gang at Eat Bulaga's studio in Broadway, Saturday, October 3.
The AlDub tandem became popular back in July when Maine "Yaya Dub" Mendoza met Alden during the "Juan For All, All for Juan" segment. In the kalyeserye, the characters are in love, but Lola Nidora, played by Wally Bayola, is initially against the relationship. (READ: #AlDub: The fun tandem of Alden Richards and 'Yaya Dub')
But it looks like their relationship is earning Lola's approval little by little. Here's what happened this week:
Lola Nidora scolded Alden for leaving immediately following his visit to the mansion last week. Nidora said that Alden left the food that she asked him to bring back to Broadway to give to the co-hosts of Eat Bulaga, thus the food was wasted and spoiled.
Meanwhile, Alden and Yaya decided to confess to Lola Nidora that they accidentally touched each other when Yaya drank water after nearly choking from the food she ate. Lola Nidora got angry with them, but eventually calmed down, saying she was happy the two were honest. However, Lola said she cannot give them her supposed surprise – a dinner-movie date with no chaperone.
Nidora together with Tidora and Tinidora reviewed the CCTV footage from the computer to verify if the two were telling the truth, which they were. Nidora reprimanded Yaya saying it was she who should have said sorry, and not Alden for making contact.
During the celebration of their 11th weeksary, it was Yaya's turn to give Alden a surprise. She sent a box of cupcakes she personally made for him. But the biggest surprise of all was yet to come. For the first time, she sang a song live to Alden and the audience cheered. It was a clear indication of the voice everyone has been waiting to hear since July.
In return, Alden gave her a card and flowers. Nidora meanwhile asked a favor from Tito, Joey and Allan who were at Broadway. She asked if she can bring Yaya and the sisters to Broadway and meet all the co-hosts of the show formally. All of them agreed. 
GOD GAVE ME YOU part 2 #ALDUB11thWeeksary pic.twitter.com/C3a4xd1KGU

— ALDUB|MAIDEN NEG OR (@maiden16_NegOr) October 1, 2015
This week also gave a quick look at Tinidora's sad love story. She received a phone call from a former love named Bill who wanted to see her. However she refused. But Bill showed up eventually, asking for forgiveness. Tinidora refused, saying she was hurt by his treatment of her. Bill then told her he will wait for her but Tinidora told him not to expect anything. 
A day before the visit to the studio, Yaya, Nidora and Tinidora discussed in excitement what to do when they get there. They were able to talk with some of the co-hosts as well and Nidora once again saw her crush Jimmy Santos, who said he would wait for her. Everyone started teasing them.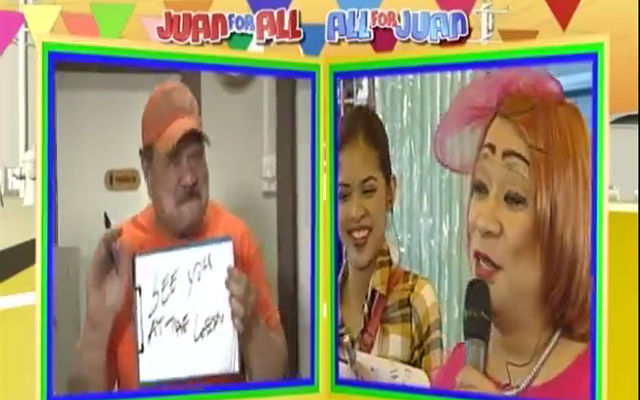 Alden meanwhile asked Nidora if he can kiss Yaya on the cheek when they meet, but she said no. She also reminded Alden the no-touch policy was still in effect and to stay one foot away from Yaya.
But Nidora had one more request. She asked Tito, Vic and Joey if they can serenade the sisters – Nidora, Tidora and Tinidora. All 3 were surprised with Vic saying: "Idadamay mo pa kami eh, nanonood lang kami dito!" (You're going to involve us? We're just watching!) Eventually, the 3 gave in, saying that they were going to do it for the AlDub fans.
Joey de Leon took to Twitter after they agreed to the request.
Hindi mapatid-patid aking papuri sa AlDub at Calle's Angels at sa lahat ng kaugnay sa Kalyeserye. Binulaga nyo kami!#ALDUBarkadsPreparation

— Joey de Leon (@AngPoetNyo) October 2, 2015
Yaya meanwhile gave Alden another surprise. When Alden informed her he was going to Cebu for a meet and greet session, she took to the microphone and performed Mandy Moore's hit "Cry" live. Alden was once again caught off guard.
The moment I saw you cry daw omg oxygen #ALDUBarkadsPreparation pic.twitter.com/XpfQClRww3

— ALDUB|MAIDEN CANADA (@maiden16_Canada) October 2, 2015
On Saturday, October 3, the sisters started preparing for the visit. Rihanna helped Tinidora with the outfit she was going to wear to go to Broadway.
Meanwhile, Yaya was getting herself prepared also, trying out different outfits.
Gusto niyo po ba itong outfit na to? #ALDUBmeetsTVJ pic.twitter.com/D6hoOpvMJb

— Eat Bulaga (@EatBulaga) October 3, 2015
Dabarkads, ito ba ang gusto nyong isuot ni Yaya DUB mamaya? ABANGAN pa ang ibang outfit niya! #ALDUBmeetsTVJ pic.twitter.com/NOO8hU0lqs

— Eat Bulaga (@EatBulaga) October 3, 2015
Malapit na ang inaabangang #ALDUBmeetsTVJ ! Eto kaya, Dabarkads? Okay ba `to sa inyo? :)) pic.twitter.com/VImVGvelHR

— Eat Bulaga (@EatBulaga) October 3, 2015
Meanwhile, Tidora seemed to have some problems as she was reported to have been left by the plane bound for Manila from Cebu.
As Alden waited for Yaya and Lola's arrival, he posted a short video.
Finally, Tinidora, Nidora and Yaya made their way to the Broadway studio. Tinidora made a grand entrance dancing to "Mambo Number 5." Nidora meanwhile toured Yaya around the studio. The hosts meanwhile prepared the feast, while Alden also prepared himself  to meet Yaya and Lola Nidora.
Lola Nidora and Yaya were met by the hosts onstage and Lola introduced everyone to Yaya. Nidora meanwhile expressed her worries upon seeing where Alden and Yaya were going to sit. The hosts however assured her it would be fine. To calm Lola, Tito, Vic and Joey serenaded her.
#ALDUBmeetsTVJ hinaharana na si lola ng TVJ pic.twitter.com/S9KEZJzCt3

— Eat Bulaga (@EatBulaga) October 3, 2015
Jimmy also serenaded Lola.
Winner!!#ALDUBmeetsTVJ pic.twitter.com/vwqaljtio1

— alexa villano (@alexavillano) October 3, 2015
After the song, Alden finally appeared with flowers and a basket of dried mangoes with chocolates for Yaya.  Once again,  Lola reminded them no touch and one foot apart.  She also tried to separate Yaya from  Alden, but the hosts led by Tito, Vic and Joey defended the two. Finally, Lola agreed for Alden to sit with Yaya on the table on one condition – that Alden must beat her in a game of rock, paper and scissors.
2 all. #ALDUBmeetsTVJ pic.twitter.com/huAHRAefce

— Eat Bulaga (@EatBulaga) October 3, 2015
Rock,paper and scissors #ALDUBmeetsTVJ pic.twitter.com/uTMMWrZZ3W

— alexa villano (@alexavillano) October 3, 2015
Alden eventually won the game and got to sit with Yaya at the table. He was finally  able to shake hands with her. They also performed a duet.
Yon!!! #ALDUBmeetsTVJ pic.twitter.com/OSgjzQXPjK

— alexa villano (@alexavillano) October 3, 2015
Allan K took Lola Nidora to the audience which gave Alden and Yaya time be close without being monitored. Afterwards, Lola talked to Tito, Vic and Joey about helping out in the Barangay project, in which she wants to involve herself in donating more chairs for schools. She also made another request – that she will bring Alden with them during their sugod bahay segment, while Yaya will stay with the hosts so she can learn more things from them. All of them agreed.
As they were having a good time, Lola got a call from Rihanna and she screamed in horror. What's the matter? 
What are your thoughts about Yaya and Alden exchanging places in the Juan for All, All For Juan segment?  Share your thoughts about the AlDub story in the comments section. – Rappler.com
More AlDub stories: