Acting BuCor chief Gregorio Catapang Jr. says he plans to consult UP urban planning experts
MANILA, Philippines – Bureau of Corrections (BuCor) acting Director General Gregorio Catapang Jr. said plans to build their headquarters in Masungi Georeserve in Rizal will push through if experts can give assurances that the area will remain protected.
"Yeah, I will recommend that we push through with it without violating the ecological environment in as much as this is a property that we also have to move into. Right now we don't have facilities [nearby]," Catapang said during an interview at ABS-CBN's ANC on Tuesday, February 21.
The acting BuCor chief added he will specifically consult University of the Philippines urban planning experts.
"However, with this development, my boss, the Secretary of Justice already [said] nothing is final, it still has to be studied. My next move now is to ask the UP [University of the Philippines] Urban Planning Center to help me," Catapang said. "So I have to consult the experts. I'm not an expert on urban planning or on [the] environment so I'm asking our experts, some of them are from UP, to help us."
Last week, Catapang confirmed that they plan to use the georeserve as their new headquarters. This came after the Masungi Georeserve Foundation said BuCor personnel went in the area to do an ocular inspection.
Catapang reiterated that they are just following a proclamation made by former president Gloria Macapagal-Arroyo, which designated the land in question as possible new site of the national penitentiary.
"There are so many options right now but unfortunately, when I got hold of the Proclamation 1158, the president then, Gloria Macapagal-Arroyo issued a proclamation bidding us that parcel of land. And it stated that it would be a new site of the New Bilibid Prison and the field office site of the DENR. So I was just following the instructions," the BuCor OIC explained.
The Masungi Georeserve is a conservation area that houses fragile limestone formations protected by the Masungi Foundation. As a geotourism site too, Masungi also conserves the geographical and historical identity of the place, including heritage and culture.
Talking to Masungi Foundation
Meanwhile, Catapang added that he is willing to reach out to the Masungi Georeserve Foundation to discuss concerns surrounding BuCor's plans.
"Of course we are willing to talk to them. In fact, there are already intermediaries. We're putting up [a] chat group to really discuss this informally and maybe when the time comes, we can discuss this sitting down, face to face."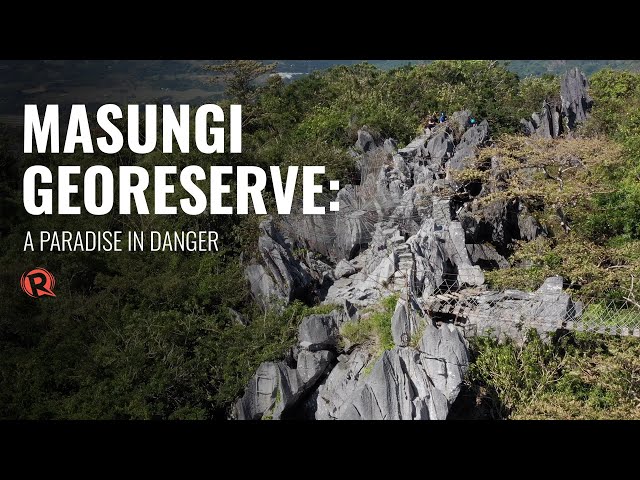 According to Catapang, they plan to use 20-30 hectares of the 270-hectare land. He added they are also eyeing to do construction in vacant spaces in the area – not at the top or foot of the mountain.
However, the Masungi Foundation said the land was not suitable for construction because of its mountain ranges. In 2022, the National Museum of the Philippines told the Department of Environment and Natural Resources that quarrying and development can lead to the degeneration of the site. – Rappler.com