In contrast with senators, House lawmakers spend more time amplifying the defense of the Duterte government
Lawmakers at the House committee on good government and public accountability on Wednesday, September 15, all but gave the microphone to the Duterte government in its probe into the questioned procurement for health supplies.
Deputy Speaker Rodante Marcoleta – a prospective senatorial bet of the administration in 2022 – was the loudest voice in support of the government, repeatedly saying that there was no corruption, no anomaly, and no ghost deliveries.
"This amount was not flagged because there is corruption, right? This amount was not flagged because there is overpricing, right? And even more, this was not flagged by COA because of a ghost delivery?" Marcolata said, interpellating the Commission on Audit (COA)'s supervising auditor Rhodora Ugay.
Ugay said yes.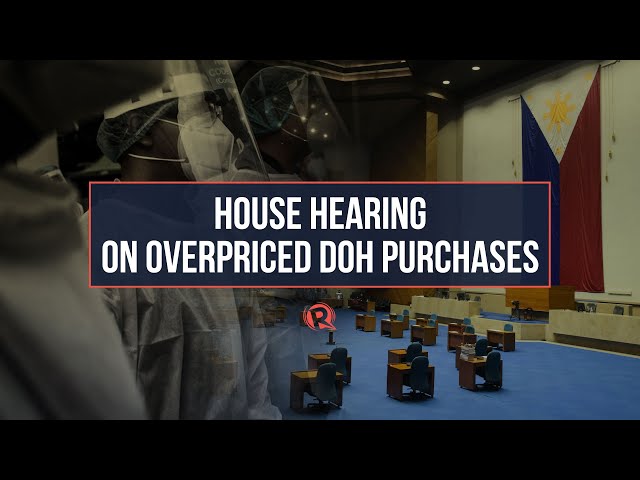 It is worth noting, however, that Ugay was only referring to the scope of COA's audit report, which only flagged transactions in 2020. Annual audit reports also do not necessarily have a goal of finding corruption.
COA Chairman Michael Aguinaldo clarified this later in the hearing, saying that this declaration is beyond their mandate, which is to "settle accounts."
New information has also since emerged since the agency's audit.
Pharmally was awarded over P8 billion worth of COVID-19 contracts in 2020 even if the small firm lacked the track record and credibility to engage in big-ticket government procurement. In 2021, it also got contracts worth P2.3 billion.
Senator Joel Villanueva also showed records indicating Pharmally did not pay its employees' withholding taxes and mandated contributions to the government.
A Rappler investigation showed that former Duterte economic consultant Michael Yang, through a network of companies, has links to Pharmally.
Lawmakers who echoed the government's defense were given the full 20 minutes of interpellation time and some of them were even given 5-minute extensions. The couple of lawmakers who criticized the government's purchases, Bayan Muna Representative Ferdinand Gaite and Gabriela Representative Arlene Brosas, were prodded to end their questioning under 20 minutes.
Amplifying the government's defense
Under interpellation of Surigao 2nd District Representative Johnny Pimentel, a lot of time was given to Deputy Ombudsman Warren Liong, who was procurement director of the Procurement Service of the Department of Budget and Management (PS-DBM) in 2020.
Liong defended the Pharmally purchases, saying the PS-DBM followed all procurement rules and even went "above and beyond" by canvassing prices before making the purchase of 500,000 face masks from Pharmally.
Pharmally was the only company, Liong argued, that could supply the masks to the Philippines at the time, and supply them under the government-regulated price ceiling at that time at P28. Each mask was sold for P27.72 apiece.
"There is no anomaly…There is nothing illegal," Liong said, using the Bayanihan 1 law as a defense, which loosened procurement rules under the pandemic.
It was revealed at the Senate hearing, however, that Pharmally didn't have face masks in its inventory, and got them from another supplier.
The delivery and payment were made even before a purchase order was placed by PS-DBM, with the agency paying P13 million, an amount higher than the P8 million initially approved for the purchase.
Senators found this as additional proof of what they concluded earlier: the PS-DBM did not exercise due diligence and prudence before dealing with Pharmally.
What is 'legal' and 'reasonable'?
During the hearing, the lawmakers emphasized that the Duterte government had no choice but to purchase from Pharmally given that supplies were scarce at the time.
In his interpellation, AKO BICOL Representative Alfredo Garbin painted an either-or scenario, asking Department of Health Secretary Francisco Duque III what could have been the consequences if the Duterte government did not purchase face masks from Pharmally.
"If we had waited by June, we would have lost a lot of lives, we would have had a collapsed healthcare system, cause, can you imagine the overwhelming transmission in our healthcare facilities?" Duque said in a mix of English and Filipino.
He added: "If we did not purchase immediately, a lot of people would have gotten sick, isolated, quarantined, hospitalized, intubated, and gravest of them, they could have died."
House vs Senate?
Lawmakers also questioned why the Senate blue ribbon committee continued with its probe critical of the government.
Marcoleta hit the Senate in his interpellation, where he asked COA to repeatedly say there have not been any proven law violations – at least not yet.
"The meaning of this is that the Senate blue ribbon committee is not listening to the COA. This is the notable conclusion here," Marcoleta said.
He asked COA's Ugay why the Senate continued with its probe, suggesting that it was unnecessary. Ugay said she could not respond.
During his interpellation of Liong, Marcoleta suggested that the Senate "chose" the resource persons they would like to hear from.
"You were not given the chance to explain," Marcoleta said.
Deputy Speaker Prospero Pichay, who echoed Marcoleta and Garbin's sentiments, said the hearings at both the Senate and the House were a "waste of time" for the government officials.
Garbin, meanwhile, amplified the PS-DBM's defense that it purchased the face masks at an expensive price because it was not readily available during the early pandemic.
Garbin said in his interpellation: "I'm trying to imagine [why] our co-equal House is forcing that there are cheaper face masks. But the fact that was established here, that (face masks) were only available in the month of June 2020. The fact remains that on April of 2020, the face mask global value was really high." – Rappler.com