Senator Leila de Lima says the DOJ is stopping her and her camp from sharing developments in her cases 'to hide from the world the fabrication and manufacturing of evidence and testimony used to convict the innocent'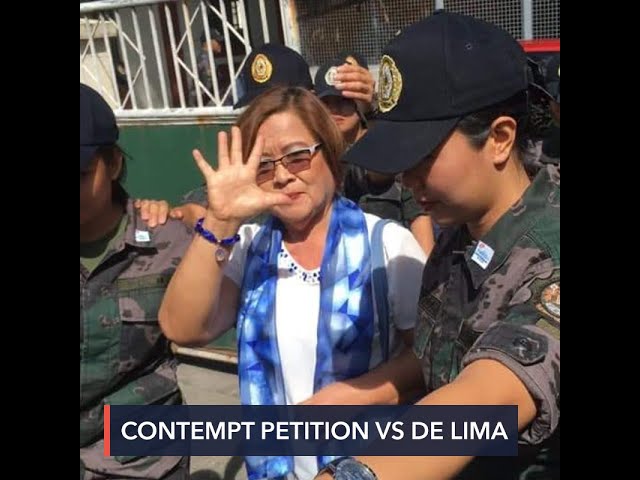 Senator Leila de Lima on Tuesday, December 8, cried foul over the move of the Department of Justice (DOJ) to file a contempt petition against her and her lawyer Boni Tacardon.
On December 4, the DOJ formally moved to cite De Lima and Tacardon in contempt for allegedly violating the sub judice rule.
The sub judice rule prohibits parties in a trial from commenting on and disclosing the details of pending cases to the public, to avoid prejudgment or "trial by publicity."
De Lima claimed in a statement on Tuesday that the DOJ wants to silence her camp by preventing it from sharing with the public developments in her trial for illegal drug charges.
"There is only one reason why a government and its prosecution arm, in this case the DOJ, would want our camp barred from sharing with the public the trial developments…. It is to hide the trial from the public. It is to deny transparency to the conduct of the trial. It is to hide from the world the fabrication and manufacturing of evidence and testimony used to convict the innocent," said De Lima.
"It is to make a kangaroo court out of the judiciary," she added.
Right to assert innocence in public
De Lima said that President Rodrigo Duterte had spread lies about her alleged drug links and had openly and repeatedly prejudged her guilt in public. In her camp's case, she said, they merely updated the public about the developments in her trial.
"Now tell me: Don't I have the right to now debunk those lies using the court testimonies of witnesses, and Duterte's own witnesses at that? Don't I have the right to assert my innocence before the very same forum – the public arena – where Duterte and his minions relentlessly attack my honor and integrity?" wrote De Lima.
The senator, who has been detained for over 3 years, said that an open and public trial is the only assurance that the courts will decide her cases fairly.
"Kapag paninira at puro kasinungalingan, gusto nila todo publicity…. Kapag naman katotohanan na ang lumalabas, gusto nilang busalan ako at isekreto ang mga testimonyang paborable sa akin at magpapatunay na inosente ako," she said.
(If it's defamation and lies, they want full publicity…. But if it's the truth that's coming out, they want to muzzle me and make secret the testimonies that are favorable to me and will prove that I am innocent.)
'Witch hunt'
De Lima wrote that the DOJ wants to silence her camp because they know they are conducting a witch hunt.
"After all, this is what their former Secretary, [Vitaliano] Aguirre, and Duterte already did before the trial started, even before charges against me were filed in court, and even before a preliminary investigation was conducted by the DOJ. Before all these, they already started burning me at the stake," wrote De Lima.
"Pero walang makakapigil sa katotohanan. At ang kasinungalingan ay malalantad rin sa patas na pagdinig ng hukuman," she added.(But no one can stop the truth. And the lies will be exposed in a fair court hearing.)
DOJ contempt suit
The DOJ filed a petition to cite Tacardon and De Lima in contempt over statements they made to the media about the progress of the opposition senator's trial for illegal drug charges.
Tacardon had issued several media releases which relayed information about testimonies from witnesses in his client's trial.
In the petition, the DOJ accused Tacardon and De Lima of spreading misinformation.
The Muntinlupa Regional Trial Court previously issued a verbal warning to De Lima's lawyers and prosecutors not to discuss the case with the media.
De Lima has been detained at the PNP Custodial Center in Camp Crame, Quezon City since early 2017. She insists that she is innocent of the charges against her.
Many local and international groups have called for De Lima's release, saying her cases are a form of political persecution for her investigation of the Duterte administration's war on drugs and extrajudicial killings. – Rappler.com
Editor's note: Jacob Reyes is a volunteer at Rappler. He is studying AB Communication at the Ateneo de Manila University.