(2nd UPDATE) 'It is the longest caravan in the history of Bicol,' says Christopher Flores, former Guinobatan mayor and national president of Pink Army for Leni
The main streets of Albay province in the Bicol region turned pink on Saturday, October 16, as thousands of vehicles joined motorcades in support of Vice President Leni Robredo, who is contesting the 2022 presidential elections, and her running mate, Senator Francis "Kiko" Pangilinan.
In Albay alone, about 4,000 to 5,000 vehicles joined the motorcades, which launched early in the morning at the main Legazpi City waterfront boulevard, with the world-renowned Mayon Volcano displaying its full beauty.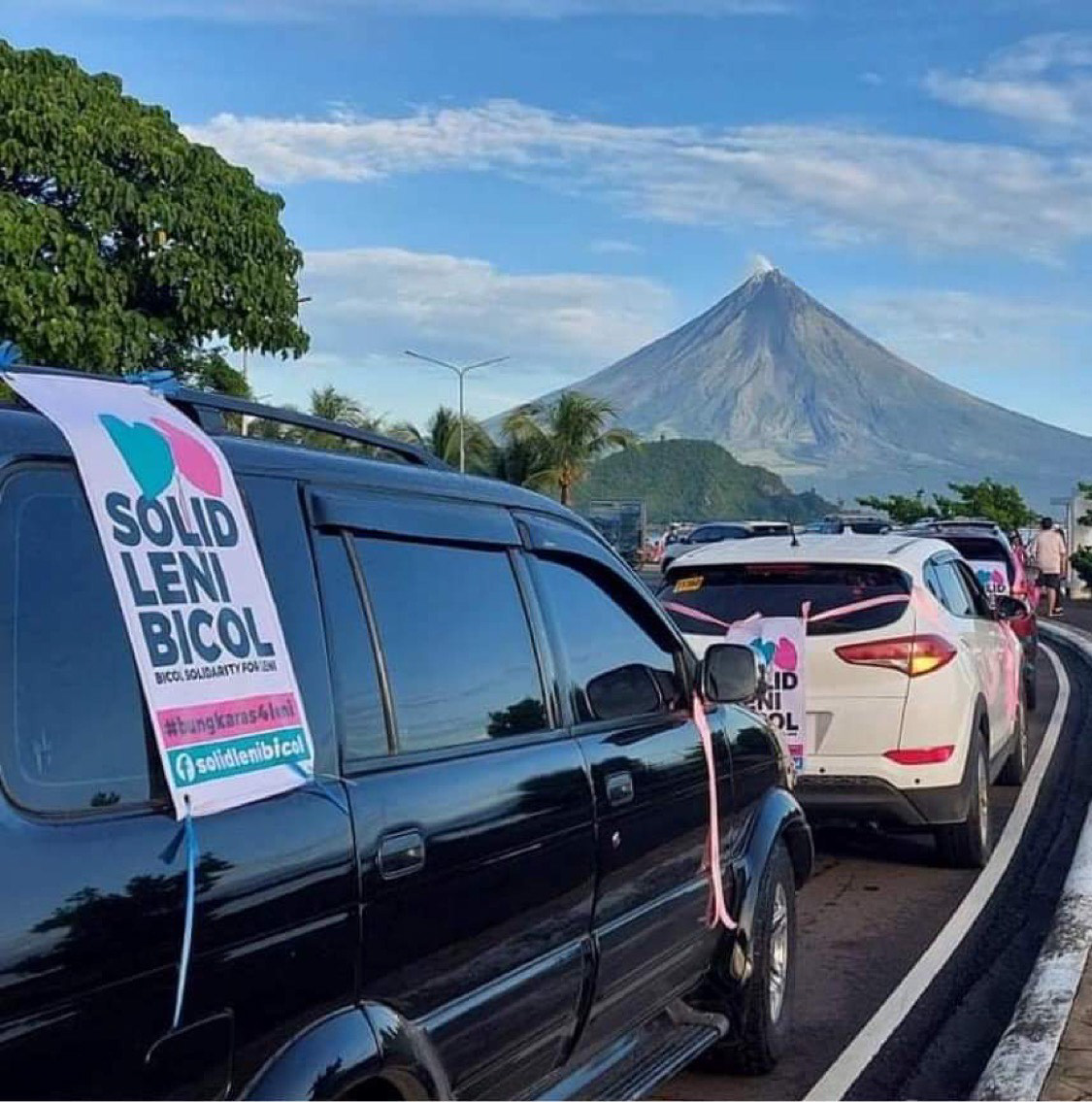 As early as before 5 am, the four-kilometer iconic boulevard was occupied by all types of four-wheeled vehicles, parked at least double on each side. Vehicles also crammed two nearby parking areas all the way to the Obelisk near the Mason tower.
Also full of vehicles were the so-called millionaires' highway from the junction of Puro road going to Bayshore condominium and Ecohomes, up to Camella Homes, as well as the road network to Barangay Lamba.
Cars, trucks, motorcycles, and bicycles carried posters and ribbons in Robredo's trademark pink.
"It is the longest caravan in the history of Bicol," said Christopher Flores, former Guinobatan mayor and national president of Pink Army for Leni.
Even before the caravan took off, the estimate of four-wheeled vehicles was at slightly over 1,000, he said, citing other organizers. When the motorcade started to move at 6:30 am, vehicles were still attaching themselves to the end of the caravan.
Bicycle and motorcycle riders, meanwhile, joined up from their separate kick-off points, including the University of Santo Tomas in Legazpi.
Four- and two-wheeled vehicles joined up on Sabloyon road, in the first district of Albay, heading to Ligao City. On a nearby intersection there and in the Karangahan boulevard, more vehicles from Tabaco waited to attach themselves to the motorcade. Long columns of motor vehicles also waited for the main group in Ligao as the caravan headed for Polangui.
"This is the first time different political groups and parties have united and it is for Vice President Robredo," he told Rappler in an interview.
The Vice President, on her personal Facebook page, also shared photos and videos of supporters.
"Been receiving pictures of a Pink Caravan in Bicol and I am overwhelmed by the show of tremendous support," she said.
"Saw pictures na from Albay, Camarines Sur, Camarines Norte, Masbate, Sorsogon and all of the activities are volunteer-driven," the vice president said.
"Was just informed that Catanduanes also joined," she later added. "Yay!! Motorcade in Virac and Bato💖💖. Dios Mabalos saindo gabos🙏🙏🙏."
"This is really going to be a people's campaign," the vice president said, noting that volunteers made their own tarps, shirts, and other decors.
'Incorruptible,' hard worker
Retired engineer Ed Jovero, 72, from South Cotabato, Mindanao, married to a 73-year-old Bicolano physician, urged younger generations not to vote for Ferdinand Marcos, Jr., the son of the late dictator who declared martial law in 1972 and ruled the country for two decades.
He called the vice president a hard worker, simple, and the only one among the presidential contenders who thinks hard to find solutions to the country's problems.
Jovero, who spent decades working abroad for oil and gas drilling companies, told the youth to vote for a politician who is clean and with a track record for good governance."
"Let this be our fight for the next generation," said Cristina Zantua. "Let someone who is incorruptible, let someone who is honest lead the country," she told Rappler.
Politicians and citizens from the Liberal Party, the Lakas-NUCP, and the Nationalist People's Coalition joined the event.
Mayor Noel Rosal of Legazpi was the first local politician who expressed support for Robredo's presidential hopes, followed by Tabaco City Mayor Krisel Lagman Luistro.
Similar motorcade in Cebu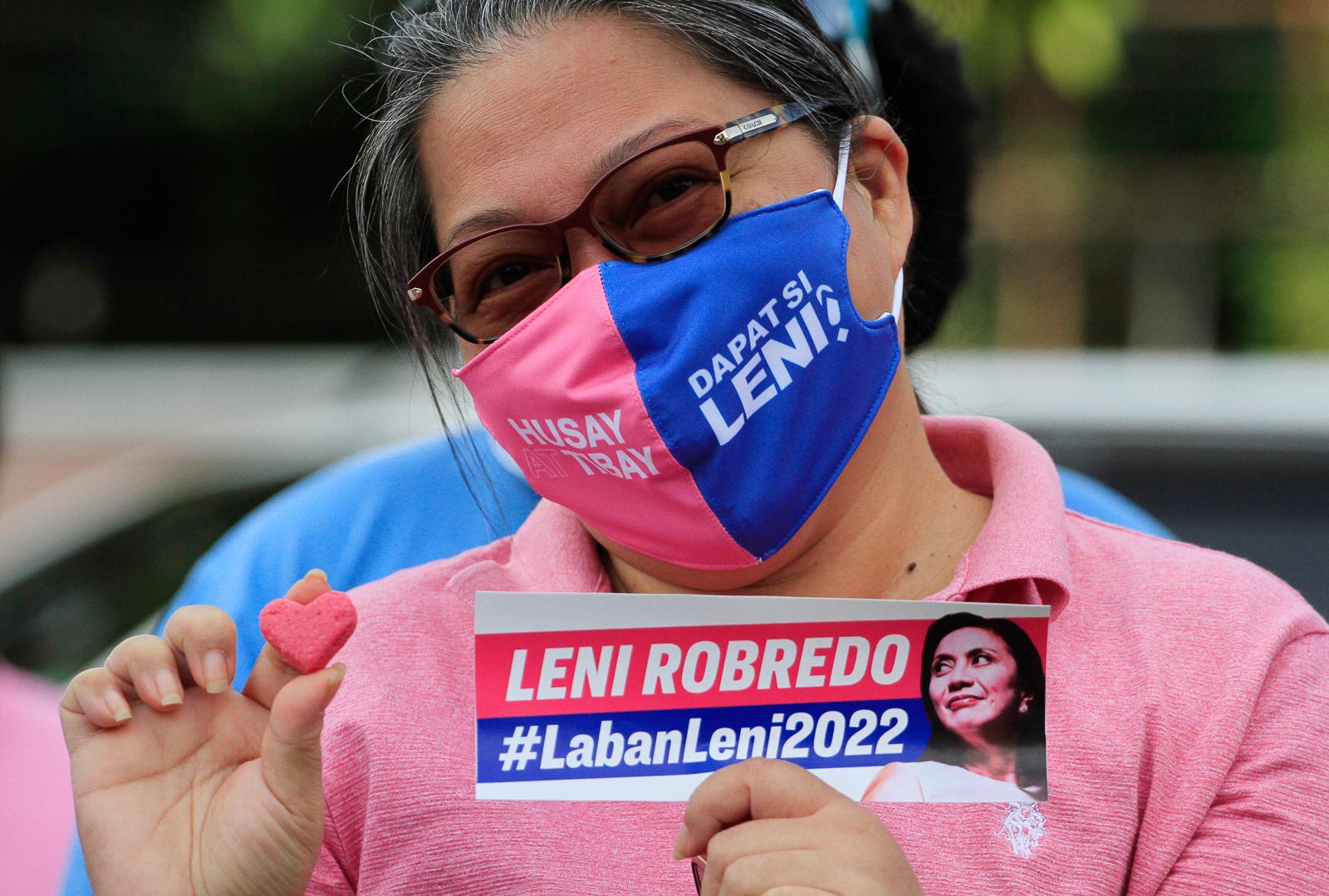 Cebuano families and youth groups, together with other multi-sectoral groups, also launched a city-wide motorcade on Saturday to show their support for Robredo.
The "Cebu for Leni" caravan kicked off with around 300 vehicles turning up for the event at the Redemptorist Church in Cebu City around 1 pm.
Veronica Baguio, the owner of Balik Batik, a Cebu-based clothing brand supporting indigenous peoples, told Rappler in an interview that it was a wholesome experience for her and her fellow Cebuanos who believed in Robredo's ability to lead.
"It was really great. I had this one experience where a taxi driver beside us was greeting and waving at us," she said.
"We were screaming `'Vote for Leni' and they were screaming it as well. It was just so heartwarming," she added. – with reports from John Sitchon/Rappler.com