With no concrete response from the Comelec, some election observers fear that coronavirus-driven lockdowns will disenfranchise voters on election day
One Mindanaoan lawmaker, worried about the potential disenfranchisement of voters due to COVID-19 protocols, quizzed the Commission on Elections (Comelec) during a September 23 congressional hearing on 2022 poll-related matters.
Agusan del Norte 1st District Representative Lawrence Fortun explained the situation. There were around 1,400 active COVID-19 cases in Butuan City, and if an average of five people were exposed to each person, it meant that around 7,000 more people would have to be placed under quarantine at a single time.
Asking the poll body under the hypothetical scenario that election day would be held today, he said, "Does the Comelec have measures to ensure that these people would be able to vote?"
Such a question has hounded the Comelec for some time now, as the raging pandemic casts a long shadow on its preparations for the May 9, 2022, vote. Eighteen months into the health crisis, COVID-19 continues to paralyze the nation, with active cases still topping the hundred-thousand mark.
"It is a cause for concern in the sense that you might have a group of people who are willing to vote but cannot vote," former Comelec commissioner Luie Guia told Rappler.
What worries him further is that new, current guidelines from the government give mayors the ability to impose granular lockdowns.
"That's a red flag because mayors get to decide," Guia said, when asked about fears that mayors could weaponize the powers given to them on election day.
What the Comelec has said
The Comelec has made it apparent in previous statements that it has not come up with a final blueprint on how COVID-19 patients, and people who were exposed to them, could cast their ballots for the crucial polls.
On suggestions to put up polling stations inside hospitals, Comelec spokesman Jamez Jimenez said in July that "all suggestions will be considered," but also noted that there might be legal impediments.
The Comelec's new normal manual draft, a copy of which Rappler obtained from the House suffrage panel in September, also made no mention of a game plan for people with confirmed coronavirus infection on election day, as well as people living in areas under hard or granular lockdowns.
Its most concrete plan is to set up isolation polling places, to ensure that voters exhibiting flu-like symptoms would not be turned away, and instead be accommodated at a separate voting area.
But time is running out for the ever-important institution which is juggling multiple things at once – from "COVID-proofing" the polls, to ensuring the credibility of the elections.
Legislative intervention
A poll body official was receptive to the suggestions of lawmakers during the said congressional hearing, but also remained non-committal about the Comelec's plans.
"One [possibility] is to expand the law on local absentee voting, to include those who are confined in isolation facilities," Comelec deputy executive director Teopisto Elnas said, echoing suggestions from Senator Imee Marcos.
"[But] our problem again is budgetary requirements, because you will need support staff, or another set of electoral boards that will conduct the voting in the isolation facilities," Elnas added.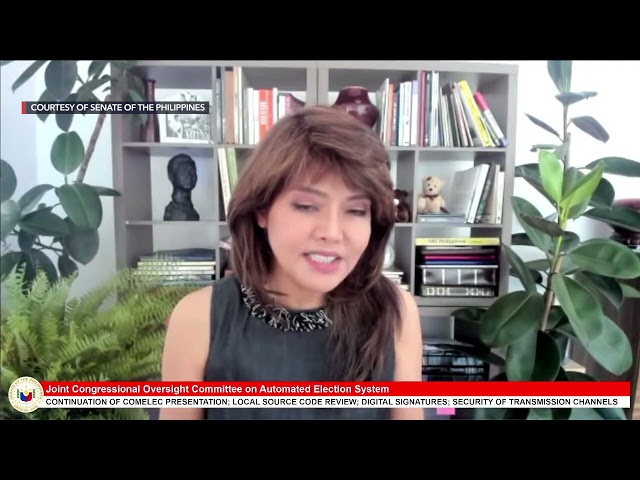 It is sometimes lost on the public that many proposals hurled at the Comelec to change the way people vote require legislative intervention. The reason for this? An antiquated election code.
"The Omnibus Election Code was passed in 1985, on the heels of the snap presidential election. Its provisions were very specific because no one trusted Comelec," said Guia, who's now on the outside looking in as an election reform advocate.
"Our law is very inflexible, unlike in other countries where you do not have to amend the law to materialize mail-in voting," he added. The US, for instance, successfully held the presidential polls in 2020 despite grappling with the most number of COVID-19 infections in the world at the time, by relying on casting ballots by mail.
But a bill on postal voting never gained traction in the legislature, with Senate President Vicente Sotto III himself rejecting the idea amid fears that the system would be easy to manipulate.
"[I prefer] early voting for seniors and persons with disabilities. Mail-in voting is very dangerous," he had said.
However, with only around four months left before the official start of the election period, a proposal on the early voting of vulnerable sectors has yet to be approved on final reading in the Senate, despite Sotto's promise to fast-track its passage in May. The House already approved its version of the measure in August.
Was time wasted?
With the Comelec and Congress in a race against time to cover all bases, one watchdog could almost say, we told you so.
"Existing laws are prohibitive in terms of what the Comelec can do, but they had the opportunity since last year to work with Congress to propose measures to facilitate the right to suffrage of those who are infected or under quarantine," said Ona Caritos, head of the Legal Network for Truthful Elections (Lente).
"In fact, we have been urging them since last year to look into this matter as experts have predicted that the pandemic is not likely to end before [election day]," she also told Rappler.
Even Guia expressed regret over the missed opportunity to face the problem as early as possible.
"We could have anticipated that the pandemic may hold on until the election, and we could have asked ourselves whether to amend our election laws, or make an exception for 2022," the former poll body official asserted.
Coordination between the Comelec, DOH
Not only does Comelec need to appeal more strongly to Congress, but it also has to strengthen its relationship with the Department of Health (DOH). A recent public back-and-forth between the two agencies, however, offered clues on how uncoordinated they were.
Health Undersecretary Maria Rosario Vergeire had said in a public briefing that the Comelec should find alternative ways for COVID-19 patients to vote, such as through the internet or SMS.
But the Comelec's Jimenez told her such proposals "are not authorized by law and will not be employed on May 9, 2022." He also corrected Vergeire's misconception that the Comelec would allow COVID-19 patients to go out of their isolation facilities on election day to take advantage of the isolation areas in polling places.
That exchange was in addition to another public clash between the two agencies over the use of an antigen test screening method for the filing of certificates of candidacy in October, making both the DOH and Comelec vulnerable to scrutiny on the communication lines they established.
The health department, after all, is the lead agency of the Philippines' coronavirus task force (IATF), one that spearheads pandemic-related policies in the country.
But a member of the Comelec en banc gave assurances there was constant communication between the poll body and the IATF.
"What we can say is that we are closely working with the IATF to make sure that we have a secure, accurate, free, and fair elections despite the COVID-19 situation," Comelec Commissioner Aimee Ferolino said in a short statement her office sent to Rappler.
Thinking out of the box
For poll observers, desperate times call for desperate measures since, given pandemic-driven protocols, how the Comelec could guarantee Filipinos' right to vote remains up in the air.
"There is a need to be creative and inclusive without violating election rules. The task is indeed challenging and overwhelming, but the people's right to vote must never be deprived," Danilo Arao, journalism professor and convenor of election watchdog Kontra Daya, told Rappler.
"The extraordinary nature of this pandemic demands for the Comelec to think out of the box and around constraints of the law to facilitate voting for persons with or suspected to have COVID-19," Lente's Caritos added.
Similar to proposals entertained by the poll body during a congressional hearing, Lente's suggestions include exploring the model of voting in jails, "where the ballots are brought to the detainees and then delivered to respective polling places."
Kontra Daya, meanwhile, raised the idea of "roving precincts" for COVID-19 patients. "Certain adjustments should be made to allow precincts to go to some people who are unable to physically go to the polling precincts," Arao said.
Easier said than done
Election lawyer Emil Marañon III, however, questioned the legal basis for some of these proposals.
"There are restrictions with regards to choice of the location. It has to be pre-approved, it has to be part of the Project of Precincts," he said. "These restrictions prevent Comelec from setting up the so-called roving voting precincts.
Marañon also noted that the Philippines has insufficient election infrastructure to pull off the last-minute innovations.
For example, an electoral board consists of only three people, whose responsibilities are already stacked on election day. Instructing them to accommodate voters in respective quarantine centers or houses would be difficult, he asserted.
"Sometimes, it's nice to dream, but you really have to ground yourself in the reality that there are no people on the ground to implement it," Marañon said.
"Every time you do these accommodations, you only open yourself to complications like security…. It's too complicated that, sometimes, the best way to approach it is to simplify [the procedure] because it's easier to execute," he added.
Guia shared Marañon's view, saying that the chances of error occurring increase every time there is a change in the procedure.
But the former Comelec commissioner noted: "Maybe we just have to live with [the risks]. We should try to strike a balance between keeping a strict project timeline, and adapting to the [challenges]."
Asserting the Comelec's power
Amid fears that self-serving mayors would take advantage of granular lockdowns to tilt the election in their favor, Marañon reminded the public about the Comelec's powers.
"You should always expect politicians who will abuse their role in granular lockdowns. If the Comelec will issue the necessary resolutions, for example, or override the local government unit on granular lockdowns, the Comelec has the power [to do so]," Marañon said, referring to the poll body's authority to deputize all agencies during elections.
For Guia, it would not hurt the poll body to assert its authority more, while reshaping its role in time for a pandemic-hit electoral process.
"Of course, the Comelec is not a public health institution, but I think what the Comelec should do is start having its own public health expertise. Of course, it will consult with the DOH, but it should have independent judgment or appreciation of the situation, precisely to identify [red flags]," Guia said.
Lente also pointed out that the Comelec should further embrace participation from other stakeholders, such as the candidates and the parties, health authorities, civil society, and teachers.
It is a sentiment shared by the former poll body commissioner.
"You have to spread the responsibility of running the elections, especially at this point when there are a lot of uncertainties," Guia said. "Your pitch to the public should be: join us to make this election happen, because it's not that easy." – Rappler.com