(1st UPDATE) The third generation is led by reelectionist governor Matthew Marcos Manotoc, son of Senator Imee Marcos
Ilocos Norte Governor Matthew Marcos Manotoc and his aunt Vice Governor Cecile Araneta-Marcos filed their candidacies for Ilocos Norte governor and vice governor, respectively, on Wednesday, October 6.
Manotoc's uncle, Laoag City Mayor Michael Keon, also filed his certificate of candidacy (COC) for reelection on Wednesday.
The three are among the members of the Marcos family who now control the home province of their late patriarch, ousted Philippine dictator Ferdinand Marcos.
The 32-year-old Manotoc is a son of Senator Imee Marcos with former husband and sportsman Tommy Manotoc, while Cecile Araneta-Marcos is the widow of the late Mariano "Nonong" Marcos II, the young governor's uncle who died in office. Both are running under the Nacionalista Party.
Two other members of the Marcos clan filed their COCs on Thursday, October 7, and Friday, October 8, respectively: Ferdinand Alexander "Sandro" Marcos, son of presidential bet Bongbong Marcos who is running for representative of Ilocos Norte's 1st district, a post now held by a member of the rival clan, Representative Ria Fariñas; and Representative Angelo Marcos-Barba, who will be seeking reelection in the 2nd district. Barba is an uncle of the governor.
Sandro Marcos filed his COC on Thursday, October 7, while Barba filed his candidacy for reelection on Friday, October 8. Sandro is the only non-reelectionist among the family members; this would be his first shot at a campaign.
Barba, uncle of Sandro and a cousin of Bongbong, endorsed in December last year at the House of Representatives the impeachment complaint which sought to remove Supreme Court Justice Marvic Leonen from office. The complaint did not move forward after being junked at the House committee level. Leonen wrote the Court's unanimous decision that junked Bongbong Marcos' election protest against Vice President Leni Robredo.
Before becoming a congressman, Barba was a three-term vice governor of the province from 2010 to 2019.
The clan's politics is not without drama.
Keon, son of the late dictator's sister Elizabeth, is running for Laoag City mayor as an independent.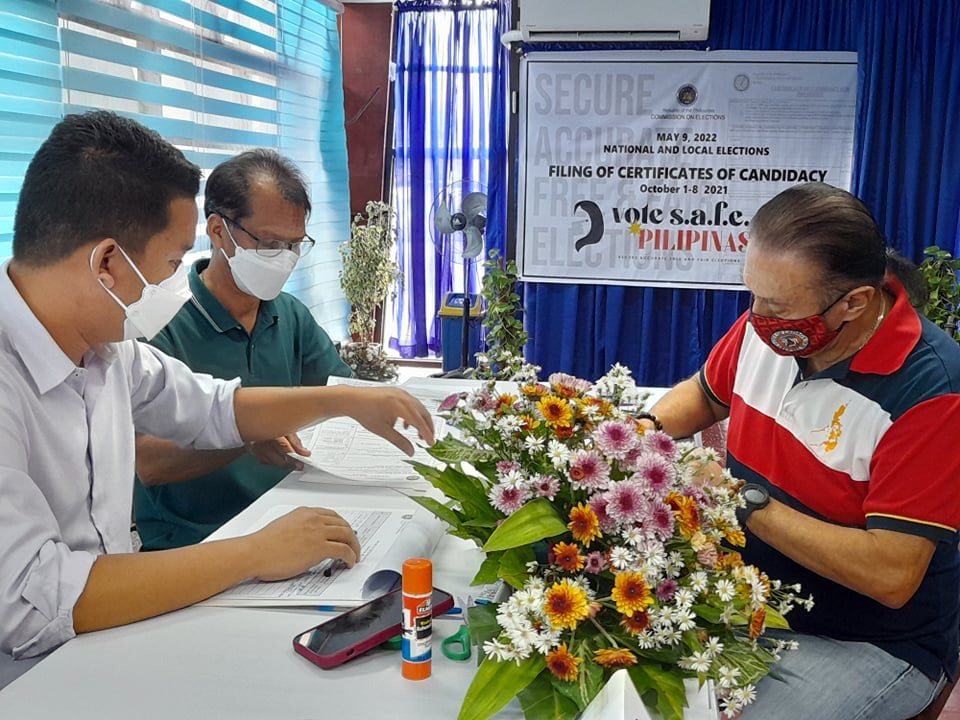 Keon was not with the Marcos team when they filed their COCs on Wednesday. There have been persistent rumors that the Marcos family, Senator Marcos in particular, has been unhappy with him.
When asked by reporters why he is running as an independent, Keon said: "I have actually nothing to say, the act of filing speaks for itself."
The Marcoses fielded Keon for the 2019 mayoral seat of Laoag, long held by the rival Fariñas clan. Keon defeated by more than a thousand votes the incumbent mayor then, Chevylle Fariñas, widow of longtime city mayor Michael Fariñas who died in a car accident in 2018.
In 2019, too, Governor Manotoc ran unopposed after the Fariñas patriarch, former congressman Rodolfo Farînas, decided against running. Manotoc was thrust into the campaign as a substitute for his grandmother, former Ilocos Norte congresswoman Imelda R. Marcos, who was supposed to run for governor.
Prior to this, Manotoc had served as member of the provincial board. – with reports from John Michael Mugas/Rappler.com