Amid a decline in Duterte's ratings and poor showings in global pandemic resilience rankings, the PDP-Laban bet is making a pitch for 'continuity'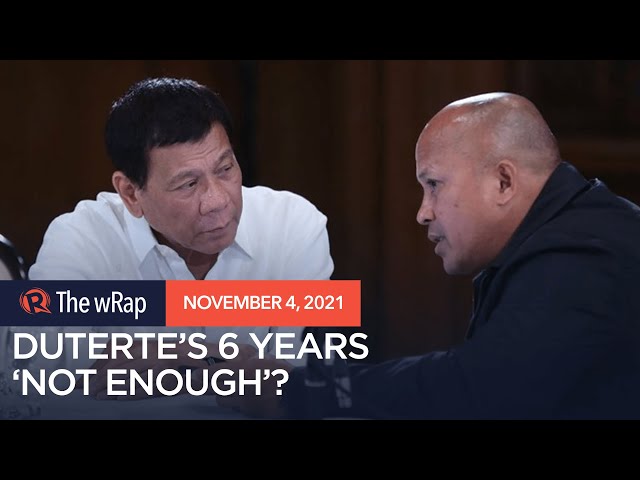 PDP-Laban standard-bearer Senator Ronald dela Rosa, among President Rodrigo Duterte's closest and longest allies, is making a pitch for the "continuation" of a "Duterte-style" leadership even as he himself is pushing for the candidacy of someone else.
"Six years of Duterte administration is not enough to change this country, to transform this country," the former national police chief said in a media interview on Wednesday, November 3.
Dela Rosa, who led Duterte's war on drugs from 2016 to 2018, is the presidential candidate of the PDP-Laban faction headed by Energy Secretary Alfonso Cusi. Duterte is also the faction's chairman.
The cop-turned-senator was the party's surprise presidential bet after another longtime Duterte ally, aide-turned-senator Christopher "Bong" Go, decided to file his candidacy as vice president instead.
This followed months of speculation that the Cusi faction, despite nominating Go and Duterte as their 2022 ticket, were actually planning to field different candidates – among them, Duterte's daughter, Davao City Mayor Sara Duterte.
A Sara run?
Still, Dela Rosa said a "Duterte-style" governance – whether it's headed by himself or Sara – is what the Philippines needs.
"Another six years, whether or not it's Inday Sara, whether or not it's Bato, basta attuned doon sa Duterte style of leadership – 'yung kamay na bakal na pamamalakad, 'yung no-nonsense na approach at 'di natatakot sa oligarch," he said, echoing Duterte's rhetoric since the 2016 presidential elections.
(As long as it's attuned to the Duterte-style of leadership – an iron fist, a no-nonsense approach, someone who's not afraid of the oligarchs.)
Dela Rosa and other Duterte allies have been trying to convince Sara to run for president even after she filed her candidacy for a third term as Davao City mayor.
The senator, while refusing to divulge the details of an October 25 meeting, said he saw "patriotism…burning in [Sara's] eyes" during their meeting, making him feel hopeful that she'd still consider running for president.
Candidates may be substituted via withdrawal until November 15. It's a tactic the older Duterte himself used in the 2016 polls. He did not file his candidacy during the filing week but later replaced PDP-Laban's official presidential candidate then.
Duterte went on to sweep the presidential elections in 2016, carried by a promise to eradicate the country of illegal drugs in "three to six months."
The "war on drugs" began in July 2016 and continues to this day.
Duterte's violent war on drugs has led to 6,201 deaths in police anti-drug operations alone as of September 30, according to official government data. This count does not include victims of vigilante-style killings, which human rights group estimate to reach 27,000 to 30,000.
The war on drugs and alleged extrajudicial killings in Davao City during Duterte's time as mayor is the subject of an investigation by the International Criminal Court.
Decline in ratings
The ruling party is, of course, banking on the popularity of Duterte to boost their 2022 campaign. The President, however, has seen his numbers drop steadily.
According to a September 2021 Social Weather Stations (SWS) survey, Duterte's satisfaction rating continued to drop, though a majority of Filipinos still approve of his performance.
Based on the survey, 67% of Filipinos said they were satisfied with Duterte as president, representing a drop of 8 percentage points from his 75% rating in June.
The SWS survey was held shortly after an earlier Pulse Asia survey that found fewer Filipinos approved of the Duterte government's COVID-19 response and efforts to fight corruption.
Dela Rosa didn't seem to echo this finding, telling media on Wednesday that his solution to the COVID-19 pandemic is simply expanding vaccination efforts because "all the solutions, the [Inter-Agency Task Force] is already doing."
The Philippines has placed consistently low in global pandemic resilience rankings. – Rappler.com