Vice President Leni Robredo on her plans for her bailiwick if she wins in 2022: 'Napakarami kasi wala pang naging presidenteng Bikolano'
MANILA, Philippines – Bicol stands to gain from a Leni Robredo presidency in 2022, as the Vice President vowed to build highways and railroads that would connect her home region to urban areas to spur rural development.
The opposition presidential aspirant made this promise to her fellow Bicolanos in a chance interview with reporters at Virac town in Catanduanes province on Wednesday, December 1.
The Vice President is a proud Bicolana, born in Naga City in the province of Camarines Sur, where she started her political career as a congresswoman in 2013. 
Not surprisingly, Robredo won by a landslide in the 2016 vice presidential race in Bicol, which remains to be one of the poorest regions in the Philippines.
"Napakarami, napakarami kasi wala pang naging presidenteng Bikolano (I want do to so many things because there hasn't been any president from Bicol yet)," said Robredo of what she plans to do for the region.
The Vice President is eyeing to build highways and railroads that would allow Bicolano farmers to sell their goods without having to pay for steep transportation costs.
She pointed out how it would currently take people around 16 hours to reach Bicol from Metro Manila whenever there was a festival or occasion like the Santacruzan or Undas. 
"Dadaanan mo 'yung lahat ng mga sementeryo, inaabot ka ng 16 hours. So ang pinakauna, 'yung highway papunta dito, 'yung railroad kasi iyon 'yung makakatulong para 'yung mga farmers natin makabenta ng kanilang produkto na 'yung cost of transportation mababa," Robredo said.
(You need to pass through all the cemeteries and it's going to take you up to 16 hours. So one of the first things I'll do is to build a highway on the way here, a railroad to help our farmers sell their products with a low transportation costs.)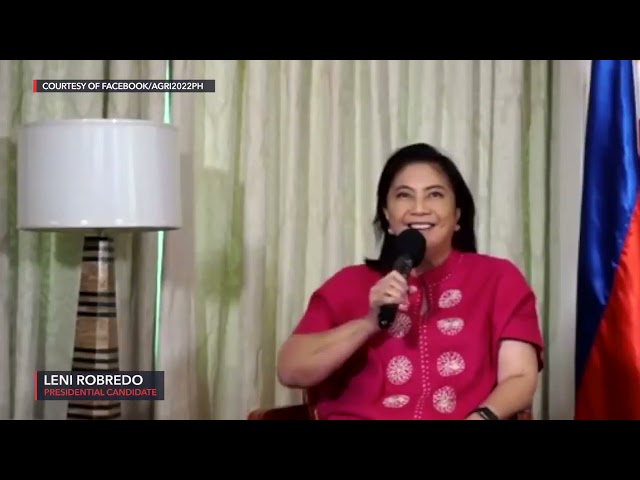 For the island province of Catanduanes, in particular, Robredo is pushing for a bridge that would link it to Caramoan town in Camarines Sur province. She said this would not only make it easier for abaca farmers to transport their products, but it would also ensure Catanduanes would not be isolated should a devastating typhoon hit.
Robredo also wants to build more typhoon-resilient infrastructures in Catanduanes, which was devastated by back-to-back typhoons Rolly and Ulysses in late 2020. 
"Halimbawa dito sa Catanduanes, bagyuhin siya, so 'yung pag-establish sa mga infrastructure na mas typhoon-resilient, 'yung mga design mas typhoon-resilient para hindi bawat bagyo nasisira. Maraming puwedeng gawin for the entire region," said Robredo.
(For example here in Catanduanes, it's prone to typhoons, I am eyeing to establish infrastructure that's more typhoon-resilient so they wouldn't be destroyed whenever there's a typhoon. There's so much we can do for the entire region.)
The Vice President was one of the first officials to personally inspect and give aid to Catanduanes residents who were affected by the typhoons last year.
Irked by being overshadowed by Robredo, President Rodrigo Duterte falsely claimed then that she had supposedly done nothing for the typhoon victims and even resorted to hurling misogynistic insults. Robredo called out the foul-mouthed President for his lies. – Rappler.com