The caravan is only for vice presidential aspirant Senator Bong Go, who a local official says has 'given plenty of help to Negros and Bacolod'
Supporters of Senator Bong Go, the PDP-Laban vice presidential bet in the May 2022 elections, announced on Friday, November 5, a 200-vehicle caravan in Negros Occidental.
But on Saturday, November 6, Go's supporters, including incumbent local officials, mustered around 500 vehicles from points north and south of Bacolod City.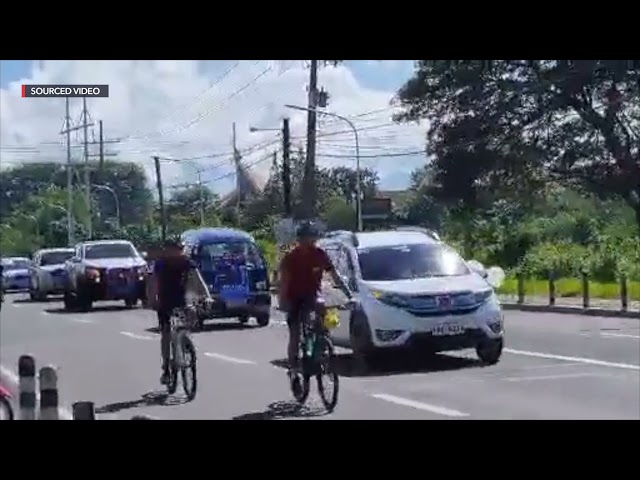 In separate interviews with Rappler after the caravan, Negros Occidental Vice Governor Jeffrey Ferrer and Abang Lingkod Representative Stephen Paduano gave varying mobilization figures.
Paduano told Rappler, "100 from Granda," a barangay in Bacolod City's eastern flank, and "100 plus from south and the north. More than 300 cars joined."
Ferrer said Paduano's figures were correct until just after jump off, when the southern group found their ranks swollen by "a spontaneous show of support."
"Masobra guid (More than) 600, we just had to ask others to turn back because we wanted to keep disruption to a minimum," Ferrer told Rappler. "That is why our movement was limited to only the circumferential road. We did not want to disturb those with business to do in central Bacolod."
The southern flank launched from Victorias City, passing by EB Magalona, where cars waited at the highway along the EBM High School. They passed by the Silay Public Plaza, where other vehicles joined before proceeding to Talisay and Bacolod, using the road near The Ruins, and joining other cars on the circumferential road.
The southern side passed through Cegasco Road to Barangay Alijis and then joined the northern group.
Helpful
Both stressed that only Go had their firm support among all the vice presidential and presidential bets. Both had the same reason: Go's many efforts to help their projects and residents of Negros Occidental.
"This is only for VP," Paduano said in the local Ilonggo language. "Kay damo bulig sa Negros and Bacolod. Ang iban nga binuligan ya pila na ka election, wala man binuligan sa Bacolod and Negros."
(He has given plenty of help to Negros and Bacolod. Others who we helped through several elections have never really helped Bacolod and Negros.)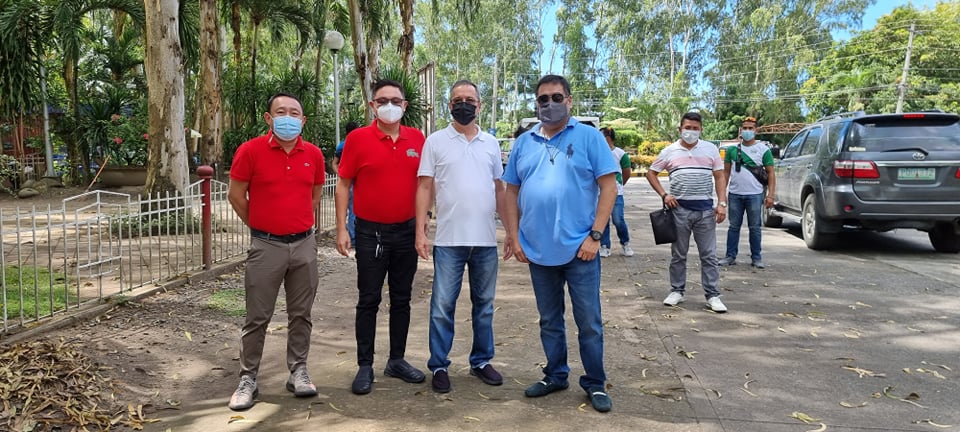 Ferrer mentioned the Malasakit Centers that are under the health department but have long been linked to Go, who heads the Senate committee on health.
"Most of our recommendations, he immediately jumps to help," Ferrer said "There is also his program of medical assistance to indigent patients."
Ferrer said even when patients are brought to Manila, Go hurries to help in any way. "Even blood, as simple as blood, he will personally ensure you get the help you need. And these are our constituents that he helps," the vice governor said.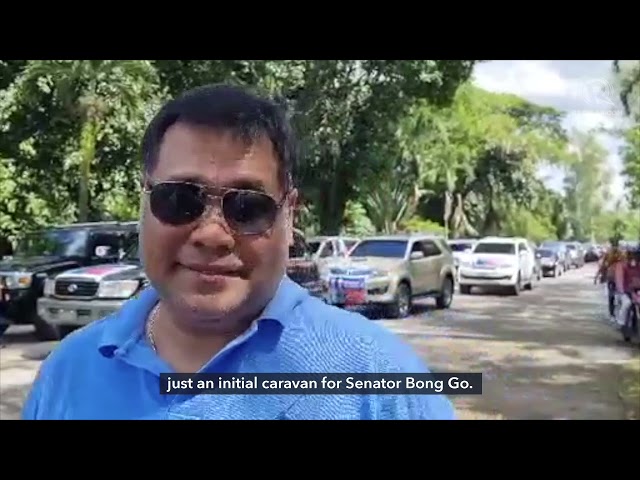 Negros Occidental's major political blocs, Love Negros and United Negros Alliance, have coalesced for the 2022 national and local elections. Ferrer told Rappler the choice of presidential bet is still up in the air, and there are no clear signs of any unified stance there.
"But with Go, most will go for Go," he said.
No permit?
Netizens contrasted the quiet, sedate Bong Go caravan with the two lively events launched for Vice President Leni Robredo and Senator Kiko Pangilinan, including the November 5 stationary caravan that brought in an estimated 1,200 vehicles.
They also questioned if the PDP-Laban caravan was given a permit.
Bacolod City Emergency Operations Head Em Ang told Rappler "they did not apply for a permit."
Ferrer also initially confirmed Ang's statement, saying they did not need it because they did not stop at any point inside Bacolod. Paduano, however, told Rappler they got a permit.
Ferrer later called to say they did get a permit for a roaming, nonstop caravan.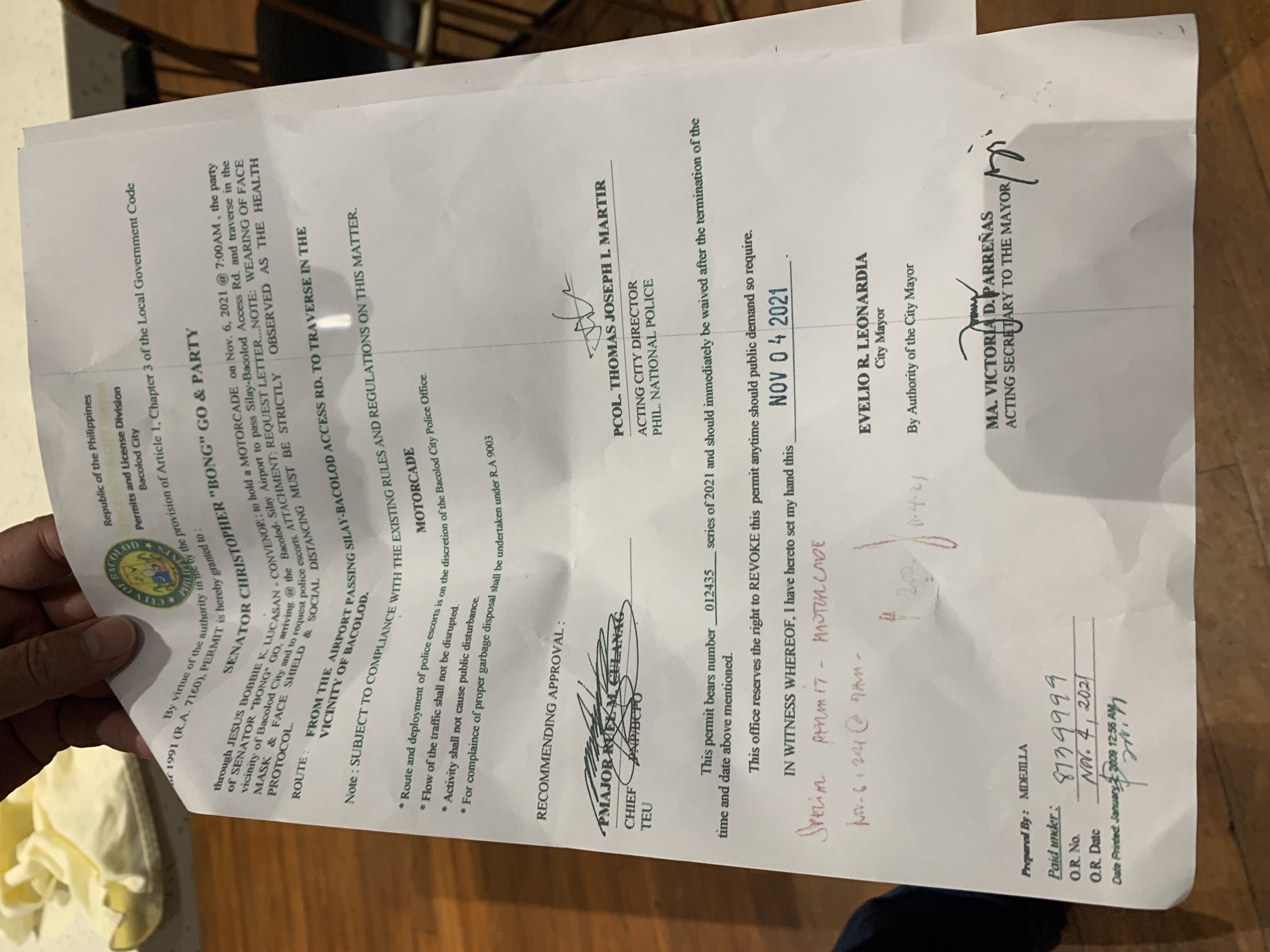 Their caravan was single lane and they followed traffic lights all the way to the Panaad sports stadium, where most pulled out and dispersed. Even Robredo supporters told Rappler the PDP-Laban caravan did not cause any disturbance.
"We had no pre-, no middle, no ending program," Ferrer said.
"There was no disruption of traffic because we kept away from the city business center. We were quiet and careful. We have not attacked any political activities so far. Let's all settle down," he said.
The COVID-19 Inter-Agency Task Force for the Management of Emerging Infectious Diseases placed Bacolod under Alert Level 4, a category the city government wanted to be lowered. The Department of Health lowered the city's alert status to Alert Level 2 on late Friday, November 5, recognizing the much lower case rates.
Under Alert Level 4, mass gatherings are not allowed. – Rappler.com