This is AI generated summarization, which may have errors. For context, always refer to the full article.
PDP-Laban survived a split after Martial Law. This time, however, the new members who are more closely allied with President Duterte already outnumber the party originals.
Another election, another struggle for survival for the ruling party, Partido Demokratiko Pilipino-Lakas ng Bayan (PDP-Laban). 
This time, it is a tug of war between the party chairman, President Rodrigo Duterte, and the party president, Senator Manny Pacquiao – formerly staunch allies who appear to be pursuing different political agenda.
The infighting is between the party's old guards who have sided with Pacquiao, and new members who are more closely allied with President Duterte and have already outnumbered the party originals.
In just five years, Pacquiao turned from a loyal Duterte ally – or, in the eyes of administration critics, an accomplice – to an enemy. During Pacquiao's November 2016 courtesy call in Malacañang, Duterte even teased him as president-to-be – a message he repeated during the world boxing champion's 38th birthday in December that year.
Pacquiao is likely to seek the presidency, while Duterte considers a vice presidential bid with a different presidential candidate – either his loyal aide Senator Bong Go or his daughter Davao City Mayor Sara Duterte-Carpio, according to party insiders and political observers. (READ: Waiting for Sara)
How to solve a problem like PDP-Laban?
How it started
The animosity between Pacquiao and Duterte did not happen overnight. The grumblings started in December 2020, when Senator Aquilino "Koko" Pimentel III relinquished his post as PDP-Laban president to Pacquiao.
The faction led by Energy Secretary Alfonso Cusi (party vice chairman) and National Transmission Corporation president Melvin Matibag (party secretary general) felt it was unfair for Pimentel to just appoint Pacquiao without going through the process.
"It doesn't give him an entitlement to the party. Senator Koko is not the party," Cusi said.
For his part, Pimentel, the son of PDP-Laban founder and the late senator Aquilino "Nene" Pimentel Jr., said Cusi obviously got "worried" with Pacquiao at the helm of the party, hinting at Cusi's opposing political agenda in 2022.
In February 2021, Duterte called Pacquiao to a meeting in Malacañang, according to two sources from both factions. Duterte supposedly told Pacquiao to not seek the presidency – a move that reportedly offended the world boxing champion-turned-lawmaker. Some of Pacquiao's allies, however, claimed that he was not affected by it.
But, shortly after that meeting, Pacquiao changed his tone. He started attacking the Duterte administration, from its China policy to government corruption. It was a stark contrast to how the religious senator fiercely and consistently defended Duterte's bloody drug war. (READ: Pacquiao defends war on drugs: Drug lords, not cops, kill people)
Duterte, who takes serious offense when publicly criticized, went on a rant-spree against his former friend and fellow Mindanaoan.
Pacquiao, too, wouldn't stop. Just before flying to the United States to train for his upcoming boxing match, he threw corruption allegations against government agencies, particularly the Department of Energy headed by Cusi and the Independent Electric Market Operator of the Philippines (IEMOP), where Matibag's wife is among the incorporators.
Now, Pacquiao is a staple target in Duterte's public speeches, alongside opposition figures, former senator Antonio Trillanes IV and Senator Leila de Lima, whom Pacquiao moved to oust as Senate justice committee chair in 2016 after De Lima presented a key witness against Duterte. (READ: Edgar Matobato: Liar or truth-teller?)
Power struggle: Sara Duterte, Bong Go vs Pacquiao?
While citing the same party constitution and by-laws, both factions claimed they were the ones following the rules.
But technicalities and word wars aside, the current scenario is, simply put, a power struggle for the presidential election – who gets to control the machinery and influence of the ruling party.
Even with President Duterte's high ratings in the surveys, he still needs a political party "as electoral voting vehicle" to ride on, said University of the Philippines assistant political science professor Gene Lacza Pilapil.
It is also a matter of saving face.
"In the case of PDP-Laban, it would be politically unpalatable, and in fact a political coup, if it were Duterte who gets bumped off from the party where he ran and won as presidential candidate in the 2016 elections," Pilapil told Rappler.
Furthermore, the "control of the ruling party is crucial for dominant party status" by the Commission on Elections, according to political science professor Julio Teehankee.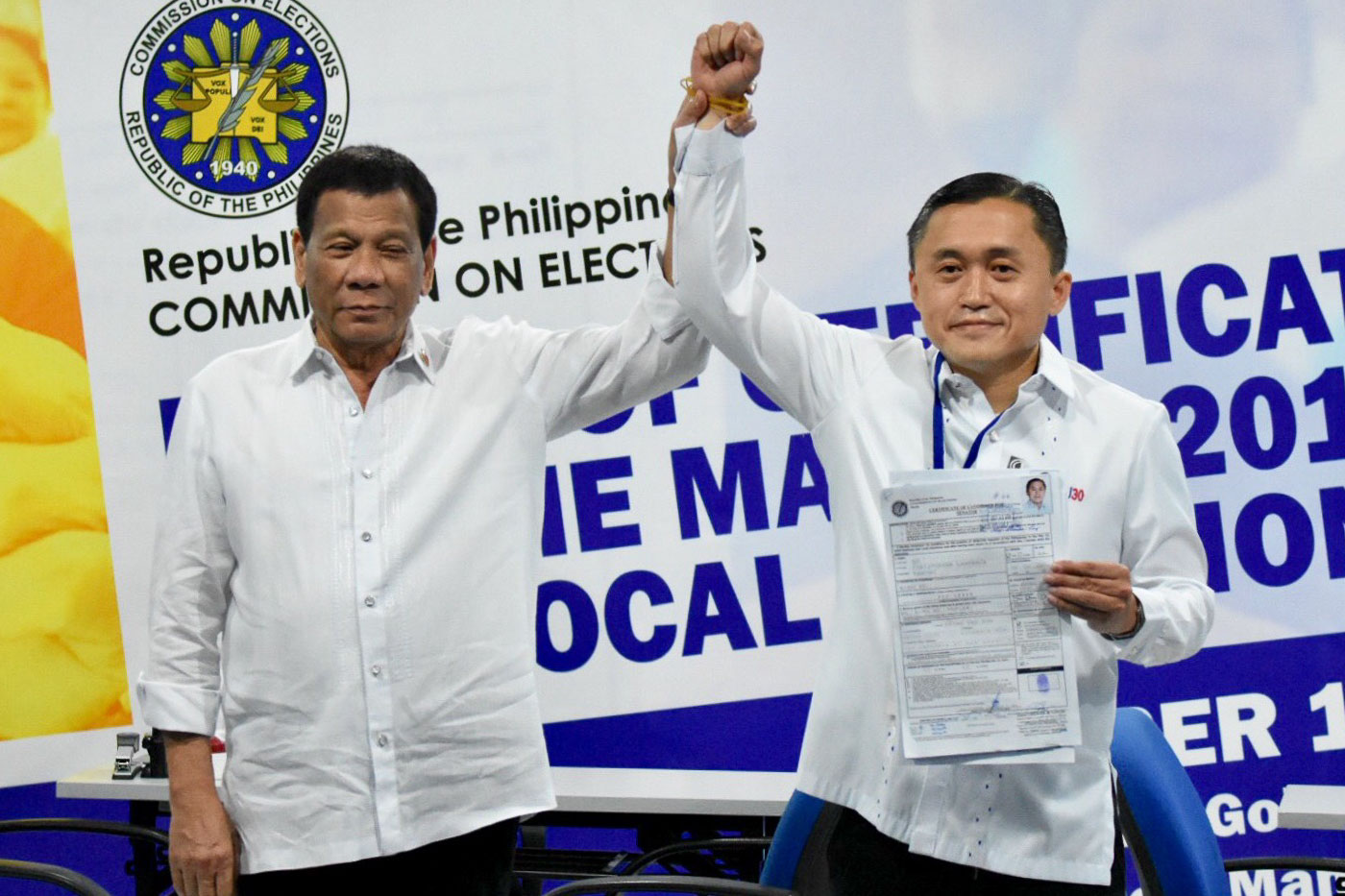 The camp of Cusi wants Duterte to run for vice president and choose his standard bearer – a never-before-done method that did not sit well with the Pacquiao-Pimentel camp. For the latter, the presidential bet should have a say on his running mate, not the other way around.
The latter also believed that Duterte and Cusi were threatened by the popular Pacquiao, who also hails from Mindanao like Sara Duterte and Go. The Cusi camp vehemently denied it.
Pimentel floated a compromise: a Pacquiao-Duterte tandem. But even this remains farfetched, especially with the strained ties between the two.
"Kung isusulong nila na si Senator Pacquiao ang maging ka-tandem, 'yun na nga ba sinasabi ko, sinusunog na nila ang bahay, sinusunog na ang kanilang mga tulay, paano pa sila babalik?" Cusi said in a virtual media briefing on Tuesday, July 13.
(If they are pushing for Senator Pacquiao to be part of the tandem, that's what I've been saying, then why did they burn their bridges? How can they return to the group?)
While Cusi and his camp said there was no clear choice for a presidential candidate yet, the writings were somehow on the wall. One source from the Cusi camp said it seemed Go was the choice of President Duterte – for now.
Matibag said Cusi had repeatedly reached out to the group of Pimentel, but to no avail. Two sources from the Pimentel camp said Cusi wanted to talk to Pimentel to urge him to drop Pacquiao.
Asked about it on Wednesday, July 14, Pimentel just said he was not sure who sent him the anonymous text messages urging him to drop Pacquiao.
Links to Gloria Arroyo?
Pimentel has called Cusi the "brain" of the "power grab" in the party – an allegation that Cusi denies.
One figure that has remained quiet but influential in this saga is former president Gloria Macapagal Arroyo, who is also a member of PDP-Laban.
Cusi, several insiders of both factions say, is a known Arroyo boy until now. Cusi, a friend of former first gentleman Mike Arroyo, held key posts during the Arroyo administration. He was Philippine Ports Authority general manager, Manila International Airport Authority general manager, and Civil Aviation Authority the Philippines director general.
Asked about the former president's role in the party squabble, Cusi said: "She is a member of PDP-Laban, but we have not talked to her about the things that are happening. But I'm sure she is following it through the news. If she has something to say, she would bring it up [with] us."
However, one insider from the Cusi camp said they had sought the advice of Arroyo. The source refused to give any details.
Arroyo's Lakas Christian Muslim Democrats party earlier announced it would support Sara Duterte should she run for president in 2022. Lakas CMD also renewed its alliance with the Davao City mayor's regional party, Hugpong ng Pagbabago.
On July 14, Arroyo and Sara met for brunch as part of the latter's continuing consultations with various leaders in the lead-up to the 2022 polls. The presidential daughter supported Arroyo's bid for House Speaker in 2018.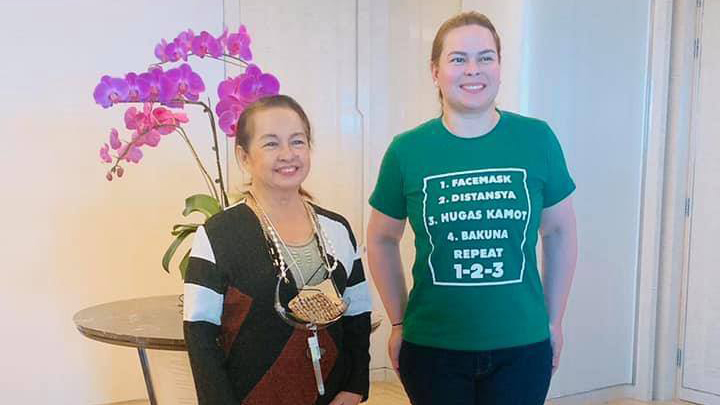 Legacy vs numbers game
This internal struggle is not entirely new to PDP-Laban. The party, founded in 1982 to fight Martial Law, broke up into two groups in 1988 during the Corazon Aquino administration. The first group was led by the Pimentel patriarch and former vice president Jejomar Binay, while the second one was led by presidential brother Jose "Peping" Cojuangco. The second faction later merged with Lakas ng Bayan to form the Laban ng Demokratikong Pilipino in 1989.
In 2014, Binay left PDP-Laban and launched a new party, the United Nationalist Alliance or UNA, following disagreements with Koko Pimentel over the inclusion of Migz Zubiri in the 2013 senatorial slate.
PDP-Laban, under Cusi, is set to hold a national council meeting on Friday, July 16, and a national assembly led by President Duterte himself on Saturday, July 17. The group is likely to oust Pacquiao as party president and expel some members of the Pacquiao-Pimentel camp, in retaliation for the latter issuing resolutions booting out Cusi and his cohorts.
Will PDP-Laban survive the wave of Duterte? Pimentel, having a personal stake in the party that has survived the Marcos regime, said: "We are here to ensure that the party survives after we are gone. Why are they doing this? Is this a political maneuver to support certain presidential candidates who may be an outsider of the party and then, when they win, they will fold [up] PDP-Laban, and then we will be gone?"
Pimentel is banking on the grassroots membership of the party to side with his faction. But, all told, the current scenario will end in a numbers game. And with majority of the 159 members of the national council being politicians allied with Duterte, the Cusi camp is confident they would win.
The battle does not end there, as both camps are again expecting the Commission on Elections to decide on the issue of which is the legitimate PDP-Laban party. It is also likely that the issue would be elevated to the Supreme Court.
The common denominator between the poll body and the High Court? They are packed with Duterte allies. It bears watching if they will rise above the fray. – Rappler.com