Vaccinated travelers now just have to present their S-PASS permits and their vaccination card and vaccination certificate from the Department of Health's VaxCert application
Following the lead of Bacolod City, Iloilo City Mayor Jerry Treñas also relaxed travel restrictions from Bacolod City and Negros Occidental as Western Visayas' key city moves to the less restrictive General Community Quarantine (GCQ) from October 16 to 31.
Treñas issued Executive Order (EO) No. 125, series of 2021 on Thursday, October 14, lifting the reverse transcription-polymerase chain reaction (RT-PCR) requirement for fully vaccinated persons from Negros Island.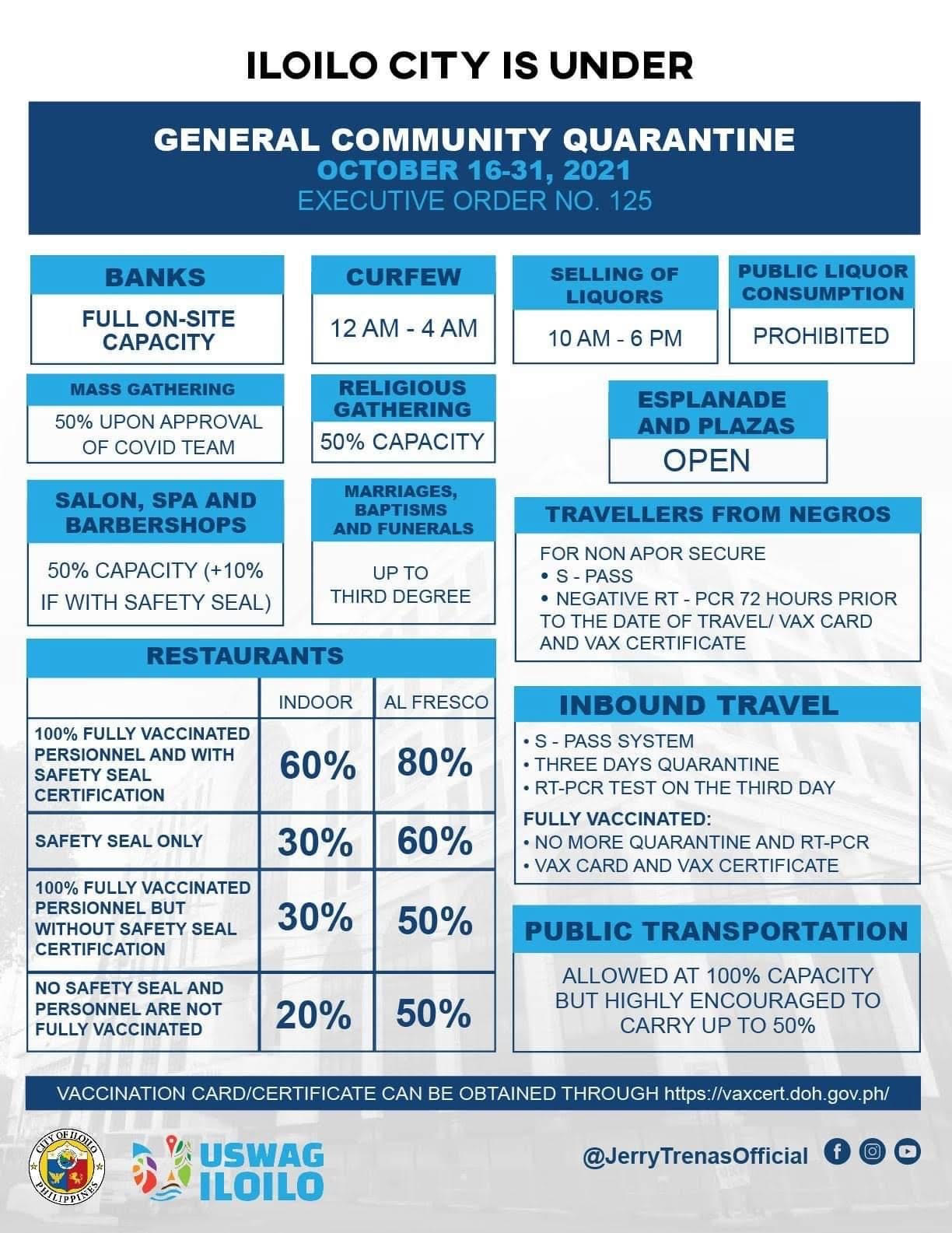 Vaccinated travelers now just have to present their S-PASS permits and their vaccination card and vaccination certificate from the Department of Health's VaxCert application. Those who are not yet fully vaccinated will still be required to present a negative RT-PCR test result within 72 hours prior to their travel.
Iloilo Governor Arthur Defensor, however, said he would still review travel guidelines to Negros Island, citing the recent surge of cases. He earlier issued EO No. 305 series of 2021, exempting Western Visayas travelers from a negative RT-PCR test result requirement.
"We have until [October 15] to do that, but right now, we are at 'One Region 6'. Previously we didn't require [negative RT-PCR test result] because of the level of people exchange. But we will review that since we haven't touched upon that in the previous days. We will have to check the situation also in other provinces," the governor said.
Treñas' EO came as Negros Occidental Governor Eugenio Jose "Bong" Lacson also lifted the RT-PCR test requirements for fully-vaccinated passengers who take special Manila-Bacolod flights offered by Philippine Airlines from October 18 until November 29, Monday to Friday every week.
Their moves came just hours after the head of Negros Occidental's largest COVID-19 referral center slammed Bacolod City Mayor Evelio Leonardia's decision to do away with the RT-PCR requirement, calling it a political decision that sets aside medical prudence.
"Removing testing is a very dangerous move," Dr. Julius Drilon, head of the Corazon Locsin Montelibano Memorial Regional hospital told Rappler on Thursday, October 14.
Before the Iloilo City EO, city and Iloilo provincial governments also expressed wariness over allowing travelers to and from Negros Island amid continuously high cases of the coronavirus disease 2019 (COVID-19) there.
Treñas, Leonardia, and Lacson all cited Resolution No. 124-B, S. 2021, issued by the Inter-Agency Task Force for the Management of Emerging Infectious Diseases (IATF), allowing a duly-issued COVID-19 full-vaccination card to substitute for a negative RT-PCR test result as requirement for interzonal travel.
Surge concerns
Drilon stressed that the IATF policy is subject to a local government's discretion.
Citing statistics from the Department of Health Western Visayas and the city's own epidemiology and surveillance unit (CESU), he said the high positivity rate of COVID-19 cases in the city and province remains "alarming".
He also showed Rappler on October 13 messages from the Bacolod CESU reporting positivity rates from September 7 to October 10.
The DOH's data for October 12 showed a positivity rate of 30% for the city and an ADAR, or the number of new cases over the past 14 days per 100,000 population, of 21.03, thrice the national critical threshold.
"The ADAR has been high for more than a month now, the positivity rate doesn't go below 30," said Drilon.
"Those figures are bad. They also show a lack of expanded testing. What is the basis for taking away an already existing safeguard, the RT-PCR requirement, in a high-risk, alert level 4 situation? It is more of a political decision rather than medical prudence," Drilon said.
The head of the CLMMRH also criticized the city for failing to consult the medical community about its decision. While Drilon heads a DOH hospital, the bulk of its patients come from Bacolod, which has no city hospital.
New systems needed
Former congressman Alfredo Albelardo "Albee" Benitez, economic consultant of the province, also told Rappler that while he is in favor of opening up the economy, there should be minimum safeguards in place to protect public health, like expanded testing using rapid antigen tests.
Drilon also included Negros Occidental in his warning despite an improvement in the province's COVID-19 situation.
Benitez noted the province's massive antigen testing rollout in October, which caught many positive cases early.
He urged local government units (LGUs) to invest in greater testing and contact tracing to stop a cycle of COVID-19 surges and allow sustained economic recovery.
Benitez, who has filed his candidacy to contest Leonardia's position, said the province managed to catch 56 new positive cases from 599 residents tested with rapid antigen kits.
The province accessed 6,500 kits from the health department and Benitez said he would help in finding more testing kits.
Negros Occidental province has slid down to Level 3 in the DOH high-risk category, but it continues to have a high positivity rate, 31% as of October 10. It's ADAR and health care utilization, however, have gone lower and its two-week growth rate has decreased by 19%.
The province launched an expanded contact tracing and early detection intervention from October 9 to 11, with 12 LGUs joining, based on their number of cases and ADAR numbers. – Rappler.com