(1st UPDATE) Ping Remulla, son of Justice Secretary Boying Remulla, defeats three other opponents in the race to become Cavite 7th District's next House representative
CAVITE, Philippines – The Commission on Elections (Comelec) on Sunday, February 26, proclaimed Cavite Board Member Crispin Diego "Ping" Remulla the winner of the special elections for the open congressional seat in the province's seventh district.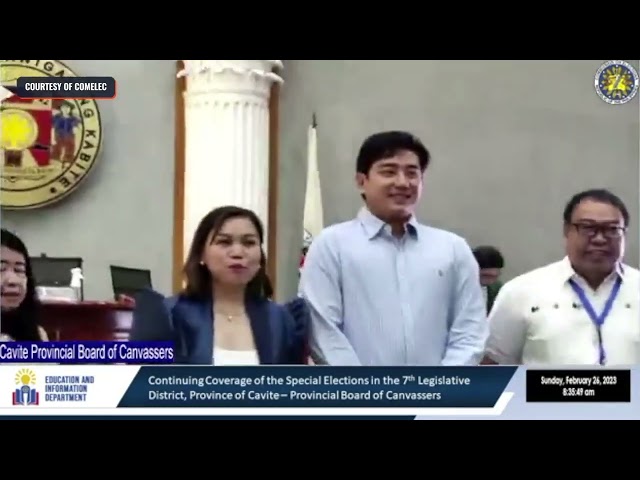 He is succeeding his father, Jesus Crispin "Boying" Remulla, who vacated the post shortly after winning unopposed in May 2022. He was appointed by President Ferdinand Marcos Jr. as Department of Justice (DOJ) secretary.
Ping Remulla, who had a strong political machinery as a candidate of the National Unity Party, defeated three other opponents, who all ran as independent.
Below is the breakdown of the canvassed election results:
Ping Remulla: 98,474
Former Trece Martires mayor Melencio de Sagun Jr.: 46,530
Jose Angelito Domingo Aguinaldo: 1,610
Michael Angelo Bautista Santos: 1,068
Voter turnout was 42.6%, or 149,581 out of the total 355,184 registered voters. This was contrary to Comelec Chairman George Garcia's earlier remark that the majority of voters cast their ballots.
"It may not be high but it's the sentiment of the people here in the 7th district of Cavite," Garcia said.
The Comelec hailed the conduct of the special election, which saw only a few hiccups due to aging vote-counting machines.
"Overall, the conduct of a special election here has been very peaceful," said Garcia, himself a voter in Cavite's 7th district.
Aside from Ping, two other Remullas are in government: his father is part of the Marcos Cabinet, while his uncle Jonvic is Cavite governor. (READ | Political Dynasties 2022: Revillas now the largest in Cavite)
After casting his ballot on Saturday morning, the young Remulla expressed confidence that he ran a "good campaign."
"It will be an honor to be the voice of Indang and the seventh district in the House of Representatives," he said.
Ahead of election day, De Sagun filed a petition with the Comelec seeking to disqualify Remulla for allegedly disbursing government funds during the campaign period, an act that is considered a violation of the election code.
Ping declined to comment on the petition, saying he had yet to receive a copy of the complaint, while his father Boying described the attempt as a "desperate measure" by his son's rival.
The Comelec said it had yet to review the case, but guaranteed "it will undergo the right process based on existing regulations." – Rappler.com
For highlights of Rappler's coverage, read: LIVE UPDATES: Special election for Cavite 7th district representative.