The late president's long-time friend talks about what he wished for Aquino and how he thinks history will remember him
Former interior secretary Mar Roxas didn't think he'd have to say goodbye to his former boss, long-time friend, and one-time fellow bachelor so soon and so swiftly.
"Sa totoo lang, kumpyansa ako na he will survive. Eh kasi, medical science ngayon, technology ngayon, di ba yung mga tao [survive for longer]. I mean…naibubuhay eh. Hindi ko maisip na wala na siya. Talagang it was, 'ha, that was it?'" Roxas told reporters in an interview on Sunday, June 27, a day after the late former president Benigno "Noynoy" Aquino III was laid to rest.
(If I'm being honest, I was sure he'd survive. Medical science, technology nowadays, allow people to survive longer. They survive. I didn't think he'd be gone. To me, it was a shock.)
Roxas had long known about Aquino's many medical woes, but didn't think the end was near. After all, they'd made plans – a COVID-19 jab, being one of them. They had also talked, in broad terms, about the future of the Philippines.
The hope, it can be assumed, was that the two men would emerge out of quarantine and maybe see each other in person again, with less physical distancing to worry about.
Aquino, son of two democracy icons and 15th Philippine president, died on June 24, 2021.
Roxas was among the few who reached the emergency room of Capitol Medical Center just before he was officially pronounced dead at 6:30 am.
"'Andoon siya, nakahiga na lang. Nagpaalam ako nang pormal. 'Yun, sinaluduhan ko siya, and that's it," recalled Roxas, who had served in his Cabinet for over four years.
(He was there, lying down. I said my formal goodbye. I saluted him and that's it.)
The impossible dream
On the first day of Aquino's last month as chief executive, the Liberal Party threw a thanksgiving party for its supporters and team right outside the Balay Expo Centro Building in Cubao, Quezon City.
Aquino, an unabashed music (and karaoke, it turns out) fan, had an interesting choice of song: "Impossible Dream" by Andy Williams.
It was, in retrospect, an on-the-nose song choice for a president whose campaign was rooted in eradicating corruption and the promise that Filipinos could dream once again.
The rise to the presidency was swift. Allies were in abundance. But in 2016, as Roxas' numbers refused to climb and then-presidential candidate Rodrigo Duterte's continually rose, the headcount at Balay, the LP headquarters, dwindled.
In the years since Aquino stepped down, as is usually the case in Philippine politics, allies turned into political rivals. Some of those who once proudly wore yellow turned tables, kept quiet, or added to the disinformation against the Aquino administration and Aquino himself, the president.
Aquino infamously kept mum, even as he became an easy target for lies and propaganda.
"He never dwelled on it. Malawak naman pag-iisip ni PNoy. Kung baga, 'yan ang musika ngayon eh," said Roxas, Aquino's anointed presidential candidate in 2016.
(He was broad-minded. It's like, that's the way it is now.)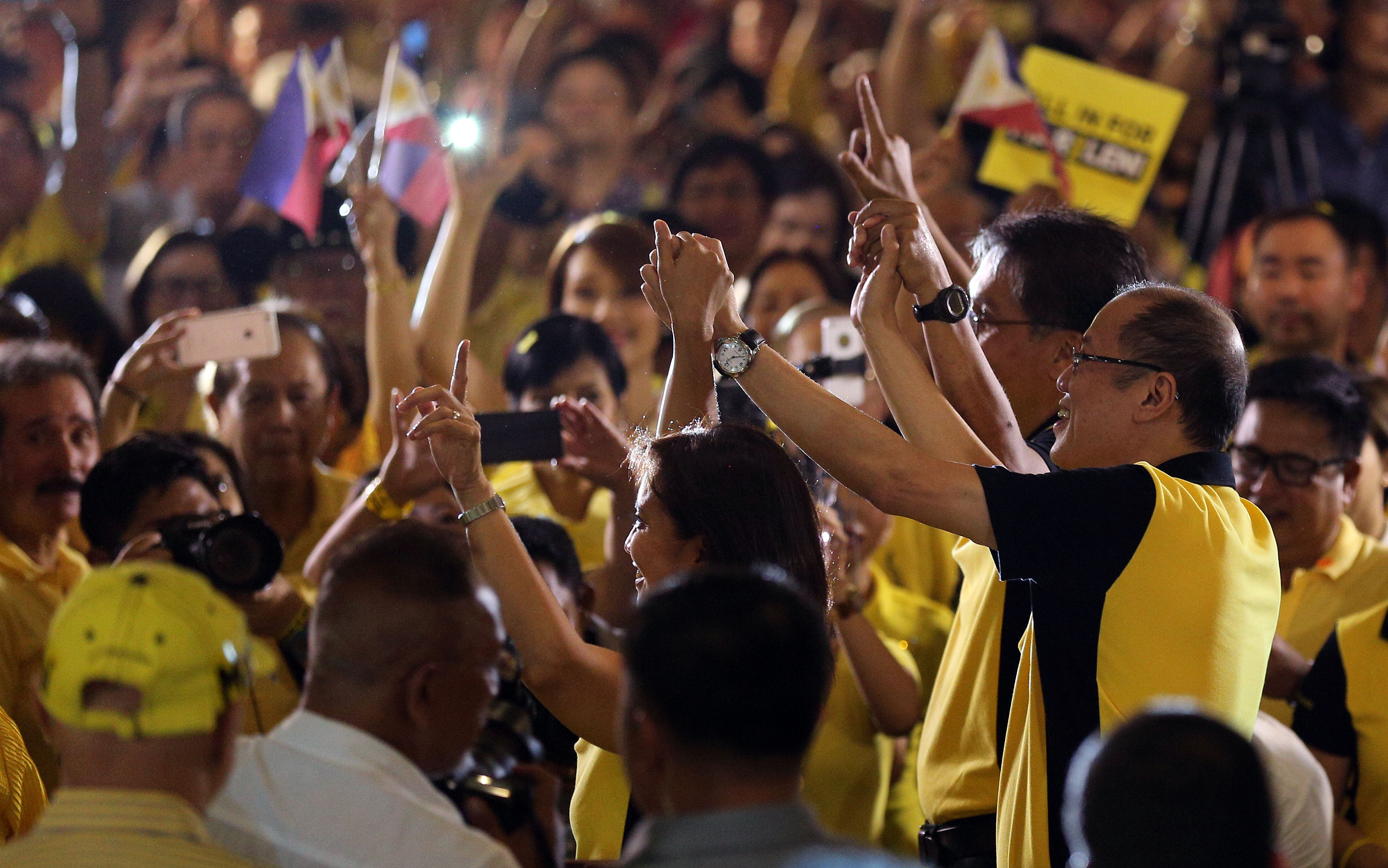 He did, according to Roxas, make a distinction between politicians who were trying to survive and those who were piling it on. "But he was never bitter in our conversations, [it was] never – eh bakit naman si ganito, bakit naman si ganoon? We're all grown-ups. 'Yan ang pulitika sa Pilipinas," said Roxas.
(But he was never bitter in our conversations, it was never – why are they doing this, why are they doing that? We're all grown-ups. That's the reality of politics in the Philippines.)
Even if the country after his administration seemed to have flipped upside down, Aquino did not seem embittered – at least to Roxas.
"Hindi masyado, pero ramdam ko naman na parang… anyare? Ganoon ba kamali ang basa ko sa tao?" admitted Roxas, when asked if they'd ever spoken about how the Philippines changed after their administration.
(We didn't really talk about it, but I got the sense that he was at a loss for words. He wondered if he read the Filipino people wrongly.)
"PNoy was the first one to say nobody is perfect, we are all human pero…he never was bitter…[he was] always hopeful para sa bansa (for the country)," he added.
'He did well'
When Roxas was appointed transportation secretary under Aquino, he made it a point to make their roles clear. "Pormal kong sinabi na (I formally told him), 'You know, you're the president, I'll call you sir and I recognize that you're my boss. I serve at your pleasure,'" recalled Roxas.
"Pero para nasa maayos ang relasyon natin, hindi, di ba (So that our relationship is clear, right)? May (There's a) hierarchy. I'll speak my mind but at the end, it's your decision," he added.
The relationship between Aquino and Roxas runs deep. They were colleagues in the House, seatmates in the Senate, running mates in 2010, and allies throughout. They also both happen to be the sons of politicians who fought against the Marcos dictatorship.
So it wasn't surprising when Aquino reacted with "disbelief and shock" to news that Roxas, at almost 62, was expecting young twins via a surrogate in 2019. The two men had held on to their bachelorship for a long time – Roxas married broadcaster Korina Sanchez in 2009. Aquino was his ninong (godfather).
Roxas had wanted Aquino to meet his young twins, Pepe and Pilar. Aquino turned down the invite, said Roxas, and confided to him then that he was no longer in good health.
The idea of what Aquino missed out on – particularly in his personal life – is what made Roxas first choke up during an hour-long interview.
"I'm sad that he's passed. I'm really, really, really sad that he died alone, that he didn't experience the joys of having a wife, kids…which are profoundly…I mean, malungkot lang ako na na-miss niya 'yun, para sa kanya, bilang kaibigan (Speaking as a friend, I'm sad that he missed out on that)," said Roxas.
Looking ahead, Roxas is confident that "history will treat [Aquino] well." And he's even more sure that his parents – democracy icons Ninoy and Cory Aquino – will view his presidency and life with pride.
"I think the single biggest motivation ni PNoy is, maging proud sa kanya ang magulang niya, na wala siyang ikahihiya sa magulang niya (for his parents to be proud of him, and that he would not be ashamed of anything). That's a very strong motivation," he said.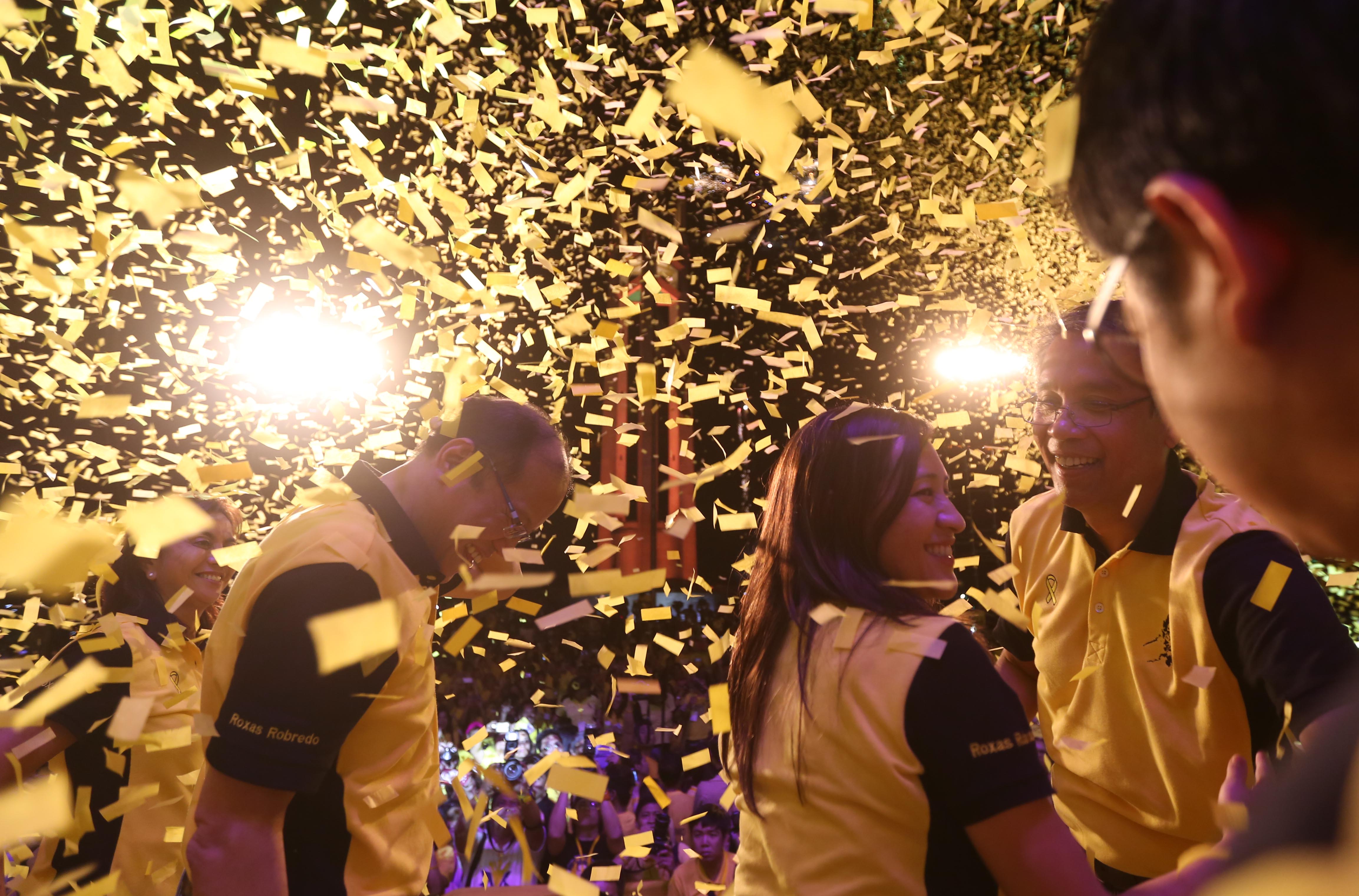 Roxas last saw Aquino in person in late 2020, at his home along Times Street. He admitted he wasn't sure Aquino felt lonely, sad, or happy during his final hours. But he was sure of one thing.
"Sigurado, sigurado, puwede niyang harapin nanay niya at tatay niya. And that's all you can ask for, di ba? Everything else, if at the end, puwede mo harapin magulang mo, ok na 'yun (you're able to face your parents, that would be fine). To use his phrase, 'Chief, boundary na ako.' So yun na 'yun," he said. (Chief, I've fulfilled my requirements. So that's it.)
He paused and considered his next words. "With dispassion, with time, with distance, we'll see that PNoy did well." – Rappler.com